CE Publish Date:
02/05/2020
CEU (Continuing Education Unit):
2 Credits
Educational aims and objectives
This article aims to discuss the principles of documentation and informed consent.
Expected outcomes 
Orthodontic Practice US subscribers can answer the CE questions by taking the quiz to earn 2 hours of CE from reading this article. Correctly answering the questions will demonstrate the reader can:
Define standard of care.
Identify a doctor-patient relationship.
Realize some history and facets of informed consent.
Recognize the importance of proper and consistent documentation.

Dr. Bruce H. Seidberg begins his comprehensive discussion of risk management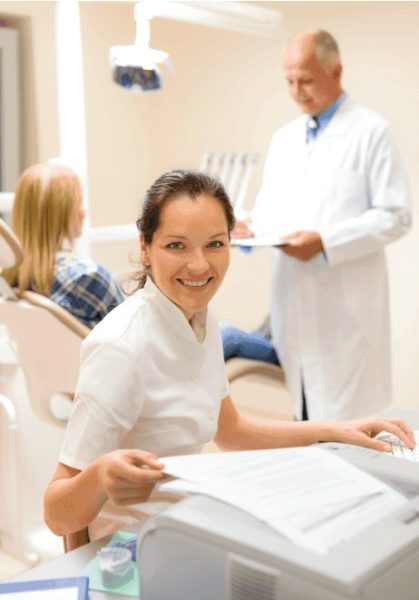 Introduction
Risk management involves several areas of a dental practice, including, but not limited to, the doctor-patient relationship, communication, informed consent, and documentation.1,2  The principles of documentation and informed consent are recognized worldwide, and this primer is intended to provide a better understanding of both concepts and how they interact with the law. Understanding the issues, communicating appropriately, and then following the proper concepts of informed consent and documentation and properly applying them are the ways to assist the healthcare provider prevent one aspect of medical malpractice litigation.3 Another aspect of risk management is to understand the concepts of harassment and substance abuse,4 and these two topics will be covered in part 2.
Juries weigh credibility in a malpractice suit. They rely on experts to explain the treatment and care rendered because they do not understand dentistry. They have their own sets of values, but must distinguish between someone who is telling the truth or embellishing the facts for his/her own needs.5,6
Standard of care
The standard of care7,8,9,10 is in a constant state of change, vacillating between expert witnesses' testimony, new technology, and improved procedures. Generally, all allegations reference the standard of care; therefore, it is necessary to understand what it means and what it is. The standard of care is defined as "that reasonable care and diligence ordinarily exercised by similar members of the profession in similar cases in like conditions given due regard for the state of the art or, in other words, the duty to which one will be held."11 The ease of availability for continuing education from institutions of higher learning, educational journals, local dental society-sponsored courses, and the mobility of dentists to travel to educational centers have caused the local community standards to be replaced by national standards. Generalists are held to the standard of care of the specialist using the same degree of care and skill when acting in the same or similar circumstances.12,13 Today all dentists must meet the national standard of care.
Doctor-patient relationship
A doctor and patient enter into a simple contract; the patient hoping he/she will be cured and the doctor optimistically assuming that he/she will be compensated.14 The general rule is when you offer a professional opinion — upon which you expect the patient to rely and upon which the patient acts to establish a doctor-patient relationship — the information obtained in the consultation and establishment of a relationship must be kept confidential.15 Communication is the cornerstone for delivering a positive patient experience and long-term patient relationship. It is defined by the imparting or exchanging of information between the individuals involved. Be careful of what you say and how you say it; words have consequences and must be used wisely. "The real art of conversation is not only to say the right thing at the right time, but also to leave unsaid the wrong thing at the tempting moment."16 A doctor must build a bridge of confidence with the patients by listening to their understanding of the situation, assessing the issues, and then informing them of what can or cannot be done. Neither the doctor nor the patient is a mind reader; therefore, communication must be explicitly clear and thoroughly understood by both.
Informed consent
Many states have informed consent laws that dictate when, and if, dentists must fulfill their duty to obtain informed consent from a patient before performing dental procedures.17 When presiding over an informed consent lawsuit, courts will usually refer to relevant case law from which standards are used to decide if the provider properly disclosed the risks to the patient. Failure to obtain consent is a form of negligence and can be instrumental initiating a lawsuit.
Very little has changed since the inception of the informed consent concept introduced by Judge Benjamin Cardozo in the case of Schloendorff v. Society of New York Hospital,18 where he stated "every human being of adult years and sound mind has a right to determine what shall be done with his own body; and a surgeon who performs an operation without his patient's consent commits an assault for which he is liable in damages." The concept was reinforced in the case of Nathanson v. Kline,19 which was summarized by stating "the fundamental distinction between assault and battery on one hand, and negligence such as would constitute malpractice, on the other. The former is intentional, and the latter unintentional." This was one of first cases to label lack of informed consent as "professional negligence" instead of "battery."
There are relatively few differences between those two introductory case concepts and current-day practice. The concept of informed consent was later refined in Canterbury v. Spence20 and established a new standard for information disclosure as stated that "failure on the part of a healthcare provider to obtain a patient's informed consent before treatment constitutes professional negligence (substandard care) and not the intentional tort of assault or battery."
Patients have the right to self-determination to accept or reject the proposed treatment(s).21 They deserve to be informed about their treatments and what the consequences are. Informed consent is a fundamental tenet of the U.S. healthcare system, rooted in the ethical principles of respect for the patient autonomy and enhanced well-being. Patients now must be informed and must have the ability to consent to treatment whether for pharmacologic or non-drug therapies. The rules of the professions are now "they who cut must inform" and "they who prescribe must also inform."

The legal aspect involving the risk management of informed consent is that it provides documentation of the consent in the event of legal allegations. It reduces misunderstandings or miscommunication between the provider and patient which may in turn reduce the likelihood of adverse outcomes and frivolous complaints. A patient who is properly informed is less likely to launch subsequent litigation over undisclosed risks that manifest22 (Table 1).
Informed consent is the conversation a doctor has with a patient prior to treatment in which options and possible risks of the proposed treatment are explained and discussed, as required by law22 (Table 2). It is the ongoing dialogue between patient and healthcare provider in which both parties exchange information, ask questions, and come to an agreement on the course of specific dental/medical treatment. It is based on a special fiduciary relationship between the doctor and the patient; a relationship of trust, confidence, and responsibility is formulated.
Informed consent is a core component that should be provided at the initial appointment and when developing a treatment plan that may include the use of controlled substances. Patients must be able to participate in decisions about their medical care, weighing the pros and cons of a recommended intervention or treatment and understanding the risks, benefits, and alternatives to ensure the care they receive reflects their goals and preferences.21 The purpose of disclosure is to prevent surprises prior to care if complications were to occur and for the protection of the doctor and patient. Lawsuits are usually triggered because the patient was surprised and angry about an unexpected result or inconvenience. Disclosures act to diffuse unreasonable patient expectations.
In addition to the verbal discussion, a written treatment plan (Table 3) helps explain the responsibilities of the patient and provider during treatment, outline possible consequences of noncompliance with instructions regarding treatment, and provide thorough information about the treatment plan. Essentially, it is an agreement that lays out the responsibilities of both the provider and the patient summarizing, "What I will do for you and what you will do for me based on mutual trust and honesty."
Without a basic understanding of risks, benefits, and alternatives, patients cannot meaningfully participate in the decision making — although providing such information does not guarantee they will understand and use the information wisely.23
A causal connection does exist when disclosure of significant risks incidental to treatment would have resulted in a decision against treatment. The connection also exists when the risk materializes. If an undisclosed risk materializes, resulting in injury to the patient, allegations for legal action could be instituted.
Before a patient can prevail in a lawsuit against a dentist for lack of informed consent, a patient must prove that a reasonably prudent person (such as the patient) would not have undergone the treatment if fully informed of the risks, benefits, and alternatives, and that the lack of informed consent served as the proximate cause for the injury. This implies that the failure of the dentist to warn the patient is what proximately caused the injury. After understanding the risks involved, a patient can agree to the procedure. What they are not agreeing to is the procedure being done negligently.17 The dentist must still provide treatment within the standard of care of the profession.
The dentist must exercise his/her best judgment as to whether or not the patient has the capacity to fully understand the proposed treatment. It is the legal guardian of the patient who is deemed unable to provide consent on his/her own behalf who must receive and give informed consent on behalf of the patient. The law requires that a provider not undertake treatment with a non-English-speaking patient until there is certainty that the patient has had an understandable and intelligent discussion about the treatment, its benefits, alternatives, and risks, and that may require a foreign language interpreter. The law also requires appropriate accommodations be made for disabled patients. A sign language interpreter may be necessary when discussing informed consent and treatment options with a hearing-impaired patient.
Informed consent is the discussion NOT the form. The purpose of the informed consent form is to provide evidence that the informed consent discussion took place. The best-informed consent form should be tailored to the particular procedures and circumstances of each individual case. Informed Consent and Written Treatment Plans establish boundaries and consequences, but both have to be readable, reasonable, flexible, and understandable. The informed consent form should be limited to the treatments proposed and should not include financial information.6
It is the duty of the doctor performing the procedure to inform the patient. Obtaining informed consent cannot be delegated. Informed consent is the conversation with the patient, not the signed form. A document does not replace the verbal process of informed consent, but it is essential to have and to be signed by the patient. The document only acts to memorialize the process. The written treatment plan is the prescription with instructions for a patient's treatment and used primarily when restorable efforts are to take place and/or pharmaceuticals are used.
A healthcare provider who has proper documentation memorializing the informed consent discussion and what was done is less likely to be involved in a lawsuit.
Documentation
Treatment records are the best method to provide a strong defense for any matter brought against your professional care. They are subject to review by several third parties such as insurance companies, attorneys, a judge, and a jury. Failure to maintain a record for each patient that accurately reflects the evaluation and treatment of the patient can be construed as unprofessional conduct. A good record-keeping system ensures that required information is recorded consistently for every patient visit, every time, and that the same format is followed for every patient of record. The information written in the patient's record must be accurate and complete. All information must be included, and the records have to be authentic and not be altered25 (Table 4). Patient treatment records should never include derogatory comments, or fee information, but they should include missed appointments, the facts of treatment provided, and any referrals made. All entries must be initialed by the individual who makes the entry.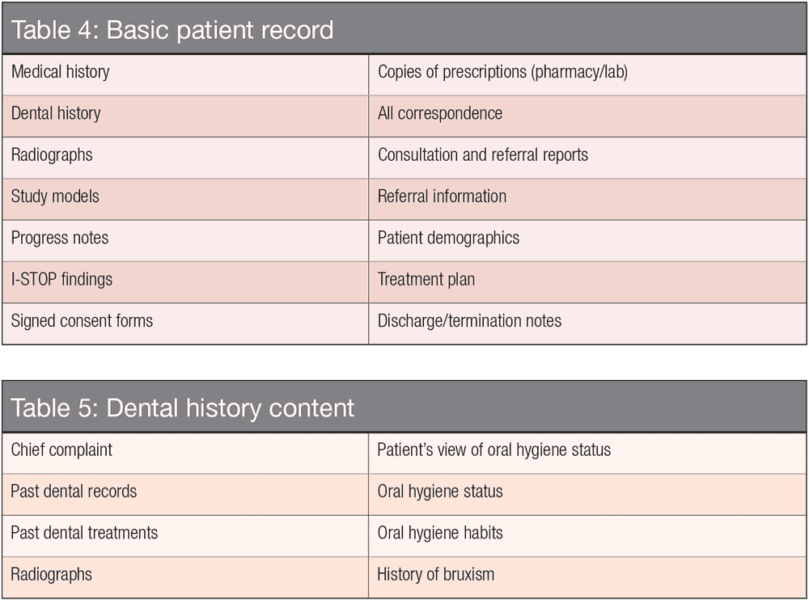 There is a risk of not having documentation for pharmaceutical prescriptions26; therefore, all telephone Rx's have to be documented because pharmacies do not track prescriptions, especially narcotics. Be aware of cumulative effects of multiple antibiotics, and avoid detrimental effects on patients taking multiple drugs. Obtaining a thorough and reliable medical and dental history is a component of a good record and of the standard of care.27 A protocol for logging in all Rx's from outside the office must be kept in the patient's record. The I-STOP program, utilized in most states or one similarly named, is used to track Schedule II, III, IV controlled substances prescribed to a patient that can be reviewed prior to prescribing additional medications.
The universally accepted documentation format follows the SOAP formula: Subjective findings (chief complaints in the patient's words), Objective findings (results of testing, radiographic findings, medical, and dental history), Assessment (diagnosis from accumulation of collected data), and Planning for treatment (recommendations and informed consent)28 (Table 5). Never alter records, and never part with the original documents. If records are requested by the patient or by a third party, provide only copies. Requests should be in writing, and the patient must consent in writing if it is from a third party.
Electronic record keeping is allowed but must be able to demonstrate authenticity. Use a program that "locks" the records to prevent alteration within a reasonable time (24-48 hours) and that has a tracking ability to identify improper access. All HIPPA regulations must be fully compliant. It is recommended to have multiple back-ups and transmit data to a secure offsite location.
Summary (part I)
Causation for doctors to be sued include, but are not limited to, a poor or unexpected outcome, patient anger, a perceived wrongdoing, lack of clear communication by a colleague trying to explain a previous treatment from another, or lack of morality or breach of ethics. Always communicate clearly with your patients. Make sure that they are informed about your proposed treatments and that they understand them. Document the informed consent conversation, take a good medical history, and document all aspects of treatment and correspondence relating to the patient.
Besides his knowledge of risk management, Dr. Seidberg also has 51 years in the dental field. Read more about his history.
References
Seidberg BH. Risk management concepts for dentists. Endodontic Practice US. 2015;8(1).
Seidberg BH. Risk management concepts for dentists. Endodontic Practice US. 2015;8(2).
Seidberg BH. Legal aspects of dentistry. In: American College of Legal Medicine. 7th ed. Chicago, IL: Harcourt Publishers; 2007.
Seidberg BH. Harassment – Crossing the Professional Line. Endodontic Practice US. 2013;6(5):42-45.
Seidberg BH, Sullivan TH. Dentists' use, misuse, abuse or dependence on mood-altering substances. N Y State Dent J. 2004;70(4):30-33.
Regan B. Risk Management Comments. On The Cusp. An EDIC Publication. 2013;16.
Regan B. Credibility vs. The Informed Consent Form. On The Cusp. An EDIC Publication. 2013;16.
James AE, Perry S, Zaner RM, Chapman JE, Calvani T. The Changing Concept of Standard of Care and the Development of Medical Imaging Technology. Humane Medicine. 1991;7(4).
Curley A. Standard of Care Definition Varies. J Amer Coll Dent. 1986;53.
Shandell R, Smith P. Standard of Care: The Preparation and Trial of Medical Malpractice Cases. Law J Press.01 (2a), 2000; 1996: Advincula v. United Blood Services, 176 Ill. 2d 1, 678 N.E.2d 1009, 1018.
Jerrold L. Defining the Standard of Care. J Amer Coll Dent. 2019;86(3).
Weinstein B. Ethics and Its Role in Dentistry. Gen Dentistry.
Taylor v Robbins,, Harris County 281st Judicial District, No. 85-28095, May 4, 1988.
Jerrold L. When the patient breaches the doctor-patient contract. Orthodontic Practice US. 2019;10(1).
Hammonds v Aetna Casualty, 243 F Supp 793 (1965) (N.D. Ohio 1965), July 1965.
Neville-Rolfe D (English poet). https://www.goodreads.com/quotes/69022-the-real-art-of-conversation-is-not- only-to-say. Accessed December 16, 2019.
Gillman S. A Conversation on Consent. https://www.dentaltown.com/magazine/article/7665/a-conversation-on-consent. Accessed December 16, 2019.
Schloendorff v. Society of New York Hospital, 105 N.E. 92 (N.Y. 1914).
Nathanson v. Kline, 186 Kan. 393, 350 P.2d 1093 (1960).
Canterbury v. Spence, 464 F.2d 772 (D.C. Cir., 1972), cert. denied, 409 U.S. 1064 (1974).
Graskemper JP. Informed consent: a stepping stone in risk management. Compend Contin Educ Dent. 2005;26(4):288-290.
Seidberg BH. Principles of Informed Consent. Orthodontic Practice US. 2019;10(1).
Schenker Y, Meisel A. Informed consent in clinical care: practical considerations in the effort to achieve ethical goals. 2011;305(11):1130-1131.
Seidberg BH. Record Keeping in Dentistry. Nevada Dental Journal.
Engar RC. Risk of Prescribing Antibiotics with No Documentation. https://www.webdentistry.com/Article5956-eng.html2018. Accessed December 16, 2019.
Seidberg BH. Risk Management Concepts for Dentists. Endodontic Practice US. 2015;8(1).
Seidberg BH. Risk Management Concepts for Dentists. Jnl NYS AGD. 2015.
Stay Relevant with Orthodontic Practice US
Join our email list for CE courses and webinars, articles and mores