Dr. Shalin Shah presents the latest literature, keeping you in touch with the latest studies and evolving technologies
Accuracy of clear aligners: A retrospective study of patients who needed refinement
Charalampakis O, Iliadi A, Ueno H, Oliver DR, Kim KB. American Journal of Orthodontics and Dentofacial Orthopedics (2018) 154(1):47-54.
Abstract
Aims: The purpose of this study was to determine the accuracy of specific tooth movements with Invisalign (Align Technology, Santa Clara, California).
Materials and Methods: The study sample included 20 Class I adult patients treated with Invisalign®; they completed their first series of aligners and had to have a "refinement" series. Initial and predicted models were obtained from the initial ClinCheck® (Align Technology). The starting point of the refinement ClinCheck was used to create the achieved models. Predicted and achieved models were superimposed over the initial ones on posterior teeth using the three-dimensional Image Analysis open-source software Slicer CMF. Three hundred ninety-eight teeth were measured for vertical, horizontal, and rotational movements, and transverse widths were measured. The amount of predicted tooth movement was compared with the achieved amount for each movement.
Results: The teeth with a negative response to the electric pulp tester still responded to the thermal test. We found odontoblast disruption; vacuoliza horizontal movements of all incisors seemed to be accurate, with small (0.20 mm-0.25 mm) or insignificant differences between predicted and achieved amounts. Vertical movements and particularly intrusions of maxillary central incisors were found to be less accurate, with a median difference of 1.5 mm (P <0.001). All achieved rotations were significantly smaller than those predicted, with the maxillary canines exhibiting the greatest difference of 3.05° (P <0.001).
Conclusions: The most inaccurate movements identified in this study were intrusion of the incisors and rotation of the canines.
Fully digital workflow for presurgical orthodontic plate in cleft lip and palate patients
Krey KF, Ratzmann A, Metelmann PH, Hartmann M, Ruge S, Kordaß B. Int J Comput Dent (2018) 21(3):251-9.
Abstract
Aims: In most cases, according to our treatment concept, a presurgical orthodontic treatment (POT) is performed on patients with cleft lip and palate (CLP). The aim of this case report is to demonstrate a completely digital workflow for the production of a palate plate.
Materials and Methods: For the assessment of the maxillary arch, a digital impression of the jaw was made on two patients with an intraoral scanner (Cerec Omnicam Ortho). After reconstruction of a virtual model from the scan data, appropriate areas of the jaw could be blocked out and a plate constructed. This was printed with a DLP three-dimensional (3D) printer (SHERA® EcoPrint D30) with Class IIa biocompatible material. After minor surface finishing, the plates could be incorporated in the patients' mouths.
Results: The scans could be performed in a short time without affecting the very young patients. All clinically relevant areas for the production and digital measurement of the models could be recorded. The plates showed an extremely good fit, and there were no differences in wear compared with a conventionally manufactured plate.
Conclusions: For the first time, a risk-free digital impression of the edentulous jaw in CLP babies with a subsequently completely digitally constructed and 3D-printed palatal plate could be shown.
Dose analysis of photobiomodulation therapy on osteoblast, osteoclast, and osteocyte
Na S, TruongVo T, Jiang F, Joll JE, Guo Y, Utreja A, Chen J. J Biomed Opt (2018) 23(7):1-8.
Abstract
Aims: The objective of this study was to evaluate the effects of varying light doses on the viability and cellular activity of osteoblasts, osteocytes, and osteoclasts. A light application device was developed to apply 940 nm wavelength light from light-emitting diodes on three cultured cells: MC3T3-E1, MLO-A5, and RANKL-treated RAW264.7 cells. The doses (energy density) on cells were 0, 1, 5, and 7.5  J / cm2. The corresponding light power densities at the cell site were 0, 1.67, 8.33, and 12.5  mW/cm2, respectively, and the duration was 10 minutes. The results showed that the three cell types respond differently to light, and their responses were dose-dependent. Low-dose treatment (1  J/cm2) enhanced osteoblast proliferation, osteoclast differentiation, and osteoclastic bone resorption activity. Osteocyte proliferation was not affected by both low- and high-dose (5  J/cm2) treatments. While 1  J/cm2 did not affect viability of all three cell types, 5  J / cm2 significantly decreased viability of osteocytes and osteoclasts. Osteoblast viability was negatively impacted by the higher dose (7.5  J/cm2). The findings suggest that optimal doses exist for osteoblast and osteoclast, which can stimulate cell activities, and there is a safe dose range for each type of cell tested.
Effects of monocortical and bi-cortical mini-implant anchorage on bone-borne palatal expansion using finite element analysis
Lee RJ, Moon W, Hong C. American Journal of Orthodontics and Dentofacial Orthopedics (2017) 151(5):887-97.
Abstract
Aims: Bone-borne palatal expansion relies on mini-implant stability for successful orthopedic expansion. The large magnitude of applied force experienced by mini-implants during bone-borne expansion may lead to high failure rates. Use of bicortical mini-implant anchorage rather than monocortical anchorage may improve mini-implant stability. The aims of this study were to analyze and compare the effects of bicortical and monocortical anchorages on stress distribution and displacement during bone-borne palatal expansion using finite element analysis.
Materials and Methods: Two skull models were constructed to represent expansion before and after midpalatal suture opening. Three clinical situations with varying mini-implant insertion depths were studied in each skull model: monocortical, 1 mm bicortical, and 2.5 mm bicortical. Finite element analysis simulations were performed for each clinical situation in both skull models. von Mises stress distribution and transverse displacement were evaluated for all models.
Results: Peri-implant stress was greater in the monocortical anchorage model compared with both bicortical anchorage models. In addition, transverse displacement was greater and more parallel in the coronal plane for both bicortical models compared with the monocortical model. Minimal differences were observed between the 1 mm and the 2.5 mm bicortical models for both peri-implant stress and transverse displacement.
Conclusions: Bicortical mini-implant anchorage results in improved mini-implant stability, decreased mini-implant deformation and fracture, more parallel expansion in the coronal plane, and increased expansion during bone-borne palatal expansion. However, the depth of bicortical mini-implant anchorage was not significant.
Cephalometric appraisal of the effects of orthodontic treatment on total airway dimensions in adolescents
Maurya MRK, Kumar CP, Sharma LCM, Nehra LCK, Singh H, Chaudhari PK. J Oral Bio Craniofac Res (Epub 2018) 9(1):51-6.
Abstract
Aims: This retrospective study was performed to rule out any jeopardizing effect of extraction therapy of four first premolars on airway at any level of its anatomic course.
Materials and Methods: Lateral cephalograms of 50 adolescent patients divided into two groups of 25 each, based on orthodontic treatment by first premolar extraction as group I and without extraction as group II, were selected for the study. Thirteen angular and 11 linear measurements were compared pre-and post-treatment via statistical analyses using SPSS (Version 17.5, SPSS, Chicago) software. Paired t-tests were used to assess the variability. P-value < 0.05 was considered to be statistically significant.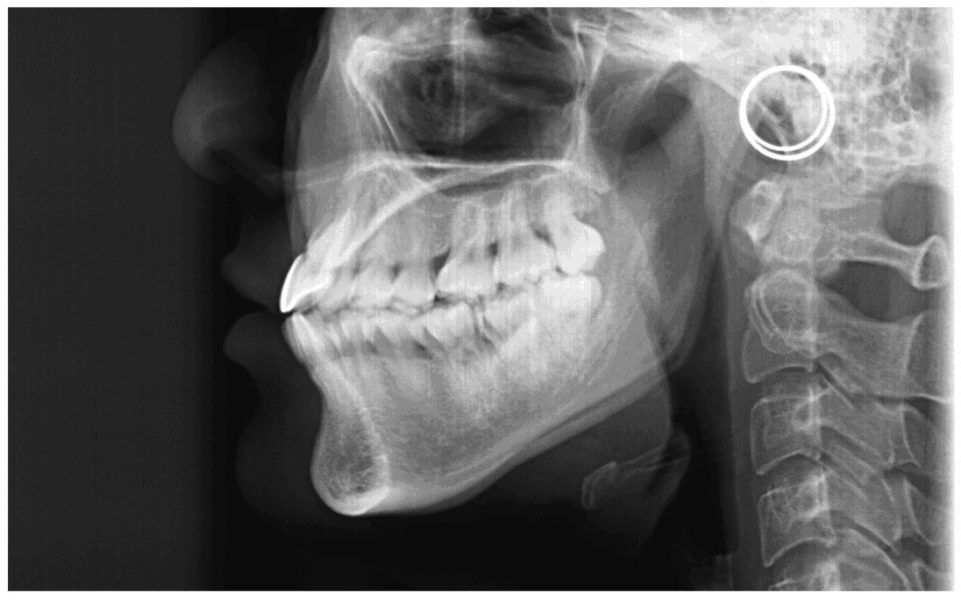 Results: Comparison of angular parameters showed that the average percentage (%) change in SNA, SNB, ANB, IMPA, FMA, saddle, articulare, gonial, total angle, and hyoid did not differ significantly across two study groups (P > 0.05), but values of UI/LI, UI/NA, and LI/NB, differed significantly among both groups. Similarly, linear parameters showed that the average % change in nasopharyngeal airway space (NAS) and width of soft palate differed significantly across two study groups (P-value<0.05), whereas the average % change in posterior airway space (PAS), hypopharyngeal airway space (HAS), hyoid distance and length of tongue did not differ significantly (P-value>0.05). However, no significant differences were observed during intragroup and intergroup comparisons of the combined angular and linear measurements of both groups.
Conclusions: Present study showed no significant change on airway after therapeutic orthodontic tooth movement with or without extraction treatment.
What do you think about the Abstracts?
Abstracts are condensed overviews, so there's plenty of room to expand.
On our Facebook page
, tell us what evidence-based details you might add to complement the Abstracts selected.
Stay Relevant with Orthodontic Practice US
Join our email list for CE courses and webinars, articles and mores