3Shape kicked off its Inaugural Community Symposium on Thursday, October 4, 2018, at the Arizona Biltmore, a Waldorf Astoria Resort, in Phoenix, Arizona. The beautiful weather and Squaw Peak Terrace were an ideal complement to the outdoor evening welcome reception.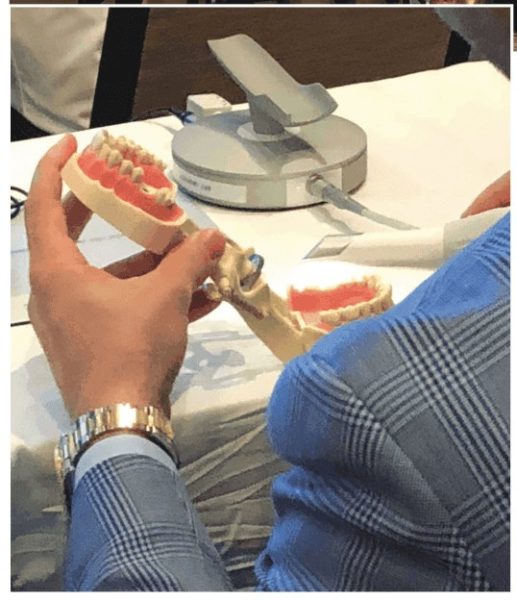 Attendees were treated to a formal welcome Friday morning by 3Shape co-founders co-CEO Tais Clausen and Vice President of Product Strategy Rune Fisker. This standing-room-only presentation was brimming with excitement as new releases and updates were revealed, the first of which was the new 3Shape TRIOS® AI scan. This advanced artificial intelligence (AI) makes intraoral scanning easier than ever. AI scan improves the speed of digital impression-taking by automatically removing soft tissue while you scan. Delivering a cleaner-looking scan, it saves a step for the experienced dental professional and removes clutter for novice users. The releases kept coming with higher capacity batteries for the 3Shape TRIOS Wireless intraoral scanner and 3Shape Patient Excitement Apps. Among the apps: the 3Shape TRIOS Smile Design app, which allows the clinician to design new teeth/smiles on a photo-realistic image of the patient for improved patient acceptance; the 3Shape Treatment Simulator app, which can compare an intraoral scan of the patient to the simulated results of orthodontic treatment to drive case acceptance; and the 3Shape TRIOS Patient Monitoring app, which enables clinicians to compare patient intraoral scans between visits to monitor changes and share with the patient. The newly revealed features and upgrades were on par with the Symposium's theme, "Changing Dentistry Together."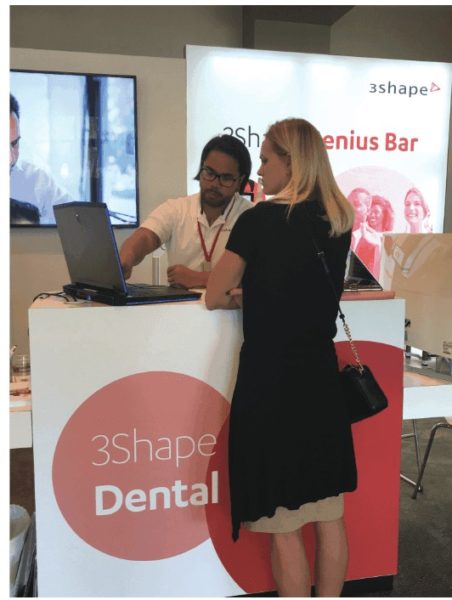 After a clinically driven keynote address by Dr. Lyndon Cooper, participants were encouraged to take a deep dive into digital dentistry with general session lectures, master classes, and hands-on classes. Ranging from tips and tricks to aligner workflow to maximizing efficiency using 3Shape systems in your laboratory, the hands-on sessions held many gems. Senior Clinical Product Manager Morten Ryde really delivered in the Tips and Tricks for Optimal TRIOS Scanning class. Users of all levels found value in his insights about scan depth (12 mm from first contact), implant body scanning (circle around it), edentulous patient scanning (start with the alveolar ridge), etc. The 2-day Symposium schedule of courses held interest for everyone.
During course breaks, attendees could visit one of several 3Shape Genius Bars where a 3Shape expert in your specialty would provide one-to-one product advice and technical help. Also, a cozy exhibit hall held several booths with additional hands-on opportunities with event sponsors and 3Shape brand partners.
The stellar 2-day event exceeded expectations. 3Shape's digital dentistry experts displayed their innovative culture and shined in every aspect. Save the date for next year's 3Shape Community Symposium, September 12-14, 2019.
About 3Shape
3Shape is changing dentistry together with dental professionals across the world by developing innovations that provide superior dental care for patients. Its portfolio of 3D scanners and CAD/CAM software solutions includes the multiple award-winning 3Shape TRIOS intraoral scanner, the upcoming 3Shape X1 CBCT scanner, as well as market-leading scanning and design software solutions for both dental practices and labs.
Two graduate students founded 3Shape in Denmark's capital, Copenhagen, in the year 2000. Today, 3Shape has over 1,400 employees serving customers in over 100 countries from an ever-growing number of 3Shape offices around the world. 3Shape's products and innovations continue to challenge traditional methods, enabling dental professionals to treat more patients more effectively. Visit www.3shape.com to learn more.
Stay Relevant with Orthodontic Practice US
Join our email list for CE courses and webinars, articles and mores