Meet Dr. Chris Bonebreak Jackson, Director of Clinical Affairs at LightForce Orthodontics. She brings her own special brand of vitality, engineering skills, and orthodontic knowledge to the company.
Finding LightForce
At 39-years old, Dr. Chris Bonebreak Jackson has been a mechanical engineer, a bond trader, a dental faculty member, a patent holder, and an orthodontist. Patients call her Dr. Jackson. Three daughters call her mom. At LightForce, she's Bones. Like her monikers and her careers, she defies a singular definition. Now she brings her extraordinary analytical, engineering, and orthodontic skills and insights to LightForce as Director of Clinical Affairs. In our cover story, Dr. Bonebreak Jackson delves into her orthodontic roots, her search for a fulfilling and productive vocation, and the epiphanies that led her to LightForce.
Tell us about your family's orthodontic legacy.
My dad, Byron Bonebreak, DMD, MS, was the town orthodontist in Columbia, Maryland. After school and during the summer, I worked at his office. He loved his job and his patients. We went to his patients' football games. If patients he met there were wearing their retainers, he gave them a dollar. When I was growing up, all of our vacations were at the AAO. While my dad attended meetings, my twin brother and I would run around the exhibit floors with big bags and collect all the swag. At home, my nightstand drawer was filled with floss and proxy brushes that I collected. My brother, David Bonebreak, DDS, MS, decided to be an orthodontist, so I was not under pressure to take over the family business.
What detours did you take on your road to orthodontics?
I really liked math and science as well as working with my hands and designing, so I studied mechanical engineering at MIT. During that time, I was an intern engineer at a few labs, and after work, I played poker with my coworkers. I found the game fascinating — the odds, the thrill of winning, and the analytical math involved. Those after-work Texas Hold 'em sessions developed into an online poker hobby. During my senior year, my roommates were applying to the big banks for jobs. I decided to send my resume too. Goldman Sachs called me for an interview. In my final round, one of my questions entailed a hypothetical poker hand. I had to figure the odds, analyze risk assessment, know what risks to take, and know the markets. I got the job as a bond trader and stayed for 5 years through the tough financial crisis. I loved the professional team, the fast-paced work, and the math. The algorithms behind the trades indicated to me immediately how changes in the market would affect the outcome.
What brought you back to orthodontics?
I missed working with my hands and helping individuals. I was open to something new and started checking engineering job boards. In 2009, my whole family went to the AAO in Boston. It was the weekend before my birthday. I wanted to eat lobster rolls with mom and collect some swag on the exhibit floor. During that meeting, I saw all the new technology that had been developed since I last worked in my dad's office — 3D printing, clear aligners, in-office milling options. It was a very exciting time for dentistry and orthodontics. I had my career-changing epiphany. Orthodontics was my chosen form of engineering. Orthodontists use forces to move teeth, and I can visualize the center of resistance and what moment I am going to get by applying those forces. It all comes naturally to me. I started studying for the DAT and taking night classes to finish my dental school prerequisites. I would sneak off the trading floor at 5:30, which is early for finance. One of my friends would pick up an extra sandwich at lunch and slip it into my bag so that I would have something to eat on the way to school. That thoughtful and caring friend was to become my future husband, Robert.
I started Harvard School of Dental Medicine in 2010. Then during my residency at University of Chapel Hill Adams School of Dentistry in North Carolina, I wanted to study customized orthodontic systems. While doing research, I found some local labs that were doing 3D metal printing, and I designed a bracket and had to validate the use of 3D printing in orthodontics for my research. In 2017, I presented that research at the AAO and won the Charley Schultz Resident Scholar Award. This was very validating for me because the orthodontic community was recognizing that 3D printing was going to change orthodontics.
How did you become involved with LightForce?
I had known Alfred (Dr. Alfred Griffin, DMD, PhD, MMSc, cofounder and CEO of LightForce) when we often crossed paths on the interview trail for our residencies. We both shared an interest in the value of 3D printing. After my residency, I received a National Science Foundation Small Business Innovation Grant and started a company that continued research into 3D metal printing. Alfred chose a path of 3D ceramic printing.
I was happily living my dream in Chapel Hill in private practice 2 days a week, doing research 2 days a week, and teaching at UNC as adjunct professor of orthodontics 1 day a week, while raising my daughters. In 2020, Alfred reached out and asked me to join LightForce. I was not ready to move. In 2021, when the AAO was canceled, LightForce hosted an event at its headquarters. Many orthodontists, including me, who already had tickets to Boston for the AAO went to the LightForce FUTURE conference instead. I heard users talk about their experience with LightForce approaching orthodontics so uniquely and felt the excitement that echoed throughout the community. I felt the need to get on board with the LightForce system or to get left behind. On returning to Chapel Hill, my partner and I implemented LightForce, and I also brought the technology to my UNC residents. Alfred reached out again later that fall, and I was ready to listen.
What is your role in LightForce?
I am Director of Clinical Affairs and in charge of clinical education and research — ensuring that doctors are empowered with all of the information and tools for success with our technology, and conducting internal and external studies that help us to continually innovate. LightForce reduces doctor time, appointments, and treatment times through its efficiencies by putting the right bracket in the right place the first time. I also help bridge the gap between the orthodontic community and our engineers so that we can develop products that orthodontists are asking for. I can speak orthodontics, and I can speak engineering. I love to be the first person to get my hands on a product, test it, and offer feedback. There is no such thing as a bad idea. There may be limitations, but we have engineers who really think outside the box. We are reimagining braces. Thanks to 3D printing, we can change a product through design. Other companies have to retool a mold at a huge expense to change an item. That is why there has been minimal progress in orthodontics over the last 100 years.
How do you spend your time outside of work?
My husband and I keep very busy raising our three daughters, ages 4, 6, and 8. I love that they see me working hard for something I am passionate about.  I want to inspire them to innovate and take risks.
My daughter is already learning about perseverance. She said to me, "Nothing is impossible, it's just challenging. You have to figure it out."  That is so true. When I decided to return to school for 7 more years after I had already been a professional for 5 years, my coworkers on Wall Street thought I was crazy; but after those 7 years, I am doing something I love.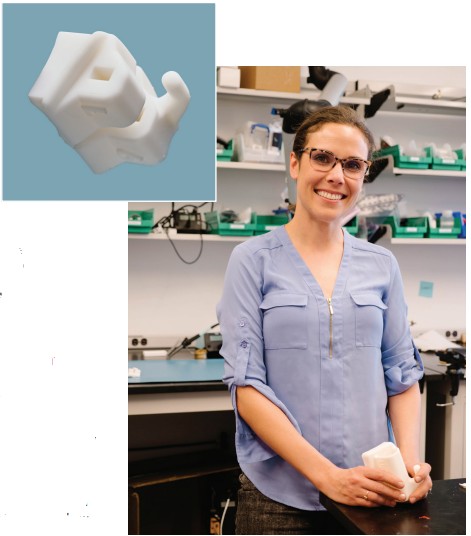 How did your past careers position you for success?
In a private practice and throughout my schooling and residency, I had to learn to collaborate with different people. It is helpful to be able to have a calm professional conversation with someone who has a different viewpoint. Also, on Wall Street, I learned to synthesize a lot of information very rapidly. I had six monitors, and I had to take all the incoming data, internalize it, and then be able to make a market. Now in my orthodontic practice, we also have to be able to synthesize information rapidly — the patient's starting occlusion; how the teeth got that way; where the teeth have to move; and how we are going to achieve our tooth movement goals. LightForce has amazing tools to make that easier.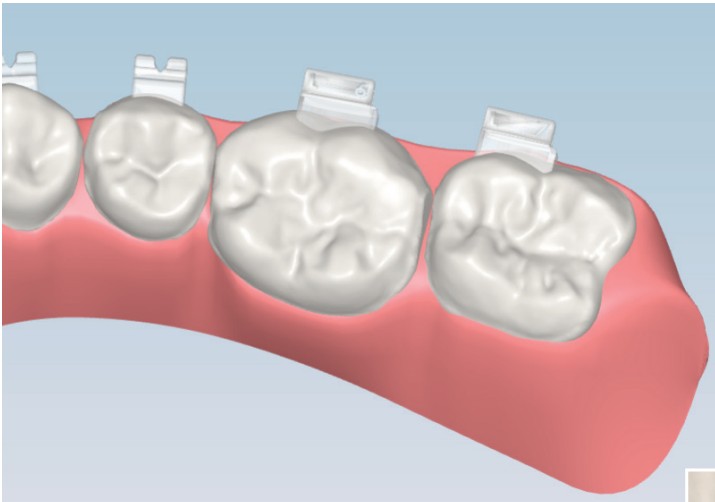 What are you expecting at LF FUTURE 2022?
I want people who are on the fence to come and see what LightForce is all about. LightForce has a community of "evangelist supporters." Once you try it, you don't want to try anything else. I want people to come to LF FUTURE 2022 with an open mind and see what LightForce users have already discovered. I am so excited for this year's conference in June and to hear my peers like Dr. Maz Moshiri, Dr. Lisa Alvetro, and Chris Bentson speak.
How is LightForce different from other systems on the market?
Some orthodontists think they have already experienced custom orthodontics because there are systems that will help you to place a bracket in a custom position. In those cases, a bracket will offer a custom slot or base, but there is no system that does everything that LightForce does. LightForce 3D-prints a custom slot and custom base, and can attain custom placement because we are the only company that can 3D-print a 100% custom bracket. With those "almost custom" systems, inaccuracies and inefficiencies still require the doctor to compensate by either bending wire or by repositioning a bracket. With LightForce's 100% customization, there are no compensations because everything is already in its place.
What innovations will we hear about at LF FUTURE 2022?
LightForce in its current form is already amazing and has been a game changer for my practice. But we continue listening to orthodontists and giving them what they ask for. We recently announced a big product release that we called LightForce 2.0. In this update, we added 6's and 7's to our product line, which were very challenging to perfect; but for us, challenges turn into realities. Our doctors are now able to submit additional scans to incorporate newly erupted or previously impacted teeth during treatment, which allows them to treat these patients with all the benefits of a 100% custom system. Also, we added more diagnostic tools in the software to help our in-house technicians as well as our doctors when they plan their cases. Through collaborations with orthodontists, we have improved tie-wing and hook directionality, placement, and shape. LF 2.0 is the product of the feedback from the doctors over the past couple of years, and at LF FUTURE 2022, that conversation will continue. At breakout sessions, we will hear from our users about their wants and needs, and we will bring this discussion to our engineers.
With LightForce, if we can think it, we can make it. We don't just make braces; we 3D-print tooth-moving tools. There is enough excitement and new things evolving at LightForce that I will never run out of things to do and imagine up. It really is the perfect amalgamation of my experience in business, engineering, teaching, and orthodontics. I don't know that I could find another job that would be better suited for all of those things. The AAO has been my epiphany place. It was there I decided to pursue orthodontics, and there that I discovered the phenomenon that is LightForce. These lightbulb moments at AAO have allowed me to come full circle.
Stay Relevant with Orthodontic Practice US
Join our email list for CE courses and webinars, articles and mores