Note from Managing Editor, Mali Schantz-Feld: In daily professional life, much time and effort is spent developing clinical expertise and efficient business practices. While these skills improve patient care and create a positive office environment, we have discovered that humanitarian efforts not only correct the dental condition, but also touch the hearts of the patient, the doctor, and the community. This new column "Banding Together," will feature stories about how orthodontists treat teeth and change lives at the same time.
Dr. Robert Sheffield's story
Case 1

When Renee's mother dropped off her Smile For a Lifetime (S4L) scholarship application, she expressed sincere hope that her daughter might be selected. She described the relentless teasing of her daughter by classmates who called her "lizard face." She said her daughter hated to go to school. On the day Renee was surprised with her scholarship, she broke into a huge smile and said, "They won't be able to tease me anymore." Her mother broke down in tears, thanking everyone for saving her daughter from her classmates' taunts. Renee is full of life at each appointment, and we all enjoy seeing a patient so appreciative and deserving of one of our S4L scholarships. Renee is the embodiment of what the S4L foundation is all about.

Case 2

When Ashley and her mother came to the office for the screening visit prior to the final selection process, her mother explained that they'd been saving for orthodontic treatment for a year, but the unexpected death of Ashley's father prevented them from pursuing treatment. They were so excited to hear about the S4L Foundation. Ashley rarely smiled, but the opportunity for orthodontic treatment has made a difference. Her mother says she smiles all the time and approaches life with renewed confidence. She brought in Ashley's senior portrait, and said that when she asked Ashley about the option to "digitally remove the braces" Ashley said, "No, I want to leave them on; they are part of my story."
I consider myself extremely fortunate to practice the profession of orthodontics. I believe loving what we do provides us with the excitement to begin each day with enthusiasm. I enjoy going to the office each day because I know it will always present new and exciting challenges. I am fortunate to work with a talented and dedicated team who are passionate about helping others. Dentistry and orthodontics in particular, is a profession where we can make a significant difference in people's lives. We do orthodontics every day, and to have patients so thrilled to be treated is such an uplifting experience that it fills my entire spirit. All of our patients are happy to get their braces off, but I think the S4L scholarship winners are more thrilled to get them on.
Like many orthodontists, I frequently provided pro bono treatment for some patients at the request of colleagues, local teachers, or the dental society. However, there was no structure to our program, and our efforts were not focused. Like many people we have been impacted by the decline in the economy, our area suffered more than most from the housing bubble, and consequently, many current patients suffered financial hardship. Many prospective patients found that orthodontic treatment had to take a back seat to mortgage payments and food for the family. I got caught up in the "poor me" mindset regarding the economy and continued to reminisce about the good old days. However, I finally grew tired of all the negative news and stories of sadness and loss and decided I needed to figure out a way to do something positive for the community and our practice psyche.
Dr. Don Montano shared his involvement with the S4L Foundation with me, and his presentation of the scholarship recipients in his office moved me to tears. I realized that making the effort to start a chapter and provide orthodontic treatment to deserving children in the community could create a positive buzz. What I didn't realize was the amazing impact S4L would have on me personally.
We launched our chapter in April 2011. I am so very grateful to have a board comprised of nine local community members, former patients, business leaders, and dental professionals who take an active role in our chapter. We awarded seven scholarships in 2011 and just had our fall 2012 board meeting, selecting six more recipients and bringing our 2012 total to 13 awardees. Our chapter is committed to awarding 12 scholarships every year.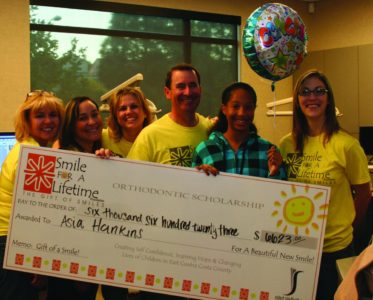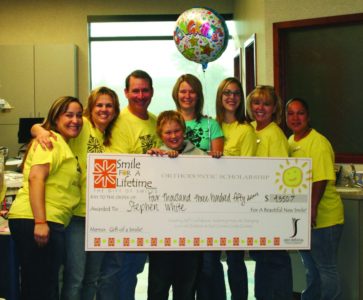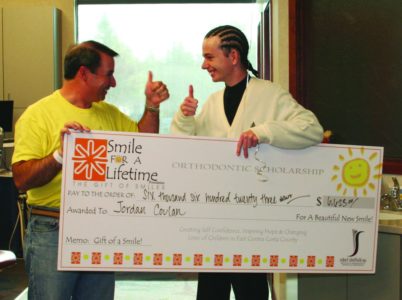 The day we surprised the recipients and their parents with their scholarships are easily some of the most memorable days of my professional career. Some kids are quiet, some scream with joy, and everyone cries! I've always known that orthodontics can make a difference, but listening to some of our scholarship recipients tell of the relentless teasing and bullying they've experienced due to the appearance of their teeth breaks my heart. Having a child tell you braces will save her life was never something I thought I would hear. Watching the change in our scholarship recipient's personalities provides continual joy to me and my team and reaffirms our commitment to this program.
I view the S4L Foundation as an opportunity to create a grassroots movement for positive change. Our recipients and their families are very thankful and regularly tell us so. I use each of those moments to remind the kids that I expect them to help others now and in the future; to remember to use their talents and resources to help others. I like to compare it to the commercial that shows people observing a good deed and then doing one themselves, and it is continually paid forward.
I applaud all the orthodontists who have stepped up to be a part of this organization. I'd like to thank Dr. Don Montano for sharing his story with me, and Todd Blanton from Ormco, a S4L Board member, for giving me the final push while we were out playing golf one day. I am continually humbled by the gratitude of the scholarship winners and their families, and thankful that I made the effort to use my time and talents to help our community in this fashion, because my professional career will never be the same.
---
Dr. Robert Sheffield is a native Californian and East Bay resident. He was born in Oakland and raised in Walnut Creek. His family was from Antioch and has strong ties to the area. Dr. Sheffield attended Northgate High School in Walnut Creek. He continued his education at UCLA graduating Phi Beta Kappa with a degree in Political Science. He then attended UCLA School of Dentistry graduating with honors. Dr. Sheffield continued at UCLA for his specialty training, completing a combined residency in both Orthodontics and Pediatric Dentistry. He served as Chief Resident of Orthodontics at UCLA Medical Center. During that time, he worked extensively with the craniofacial team, and developed and directed the first clinical trials in Distraction Osteogenesis at the UCLA Medical Center. Dr. Sheffield has given research presentations on facial esthetics and distraction osteogenesis at the American Dental Association and American Association of Orthodontists annual meetings. He is a member of the Delta Study Club, the Contra Costa Dental Society, American Dental Association, Pacific Coast Society of Orthodontists, the American Association of Orthodontists and is a Diplomate, American Board of Orthodontics. He is married to his high school sweetheart, Cristie. They have three children, Courtney, Ryan "Ryno," and Kaitlyn.
About Smile for a Lifetime Foundation The Smile for a Lifetime (S4L) Foundation's mission is "to create self-confidence, inspire hope, and change the lives of young people in a dramatic way" through the gift of a smile. S4L changes lives one smile at a time! If you are an orthodontist interested in using your time and talents to make a difference in a young person's life, please contact Michelle at [email protected] or visit www.s4l.org to learn more about how you can serve.
Stay Relevant with Orthodontic Practice US
Join our email list for CE courses and webinars, articles and mores