Editor's intro: Kenneth Burke says that texting with patients can revolutionize your practice and help keep lines of communication open with patients.
Kenneth Burke discusses how texting can improve communication efficiency with patients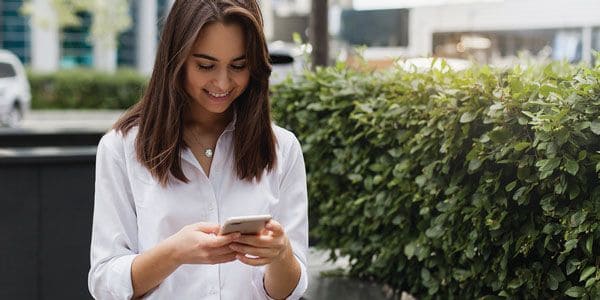 More revenue and an easier workday don't have to just be dreams. Orthodontists across the nation are seeing better results (and saving time) by texting with patients throughout the customer journey.
Why bother with texting?
According to Software Advice, less than 28% of Americans are willing to answer phone calls from local phone numbers if they're available to field the call.1 Unfortunately, your business hours are the same as your patients, and so the chances of their answering a call drop significantly.
Your office staff spends hours calling people who don't answer, and they leave a voicemail for almost everyone. That's good, right? Not quite. eVoice and CBS reported that only 18% of people listen to voicemail messages.²
Coca-Cola and JP Morgan made headlines a few years back for cutting voicemail from their corporate offices. I spoke to a manager at Coca-Cola about it. He laughed and said, "No one ever listened to them." Then he turned somber and said, "It caused a lot of problems."
Orthodontists are experiencing problems, too, such as missed appointments, lost revenue, and low patient engagement. Texting will help each of these, but what about email?
According to Constant Contact, only 16.5% of emails from health professionals are opened, and only 1% get a click-through or response.³ These poor engagement rates place a lot of undue stress on your staff and your bottom line. But 95% of texts are read within 3 minutes of being sent,4 and the average response time for a text is only 90 seconds.5
If implemented properly, text messaging can revolutionize your practice. Emily Beglin, DDS, and founder of SelectBraces, summarizes the benefits well:
"Our clients have been two-way texting with patients and prospects for more than 2 years. This has been by far one of the most beneficial pieces of software that practices have implemented in the past 10 years. You do not want to be late to the market with new technology that better serves today's convenience-obsessed consumers. Once a practice begins two-way texting with their patients and prospects, they wonder how they ever conducted business without it."
Here are some tips to show you how to get the most out of texting.
Earn more online reviews
Did you know that 78% of consumers place as much value in online reviews as they do personal recommendations?6
The first thing most people do when looking for an orthodontist is to jump on Google and see what others have to say about your practice. In fact, reviews are so valuable that they're even a major ranking factor in search engine results. All this means one thing: More reviews equal more patients.
So how does texting help you get more reviews?
Patients are more likely to open and click a link inside of a text message than they are to click a link in an email, and that — as healthcare clients have told us from internal customer responses and feedback at Text Request — leads to 100% to 600% more online reviews. The process is simple, too.
Send your patients a text after their visit; just be mindful of your timeline and process. If you have a patient coming by once a month, for instance, you don't want to send him/her the same message every time. You might wait until his/her treatments are completed, or only ask once every 6 months.
Depending on the software your practice uses, you can schedule these messages in advance or have them triggered based on patient behaviors. I'll touch on platforms more at the end.
Bring in new clients
About two-thirds of mobile traffic comes through Google searches from people who are looking for your services.7 Text messaging is also the most requested and highest rated channel for business communications.8 Here's why that matters.
New patients almost always have questions before you see them. They either want to know what services you offer, your appointment availability, what the cost might be, or something similar. And many prospects are asking different orthodontists the same questions at the same time.
Patients are finding you through their phones, and they want to text you. So let them text your office from your website.
"Click-to-Text" is a button on your website that viewers can click to send your business a text. "SMS Chat" is similar, except it looks like a normal live chat option. Messages come into your business as texts, and your replies go to that person's cell phone.
These options can work on both your desktop and mobile websites, but they're primarily important for mobile users. They'd rather text you and move on with their day than call or wait online for a representative.
Schedule (and keep) more appointments
Scheduling takes a little back-and-forth to find a time that works, and even once you have patients on the books, there's no guarantee they'll show up for their appointment. That's why you send confirmation emails, and why your office staff calls and leave voicemails. But what if you could save time while keeping more appointments?
Confirmation texts are the way to do it.
Text messages are read almost instantly, so you'll be able to get responses almost immediately and reduce no-shows. If your text system allows for two-way conversations, you can also find a new time for patients who can't make it to their original appointments. You'll turn no-shows into rescheduled appointments.
Another option that's been effective is to fill last-minute openings by texting overdue patients. Let's say your 3 p.m. appointment cancels or reschedules that morning. You can text 10 or 50 patients who are due for a checkup that there's a last minute opening, and you thought they might want to take advantage of it. The slots go to the first to respond.
This is helpful for your busy patients, and helps you turn a lost appointment into more business.
Improve customer service while saving time
Patients are constantly reaching out with questions, and according to Twilio, 89% of them would rather text you than call.9 That would be good for you, too. A staff member can only handle one phone conversation at a time, but he/she can handle multiple text conversations at once.
Phone calls also put staff under the gun to look up details and explain them on the spot, while a text gives them more flexibility. A patient can text in a question (maybe through SMS Chat), and a staff member can say "Let me look that up for you real quick." If you can respond within 10 minutes or so, people are going to be happy.
This process also improves the customer experience, which means patients will be more likely to leave you a glowing review and tell their friends.
Get your promotion in front of the right people
Few things are better for business than happy customers. When you're trying to drum up appointments and referrals, these are a great source to tap into. So send past patients a promotional text whenever you're running specials.
Virtually every text is read, and the average click-through rate is anywhere from 30-50% (Text Request, Salesforce).10 Your engagement through SMS promotions is likely going to be more effective (and cost less) than any ads or commercials, and your message is more likely to spread.
Even if your promotion doesn't appeal directly to the patient you sent it to, there's a high chance they have a friend or family member to whom it does apply, and who they'll share it with. The worst case scenario is that it's another touch point to strengthen your brand.
A note on compliance
I'm not a lawyer, and this is not legal advice, but there are two things you should know.
Number one, unless the patient has to download a secure app to text with you (which is clunky and hard to get people to do), there is no such thing as a "HIPAA-compliant texting" tool.¹¹ The signals used to send SMS text messages are not encrypted as they travel between cell towers. However, you can text compliantly for each use case mentioned in this article.
The golden rule is, Do not share any personal health information (PHI), such as date of birth or confidential patient notes. Avoid that, and you'll be in the clear.
Number two, you need to have permission to text a patient. A rule of thumb is that you can text patients who give you their cell phone number unless they ask you not to. You also need to make sure they know how to stop receiving texts from you should they ever want to. Most texting services include a STOP (opt out) function to make this easier on everyone.
The spirit of the law when texting as a business is to communicate like you would with friends — i.e., don't harass your patients. Use texting as the everyday communication tool it is, and everyone will be happy.
How can your orthodontic practice manage texting?
You're going to want a professional system with a few bells and whistles so you can experience all the benefits covered in this article without adding to your to-do list.
To start, you need an online dashboard, so your staff can text from their computers. You'll want multi-user functions, so you can see if another employee is already handling a conversation, and so you can always know who said what to whom and when (for oversight and compliance). You'll also need the system to be secure and hold a permanent record of texts.
One thing orthodontists love is being able to text from their same office phone number. That way, you just have one number patients can text or call, which is more convenient for everyone. Other things to consider are individual and group (broadcast) texting, features such as message templates and auto responses, importing contacts, and being able to text from inside your CRM.
There are so many benefits to texting in your orthodontic practice, and consumers are moving more and more to texting for business communications like these. My recommendations are to talk through this with your team, and to then research text messaging solutions to make sure you've got everything you need to succeed.
In addition to texting with patients, Scott Hansen offers some more ideas on connecting, in his article, "Connecting Is the key: digital technology can help orthodontic practices grow."
Borowski C. Survey: Local Presence Dialing — Foot in the Door or Door Slammer? Software Advice. https://www.softwareadvice.com/resources/local-presence-dialing-survey/. Accessed June 6, 2019.
Vanderkam L. Are you still checking voice mail?. CBS News. April 11, 2013. https://www.cbsnews.com/news/are-you-still-checking-voice-mail/. Accessed June 6, 2019.
Average Industry Rates for Email as of March 2019. Constant Contact. May 7, 2019. https://knowledgebase.constantcontact.com/articles/KnowledgeBase/5409-average-industry-rates?lang=en_US. Accessed June , 2019.
Olenski S. Pulling Back the Curtain on Text Message Mobile Marketing. Forbes. March 4, 2013. https://www.forbes.com/sites/marketshare/2013/03/04/pulling-back-the-curtain-on-text-message-mobile-marketing/#3390288110d9. Accessed June 5, 2019.
Hopkins J. 9 Amazing Mobile Marketing Statistics Every Marketer Should Know. HubSpot. September 26, 2011. https://blog.hubspot.com/blog/tabid/6307/bid/24082/9-Amazing-Mobile-Marketing-Statistics-Every-Marketer-Should-Know.aspx. Accessed June 6, 2019.
Murphy R. Local Consumer Review Survey 2018. BrightLocal. December 7, 2018. https://www.brightlocal.com/research/local-consumer-review-survey/. Accessed June 6, 2019.
Large Companies are Becoming More Dependent on Smartphone Traffic. Here's Where Those Visitors Come From. MarketingCharts. September 18, 2017. https://www.marketingcharts.com/digital-80280. Accessed June 6, 2019.
Burke K. 107 Texting Statistics That Answer All Your Questions. Text Request. January 24, 2019. https://www.textrequest.com/blog/texting-statistics-answer-questions/. Accessed June 6, 2019.
How Consumers Use Messaging Today. Twilio. 2016. https://www.twilio.com/learn/commerce-communications/how-consumers-use-messaging. Accessed June 6, 2019.
Young H. Is SMS Marketing Right for Your Brand? 6 Things to Consider. Salesforce. November 6, 2019. https://www.salesforce.com/blog/2016/11/sms-marketing.html. Accessed June 6, 2019.
HIPAA Regulations for SMS. HIPAA Journal. https://www.hipaajournal.com/hipaa-regulations-for-sms/. Accessed June 6, 2011