Dr. Christopher Cosse writes how virtual monitoring of patients offers connectivity and convenience to the dental office.
Dr. Christopher Cosse discusses how virtual patient monitoring can bring efficiency and convenience to the orthodontic practice
Today orthodontists are reevaluating their practice procedures in order to do more with less. Providing exceptional patient care without overstretching resources is on everyone's mind. Thanks largely to recent advancements in telehealth technology and modalities, virtual consultations and virtual exams have gotten a lot of attention. Not to be outdone, their younger sibling — virtual patient monitoring — has been growing and may outshine the other two in no time at all.
What is virtual patient monitoring?
Virtual patient monitoring utilizes digital technologies to collect medical and other forms of health data from individuals in one location and electronically transmits that information securely to a different location for assessment, recommendations, and advancement of treatment from a provider.
The COVID-19 pandemic forced this technology into relevancy in 2020, and it will be a necessity for practices to offer this convenient service in order to stay relevant in 2021 and beyond. Fortunately, this is a win-win for patients and practices alike. Patients want this service for the convenience and safety that it offers, and practices benefit by decreased chair time and expenses, and an overall increase in efficiency and profitability.
I take great pride in my office and staff's reputation of being very personable and welcoming. Initially, it was hard to shake the fear of losing the "personal touch" that our patients have grown to love and expect from our office by incorporating virtual appointments. However, I have found that providing this extra convenience has actually improved overall patient satisfaction. They are still getting one-on-one communication with me; it is just done virtually (which Millennials and Gen Z are used to anyway).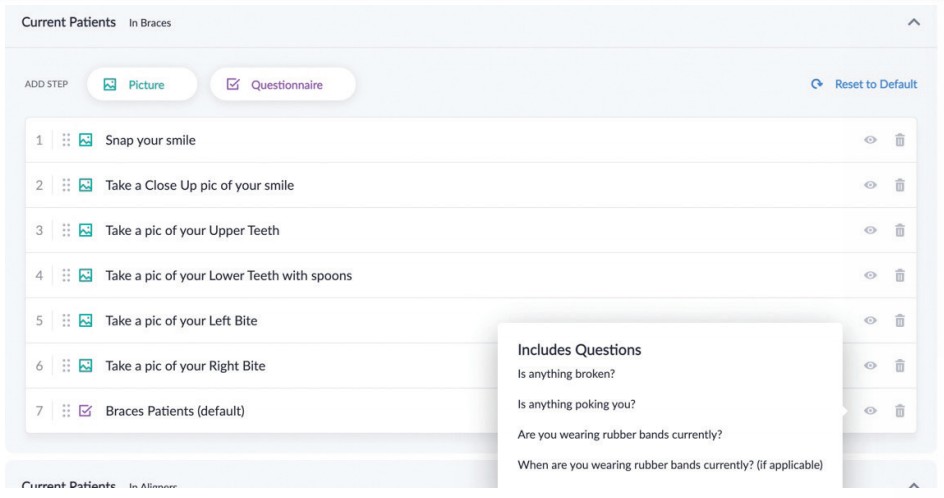 With COVID-19 still lurking, patients are leery of being around strangers and being in public places that have certain amounts of people moving through them on a daily basis.
If patients aren't necessarily worried about exposure, then I guarantee they are busy. Taking off work, taking the kids out of school, commuting to your office, and waiting in your reception area (or their car) to have a one-minute-of-doctor-time appointment telling them to continue what they were already doing, doesn't rank too highly on their list of satisfying experiences.
These days it is hard to think of a good or service that isn't offering some sort of virtual option for their business. Your patients expect this as an option — and will soon demand it.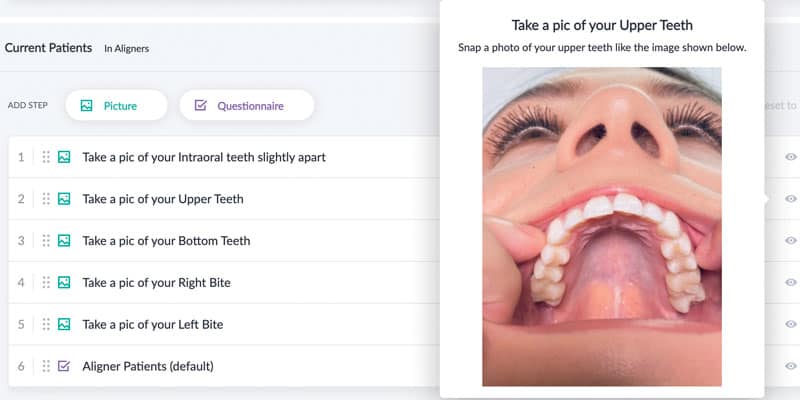 Dr. Bill Dischinger, an orthodontist in Oregon, has stated that he doesn't plan on doing aligner checks anymore. "I'm really excited to implement [virtual patient monitoring] to help me get through this time, but I'm more excited for its future."
Within a practice, the decrease in chair time naturally creates an increase in capacity.  Open chairs allow more space for new patients, or more time for virtual consultations. It has been estimated that every time a patient sits in your clinic chair, it costs the practice somewhere between $100 and $300. A decrease in costs and an increase in new patient starts lead to an increase in the profitability of the practice. Not to mention, the orthodontist can monitor their patients from home or the beach!
Dr. Palasz from Lititz Orthodontics in Pennsylvania has eliminated 20% of his in-person appointments in his office. "We now have a whole column in our PMS just for virtual appointments," Dr. Palasz said. "It is filling up fast with all those RPE, elastic, OH checks, aligner checks, etc."
Similarly to virtual consultations, the patients are given an appointment time and simple instructions on how and when to submit photos for their virtual consultation. The web-based and HIPPA-compliant software we use in our office has easy-to-follow prompts that carry patients through the entire submission process.
Our patients send in the required appointment information and any questions or concerns they may have entirely from their cellphone, using the phone's internet browser and camera. Since it is not a real-time system, the patients are able to submit throughout the day when it is convenient for them, and our office is able to respond between already scheduled in-office patients.
Once received, our designated virtual appointment assistant updates the patient's chart and notifies the doctor that the images are ready to view. The doctor will then dictate what information needs to be reciprocated, what actions the patient needs to take, and what kind of appointment is needed next. The assistant ensures all communication and documentation is completed, and either continues to the next virtual appointment or hops back in to seeing in-office patients if needed.
With the benefits that virtual patient monitoring provides, you may be wondering how to get started. There are several companies that specialize in virtual patient monitoring. OrthoScreening™, of course, is the one that we use. Other market options include Dental Monitoring and ClearPG. There are pros and cons with any of them, so it is important to find what fits best with your practice. Start by comparing the features, cost, and connectivity to what you are already using with each service provider.
While special features such as Artificial Intelligence are cool, be sure to really evaluate the value of the features each company includes. You don't want a line item of your expenses to show a huge number when a more practical approach could have made that number much smaller.
Start now with implementing this technology into your daily office schedule. You won't regret it, and you won't get left behind — the benefits are too great for both patient and provider. Virtual patient monitoring is here to stay!
Dr. Cosse writes how virtual monitoring is a novelty that is becoming a necessity here:
Stay Relevant with Orthodontic Practice US
Join our email list for CE courses and webinars, articles and mores