Striving to be successful and significant
What can you tell us about your background?
I have great parents who encouraged my sister and me to be independent thinkers. We both played lots of sports and always seemed to have a job of some sort. She ran track at Millsaps College, and I played tennis at Mississippi State University. She became an artist in New York City, and I chose the dental track. I went to University of Mississippi School of Dentistry and was fortunate enough to go to Baylor College of Dentistry for Orthodontics. I met some amazing people during my time there and attribute whatever success I might have had to the "little things" I picked up.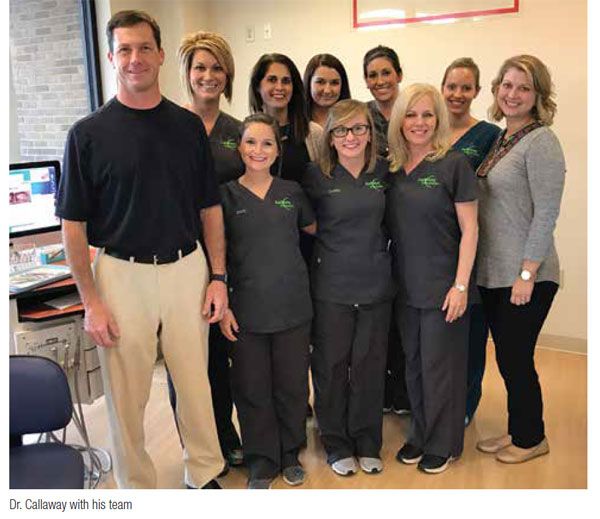 Why did you decide to focus on orthodontics?
In 7th grade, I told my history teacher I wanted to be an orthodontist, and I guess it just stuck. I think I wanted that career because our orthodontist drove a Porsche, and that seemed really cool at the time. Once I was in college, I was playing tennis and having fun and didn't want to major in one of the "sciences," so I majored in economics. Once I really got serious about what I wanted to do, it all came down to making a difference. I just couldn't figure out how there was any way to make as big a difference as improving someone's self-esteem.
How long have you been practicing, and what systems do you use?
I started three offices from scratch in 2000. I still have the same three offices and have tried virtually every technology that has been introduced to orthodontists since then. However, since the practice has grown, I have had to employ the KISS philosophy more than when I was just starting out. I still employ TADs, Herbst, Carriere®, Forsus™, and surgery to correct Class II's, so I haven't become pigeonholed just yet. I did ditch the reverse pull headgear the same year I graduated though. My master's thesis was on treatment time, treatment quality, and treatment efficiency. So I jumped feet first into self-ligating brackets and used everything that was available. We track our results monthly for debonds, and on a whim, I decided to try traditional brackets 4 years ago. After seeing the results, I dumped the self-ligating brackets and am all traditional brackets now. My good friend and mentor Dr. Rohit Sachdeva told me years ago that the secret to excellence in orthodontic care lies in developing the right "flight plan." His words ring true this day and define my approach to patient care.
What training have you undertaken?
I try to stay on top of anything new that comes out and usually that involves travel, which I truly enjoy. My favorite courses have been Dr. Jason Cope's TADs courses and anything involving i-CAT™ 3D imaging. I was a very early adopter of suresmile® and loved listening to Dr. Sachdeva's webinars and truly began understanding his concept of developing "empathetic ear-sight" in addressing a patient's care needs. I was also fortunate enough to go to Wonewok, Minnesota, years ago for a 3M Incognito™ meeting and was very impressed at the results that some of the leading adopters were achieving.
Who has inspired you?
I guess you could say I have always been very self-motivated and believe inspiration comes from within. However, there have always been people and events along the way to nudge me along. My favorite quote concerning orthodontics and life and one I live by every day came at my first Baylor alumni event from the founder of the department, Dr. Bob Gaylord. He put his arm around me and said, "Son, I like you; you're going to do just fine. Always remember, if you treat people right and do a good job, you will always be successful." And he is entirely correct. I treat every patient as if he/she is one of my own children, and that makes life very easy.
What is the most satisfying aspect of your practice?
Well, that is an easy one. Making people smile! The genuine love we receive from patients when their self-esteem is improved because they like the way they look is the reason I continue to do what I do and will have a hard time ever retiring. I believe it was David Phelps who said there is a difference between being successful and being significant. I feel I am a very successful orthodontist, but I enjoy the significance of helping people much more than the monetary reward.
Professionally, what are you most proud of?
I'm sure like most orthodontists, my pride comes from changing people's perceptions about themselves. Sure, as a team we give back a lot to the community from charity walks to donations, to free braces, but at the end of the day, making people feel better about themselves is what it really is all about.
What do you think is unique about your practice?
The most unique thing is that we live in rural Mississippi, but our practice employs the best technology available. We have two iTero® scanners and an i-CAT. The Air Force has a training base located in Columbus, Mississippi, and we are always hearing from patients that they never imagined we would be so "high tech." I guess that just shows you can't judge a book by its cover!
What has been your biggest challenge?
I'm sure I am like a lot of your readers in that managing growth can be a challenge albeit a nice one. As we have continued to grow, scheduling has probably been our biggest challenge since we want each patient to feel as if he/she is the only person in the room at each visit. It seems like once things are nice and smooth, I feel the need to tweak our processes to see if we can make our treatment even smoother for our patients. Of course, you could easily say I've been my own biggest challenge.
What would you have become if you had not become a dentist?
Between my 1st and 2nd year of dental school, I was thinking about changing my course and was working in Washington, DC. I had an informal interview, scheduled at Shinnecock Hills over a round of golf, with a Wall Street stockbroker. It rained us out, and I didn't ever look back. So I guess you could say I would be a stockbroker or a farmer, beekeeper, or hunting guide, which is what I truly enjoy doing now.
What is the future of orthodontics and dentistry?
I think the future is already here. My thoughts complement those of Dr. Sachdeva, which he discussed in his article, "Reframing Orthodontics 3.0," published in Orthodontic Practice US July/August 2016 issue. Corporate dentistry, PPOs, advanced technology, dental tourism — it is all changing very rapidly. If you look at the medical model, you have to think expanded duties will come about at some point in time. The insurance companies will look at any way to lower the cost of treatment, and they could justify paying an assistant or hygienist less for a procedure than an orthodontist. I know people don't want to hear this, but I think that in the future, patients will have the ability to scan their teeth from home or a "scan center" and have aligners shipped to them without ever physically consulting an orthodontist.
What are your top tips for maintaining a successful practice?
The famed investor Jim Rogers said the best investment to make is in yourself. That is the philosophy of my team and our office. We try to do fun stuff as a team, and the team also gets together without me. Just this month, they all had a "Day at the Spa," and we are going skeet shooting this Friday. Also, I believe that consistently tracking results and patient satisfaction is key. That which gets measured gets improved.
What advice would you give for a budding orthodontist?
Realize early that you need to be a clinician, manager, and visionary. Figure out what you are good at, and hire someone else to help you with your weaknesses. Dentists have a hard time "letting go" and realizing they cannot do it all. I'm definitely guilty of this. Try your best to avoid the dental handcuffs. From the very beginning, plot out what you want out of life and work to achieve that goal. Otherwise, you might realize 10 years later that although you might have accomplished a lot and have a successful practice, you might not feel happy and fulfilled.
What are your hobbies, and what do you do in your spare time?
Well, prior to marriage and children, I loved to travel, play golf and tennis, spear fish, and basically hunt anything that moved, especially bow hunting for elk. A wonderful wife and three children (3, 6, and 7) later, I'm more into spending my free time with them. We have started an apiary with some family friends, called Hardway Honey. The name came about because we don't do anything the easy way. Both families help out with all aspects of raising and tending to the bees. It's great for the children to learn about and, of course, they keep all the profits — they call it "honey money." We live in the country, so whether it's working in my wife's garden, tending to her chickens, or hunting and fishing together, we spend as much time as possible with the children. Last year was the first time we have really been able to travel with all three children, and they love snow skiing, so hopefully we can travel more in the future.