Building an authentic practice
What can you tell us about your background, and why you decided to become an orthodontist?
I grew up in Bountiful, Utah, which is just north of Salt Lake City. I never planned to be an orthodontist, or even go into the dental industry for that matter. My father had an orthodontic practice, and my two older brothers were also entrenched in learning the industry. I was convinced it wasn't for me. Instead, I was planning to study veterinary medicine. I've always had a love for animals and had been working for a horse trainer in California at the time. My career goal changed, however, when someone very wise once told me, "If you want to own a healthy horse, don't become a veterinarian because you are always working on other people's animals, and won't have time for your own." For some reason, this stuck, so I applied to the University of Utah and went from there.
After completing my undergraduate degree at the University of Utah, I continued on to the University of Iowa where I earned my Doctor of Dental Surgery degree. Funny side story about my time at Iowa, actually. I met my wife, Janine, there while completing my dental degree, and we came to find out that we grew up just five blocks away from each other in Utah. Talk about a small world! From there, I went on to receive my Orthodontic Certificate at Indiana University. I completed Indiana's dual-specialty program for orthodontics and prosthodontics. What's cool about this is that I was the first to complete this dual program at Indiana; typically students complete each degree one at a time.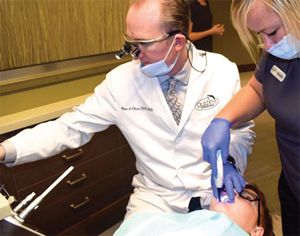 Today, I operate my practice, Olsen Studio Ortho, out of Billings, Montana, and Lander, Wyoming, and my passion for what I do is second to none. We have a total of six locations, the two main offices and four satellite locations; and my wife, Janine, helps steer the ship at all offices.
How long have you been practicing, and what appliances do you use? 
I have been practicing orthodontics for more than 16 years, and love the opportunity it's given me to make a positive difference in the lives of the people in my community.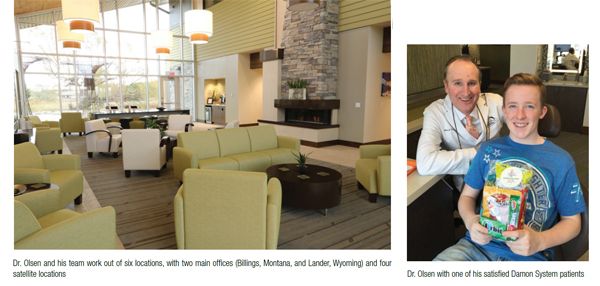 One of the flagship products that my staff and I use is the Damon™ System by Ormco™. In fact, in April of this year, I'll be celebrating my practice's 10-year anniversary of using the Damon System. This advanced, efficient, esthetically pleasing orthodontic treatment system has been instrumental in the growth and success of my practice. It's interesting how I came to be such a believer in the Damon System. As I began looking for a new system to use in my practice, I knew one thing for certain: I wanted to subscribe to a treatment philosophy that I could really and truly be passionate about.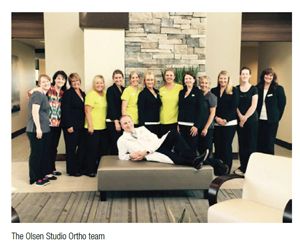 In 2007, I attended an industry meeting at the Montana State Orthodontic Society Meeting where Dr. Derick Tagawa was speaking about the Damon System. I remember looking around the room and thinking to myself, There are orthodontists in this room approaching retirement — in their mid to late 60s — but they're operating with the passion and excitement of doctors who just opened their practice. Their excitement for the industry and the Damon System blew my mind. You'd think that at that age, they'd be focused on retirement, eventually settling down, or travel, but their passion about Damon was contagious and got me excited about the potential of what could be accomplished with the system.
After that meeting, I watched lectures by Drs. Dwight Damon and Alan Bagden. Once again, the passion they exuded for the industry and the Damon System was something I knew I could fully support. I studied Dr. Damon's cases extensively and am now a proud Damon provider.
Additionally, in 2011, my practice began to offer Insignia™ Advanced Smile Design™, also by Ormco.
What is the most satisfying aspect of your practice, and what makes it unique?
The most satisfying thing about my practice and profession is the daily interaction I have with my staff, patients, and their families. Being an orthodontist is a social profession, and the opportunity to do this on a daily basis makes my 9-to-5 more enjoyable. Seeing my hard work reflected on the faces and smiles of those individuals who walk through my office door makes even the tough days exceptional.
I think the geographic footprint of my practice and the areas we serve — northern Montana to southern Wyoming, northeast Wyoming to central Montana — and the fact that the practice is serviced by just one orthodontist makes us rather unique. We have about 30 staff members, and every day we strive to boast an impeccable presence, exceptional timeliness, and make every appointment impactful.
What are your top tips for maintaining a successful practice?
Hire great team members. Don't be afraid to use a lengthier hiring process to ensure a good hire.
Be willing to embrace change in products, theory, protocols, and processes. It's bound to happen, so embrace it!
Know your numbers, and stay in tune with key practice indicators.
Be authentic, and strive to live up to your God-given potential each and every day.
What is the future of orthodontics?  
It goes without saying that technology is going to continue to drive everything. The larger, more robust practice model will continue to be adopted as well. In terms of what I'd like to see, given my dual disciplines, it would be nice to see more interdisciplinary practices emerge. Maybe more dental practices will come together with orthodontics to treat patients holistically and secure a true 360 degrees of the patient. While the industry will continue to be price driven — this will always exist to some degree — the industry will always remain steadfast in its service-based and customer-service business model.
What advice would you give to an aspiring orthodontist?
Plain and simple: You have to be passionate about what you do. You should also be comfortable with limiting yourself to what you are good at and what you are zealous about. Hone in on your craft and become really good at something versus being mediocre at many things. Don't try to live up other people's success. Instead, realize YOUR potential and live up to it to the best of your ability.
Additionally, find a mentor whom you trust and respect. They will soon serve as your "safe place," where you can ask questions and find answers to your challenges. Continue to be a student as well, not just of orthodontics but of business and entrepreneurism.
What are your hobbies, and what do you do in your spare time?
Lots of things! I don't have any sons — I have three daughters — but I'm involved in the local Boy Scouts, serving as a mentor and leader. I love working with young men to help them find their passion and build their skill sets. I also enjoy being outside, fishing, hiking, and being with my wife and daughters. I also have a knack for building and constructing things (I guess you could say I found the right profession after all).
Top 10 favorites

My wife, Janine (married 24 years), and my three daughters, Emmalee, Kaitlin, and Jillian
Damon™ System and Insignia™ Bracket Systems from Ormco™
Automatic alginate mixers
Towel-warming oven (white)
BBQ ribs (a full rack, of course)
Big Thunder Mountain Railroad at Disney World
Classic country music
Dogs (basset hound, German shepherd, and English golden retriever)
Utah Jazz basketball team
My dad
Stay Relevant with Orthodontic Practice US
Join our email list for CE courses and webinars, articles and mores