A career of compassionate care for Dr. Ricky Harrell, Program Director at Georgia School of Orthodontics
What can you tell us about your background?
I graduated from the University of Alabama (UAB) School of Dentistry in 1979. After 2½ years as a dental provider for the Navajo Area Indian Health Service in Arizona, I applied and was accepted into orthodontic school at UAB. Following graduation in 1984, I was in the private practice of orthodontics in Westminster, Colorado, for 23 years. I became an educator in 2006 and spent 9 years at the University of Colorado Department of Orthodontics, 2 years as Program Director at Medical University of South Carolina in Charleston, and then came to the Georgia School of Orthodontics (GSO) in Atlanta in April 2017. GSO is a 36-month Advanced Specialty Education Program in Orthodontics and Dentofacial Orthopedics.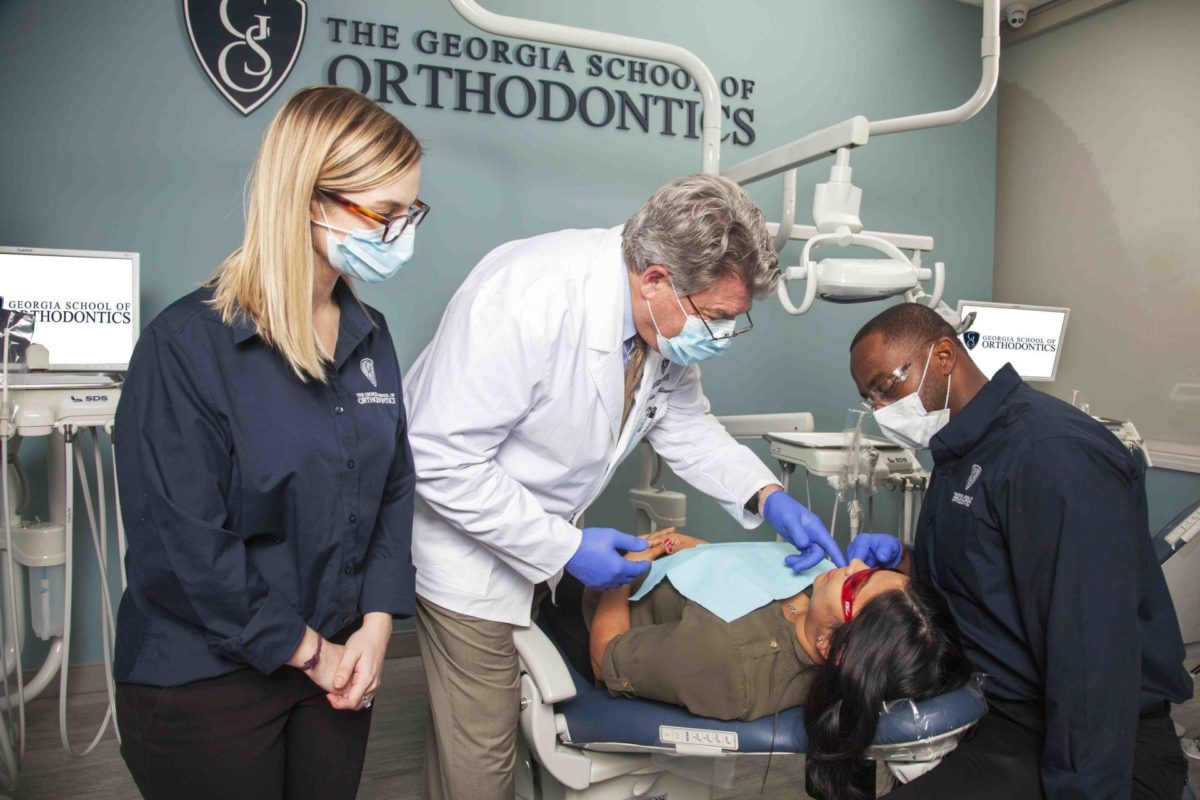 Why did you decide to focus on orthodontics?
My interest in orthodontics was piqued while serving in the Indian Health Service. I treated primarily children and was comfortable with operative and oral surgery for the patients but eventually decided I needed significant additional training in orthodontics in order to perform it well and safely.
How long have you been practicing, and what systems do you use?
I started practicing in 1984 so this year marks my 34th year as an orthodontist. I typically use the MBT™ system, and despite the lack of popularity of the approach, I still firmly believe that extractions are appropriate in properly diagnosed cases that require them.
What training have you undertaken?
Numerous MBT courses, the Roth Course. I completed an MA in Education in 2015, and I am board-certified in orthodontics by the American Board of Orthodontists (ABO). In addition, I have both provided and received many, many continuing education courses.
Who has inspired you?
I have to give credit to the two primary educators in my residency training program, Drs. Alex Jacobson and P. Lionel Sadowsky. I would also give credit to my chair at the University of Colorado, Dr. Larry Oesterle, for pushing me to pursue my advancements through the educational system over the past 11 years.
What is the most satisfying aspect of your practice?
In private practice, it was making a difference in the lives of my patients. I also very much enjoyed developing long-lasting relationships with the families in my practice. In the educational career, it is producing competent, compassionate, caring, and ethical orthodontic practitioners to take over the profession I have so dearly loved over the past 4 decades.
Professionally, what are you proudest of?
In my educational career, it has been the achievement of the national pass rate for my residents at GSO in the program's second year. These residents have clearly been highly successful in their education so far. From a purely professional standpoint, I am very proud of treating patients for 40 years without ever having a complaint filed.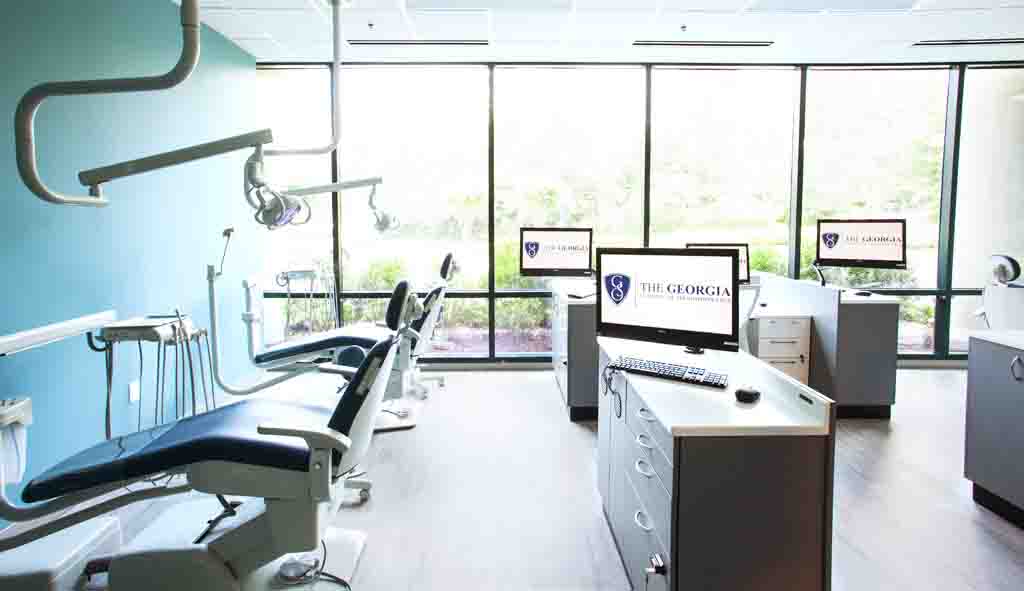 What do you think is unique about your practice?
The practice within our residency program incorporates a unique team approach to care where our board-certified orthodontists and resident dentists evaluate our patients' treatment plans. We are also somewhat unique in that we emphasize use of advanced technology, such as CBCT scans, 3D scanning instead of alginate or polysiloxane impressions, reduced lab work for residents, and in my opinion, for an orthodontic residency program, we have one of the best practice management programs in the nation.
GSO's Atlanta clinic reception area (left) and GSO's new Duluth, Georgia clinic (right)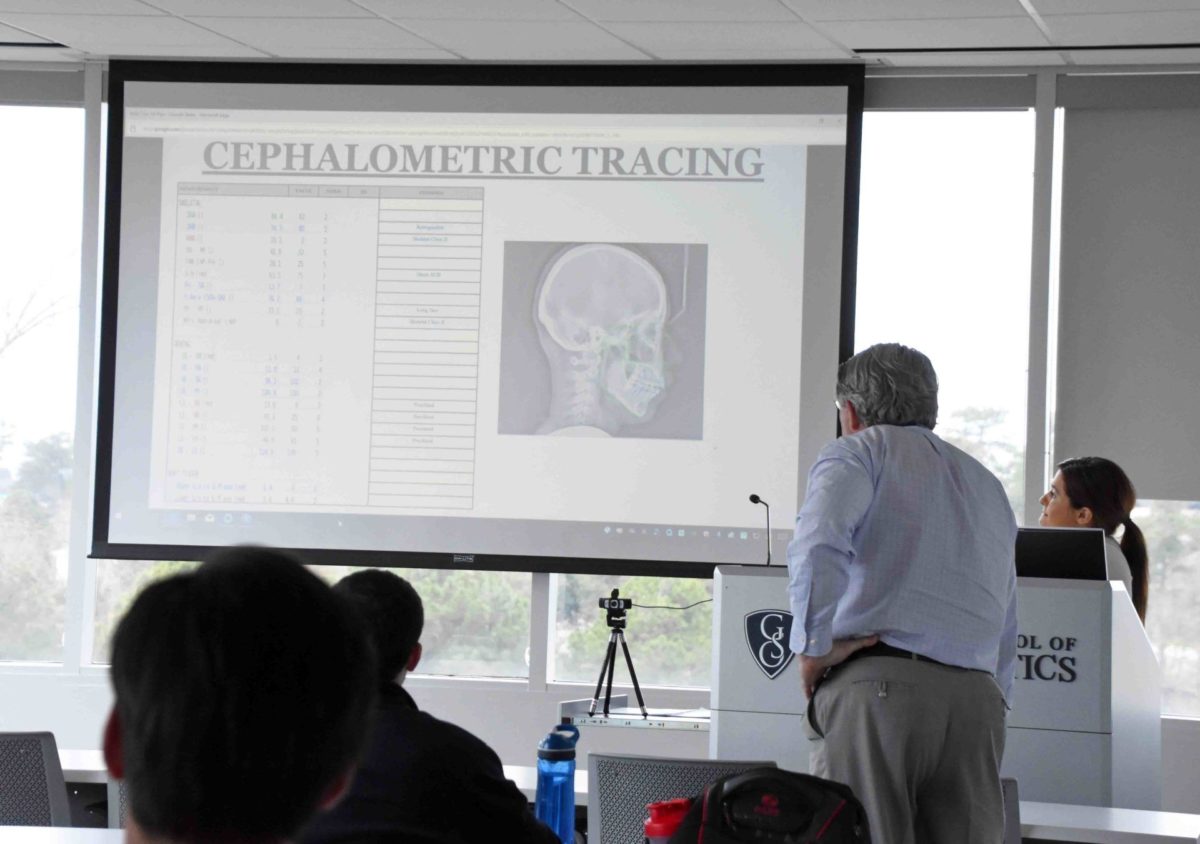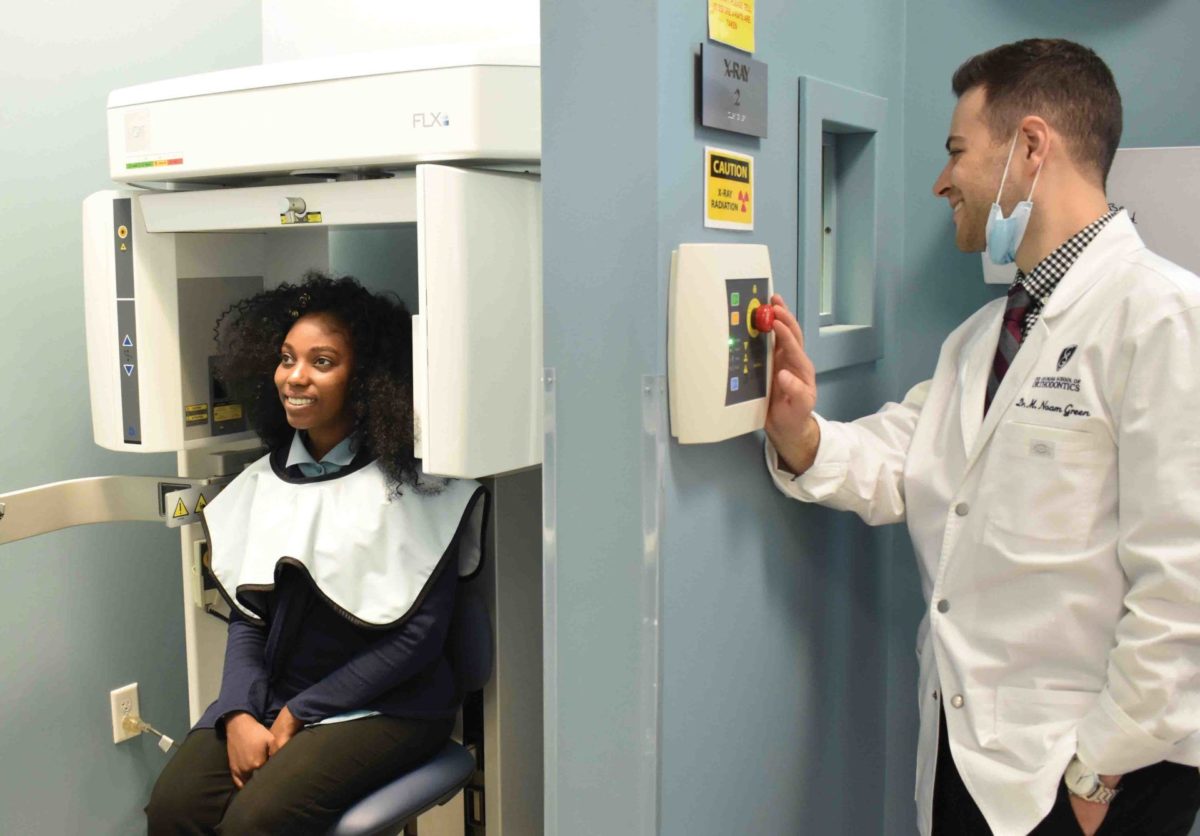 Dr. Harrell lecturing residents (left) and Dr. Noam Green, Associate Professor, taking a digital X-ray with the i-CAT™ FLX (right)
What has been your biggest challenge?
The biggest challenge within the institutional practice has been building a patient base that started at zero and within 2 years, having 2,500 established active patients in the residency practice.
What would you have become if you had not become a dentist?
I was leaning towards a career in biology (and to some extent, have had a career in biology) and thought about becoming a university instructor as I liked the atmosphere of a learning institution. Orthodontics has allowed me to do both.
What is the future of orthodontics and dentistry?
I think the future of orthodontics and dentistry is a bright one. Obviously, there is increased market pressure on orthodontists from corporate dentistry, expanded provision of orthodontic services by providers other than orthodontists, and provision of orthodontic services that bypass the provider completely. I think as a professional group, we have to continually educate the public to ensure they understand the advantages of having services provided by a specialist trained in the field of orthodontics.
What are your top tips for maintaining a successful practice?
My top tips go back to basic human behavior. Treat everyone in your practice, whether they be patients, parents, staff, or professional colleagues, as you would wish to be treated yourself. So very basic and yet so often overlooked. Everyone, until he/she proves otherwise, deserves the respect that you would expect to receive from some-one else.
What advice would you give to budding orthodontists?
My advice to young, budding orthodontic practitioners would be to think outside the traditional box of a practice in an upscale urban or suburban area. We don't have a supply problem in orthodontics. We have a distribution problem. Do your homework, look at the data and statistics, and figure out where orthodontic services are in short supply. This often points to places outside of large metropolitan areas, but success will come much quicker and much easier going to these areas. Another bit of advice I would give is not to try to attain the "orthodontic lifestyle" that we hear so much about. Start small and basic, add things as the budget allows, not just in the office setting but in the home setting as well. Success will come to those who work hard, do good work, and exhibit some restraint on their early spending habits.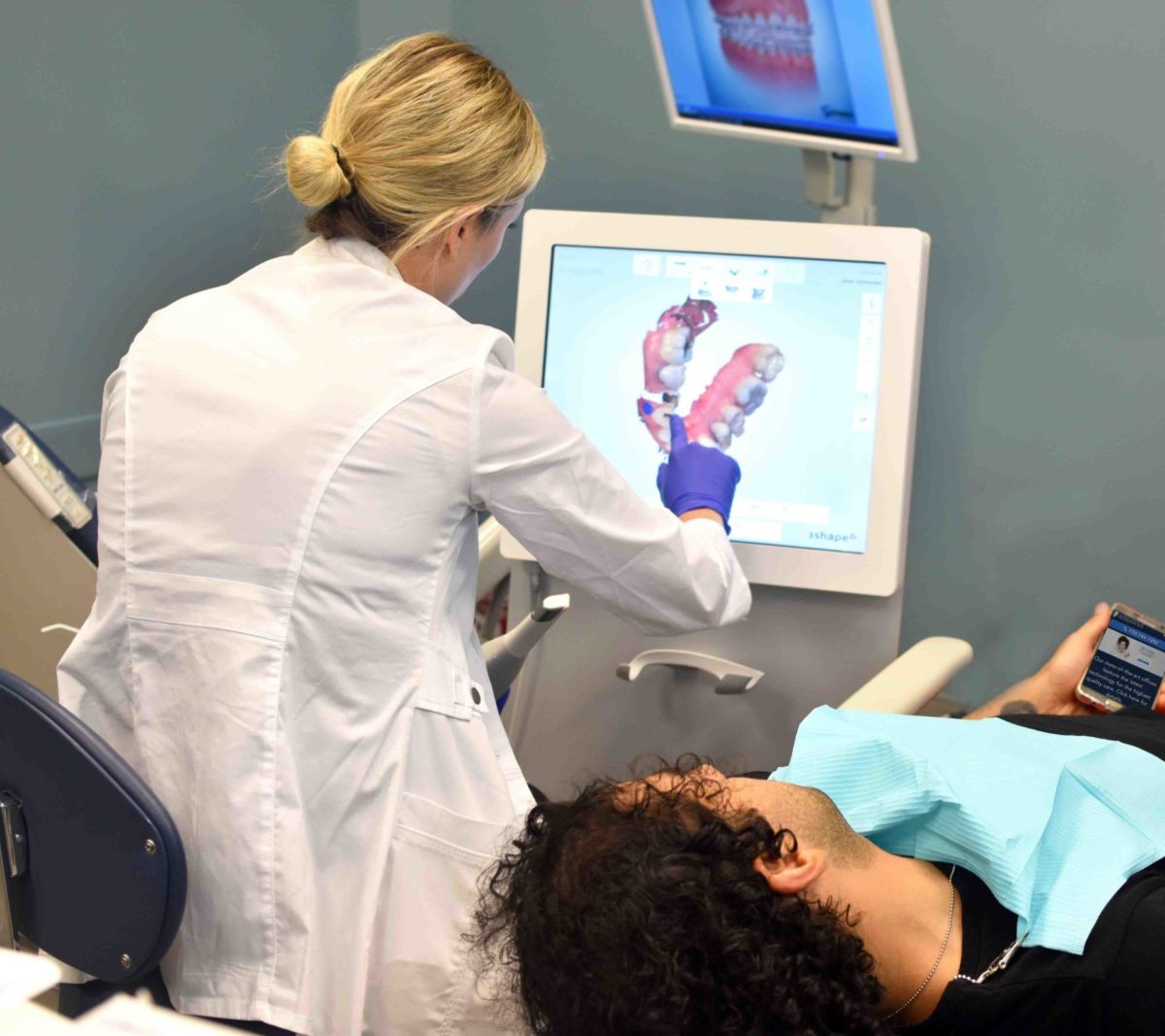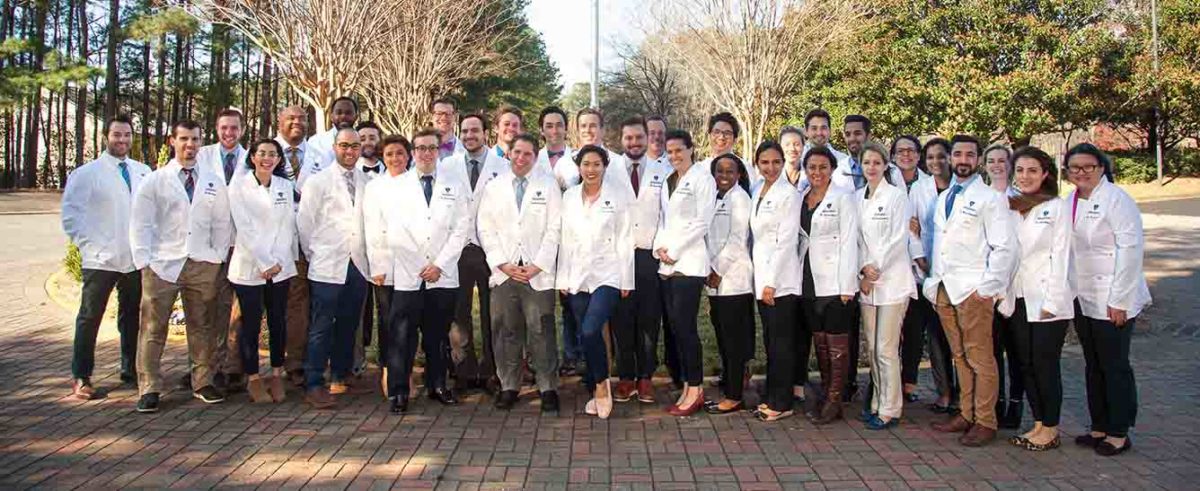 Resident, Dr. Ashley Kisling, using the 3Shape and GSO Residents Class of 2019 and Class of 2020
What are your hobbies, and what do you do in your spare time?
I love to fly fish, snow ski, mountain bike, pretty much anything outdoors. I also enjoy reading, both fiction and nonfiction, traveling with my wife, and spending time with my children and grandson.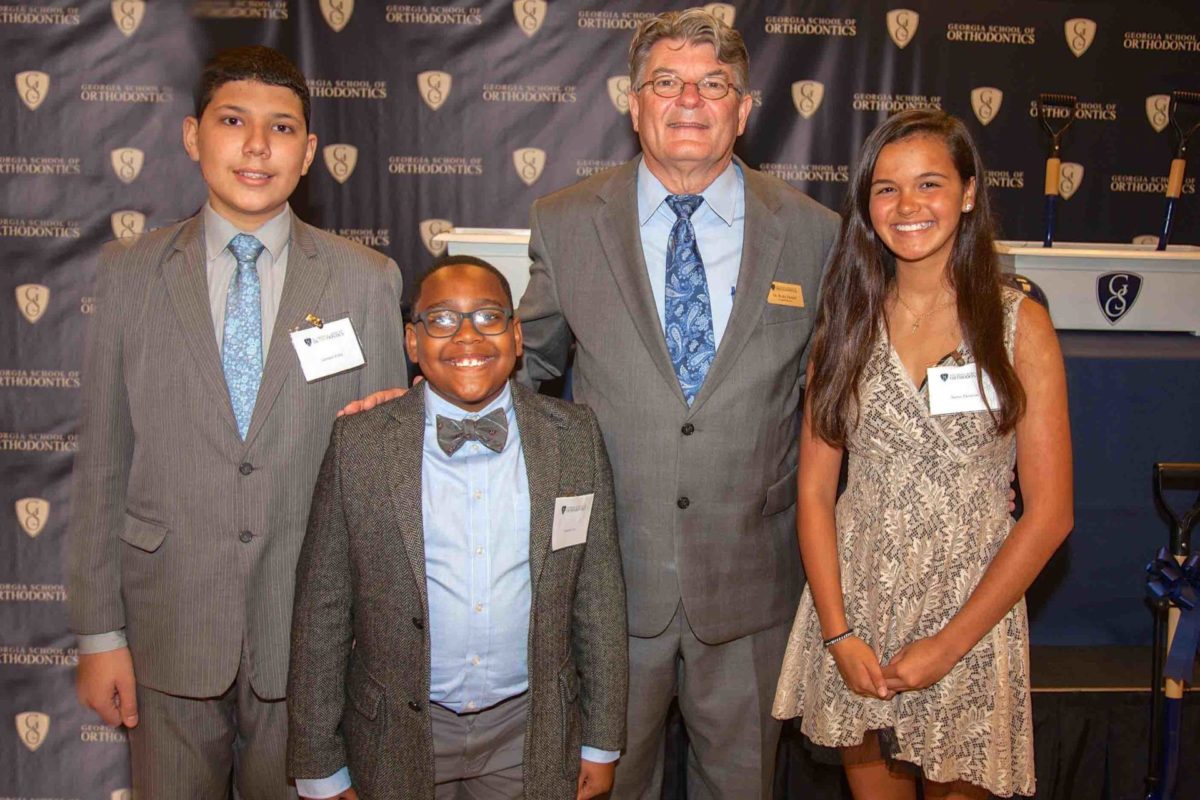 Top favorites

1. Watching a western sunrise or sunset.

2. Observing a resident or young practitioner having an "aha" moment.

3. Having a positive impact on patients.

4. i-CAT™ CBCT: Great piece of imaging technology that adds that third dimension to diagnosis and treatment planning. We routinely use these for impactions, obvious surgical patients, asymmetries, and anything that arouses our suspicions with traditional imaging.

5. Creating an even more beautiful smile for patients (when possible) with some appropriate diode laser soft tissue surgery.

6. Gemini® laser (Ultradent): The most effective tissue cutting diode laser I have used. Has a very sleek, modern appearance, uses disposable tips, and is user-friendly. Can make the difference between a mediocre outcome and an excellent outcome. Also useful during treatment for minor soft tissue impaction exposures.

7. Dolphin Imaging Systems: The workhorse of orthodontic imaging. I very much like the MBT VTO feature for treatment planning. This VTO can quantify tooth movements and assist in a better-informed plan of treatment.

8. Having a resident contact me 10 years after graduating and still consult with me about treatment plans.

9. Ormco® VectorTAS™ TADs System: I think it is one of the more newer user-friendly TADs kits on the market with the color-coded screws and the delta-attachment coil springs.

10. 3D Systems' medical modeling virtual surgical planning: This system allows for orthognathic surgical planning and does a 3D-model surgery, demonstrates the anticipated outcomes, and can manufacture the surgical splints on 3D-printed models.

11. Feeling the tug of a big fish on a fly line.

12. Powder skiing on an untracked backcountry run.

13. A good slab of BBQ pork ribs (especially if I did not have to cook them).

14. Building lasting relationships with the inheritors of my profession.

15. The sound of one of the great western rivers at night while camping.
Stay Relevant with Orthodontic Practice US
Join our email list for CE courses and webinars, articles and mores