Editor's intro: With LightForce Orthodontics' fully digital, 100% customized bracket system, orthodontists can tailor braces to the patient's unique dental anatomy and treatment plan. 
First truly digital system for braces — from scan to production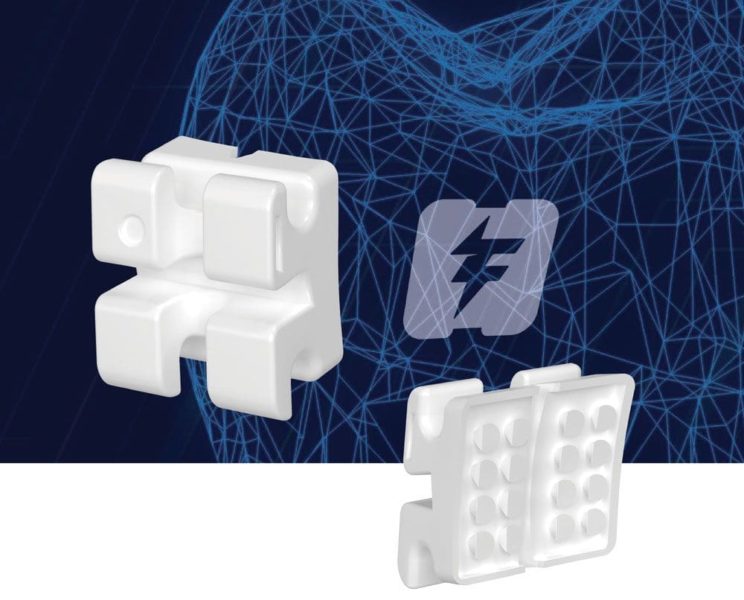 The success of orthodontic treatment depends on a final attention to detail and esthetics, precise tooth movement, and a dedication to finding the best materials, equipment, and software for treatment. At the heart of orthodontic diagnostics and treatment is the knowledge that each patient is an individual with specific anatomy and needs. When individualizing treatment, LightForce 3D-printing technology enables the clinician to tailor braces to the patient's unique dental anatomy and treatment plan.
LightForce offers a fully digital, 100% customized bracket system from scan to production. The brackets and indirect bonding jigs are 3D printed as direct outputs of your treatment plan ensuring that the precision of digital case setup and patient-specific bracket design is fully realized in the actual devices.
Recent studies have demonstrated brackets customized to a patient's anatomy increase treatment efficiency reducing treatment time by an average of 37%.1
Bracket
Customized to individual patient's teeth
LightForce introduces a truly individualized approach to orthodontic treatment, providing 100% customized braces based on the patient's anatomy and tooth morphology. Unlike today's conventional braces that have generic predetermined prescriptions and are manufactured with a fixed-base shape, LightForce is as unique as each individual patient.
Offering patient specific solutions incorporating digital treatment planning and custom braces differentiates your practice from those that use a standard approach for every patient.
Slot precision and accuracy
In an article entitled "An evaluation of slot size in orthodontic brackets — are standards as expected?" Drs. Cash, Good, Curtis, and McDonald noted the measurement of the slots of five upper left central incisor brackets from 11 commercially available bracket systems: "Results indicate that all bracket slots are oversized … [compared to] their stated dimensions." The authors also reported, "Inaccurate machining of bracket slot dimensions and the use of undersized archwires may directly and adversely affect three-dimensional tooth positioning."2
Slot precision is critical to efficiently delivering the desired prescription. Using state-of-the-art 3D printing technology, LightForce is able to manufacture brackets with slot dimensions that are precise and accurate time after time.
Anatomical fit as a result of next-generation, highly accurate 3DP
Better-fitting braces have long been recognized as improving bonding characteristics and treatment efficiency. Until LightForce, compound contouring was the industry's attempt to better match bracket bases to tooth morphology. Now using state-of-the-art 3D printing technology and digital treatment planning capabilities, LightForce is able to create bases that are fully customized, mirroring each individual tooth and resulting in an even more anatomical fit.
Consistent cement layer for more predictable bond strength
With standard brackets, the cement layer thickness varies to compensate for mismatches between the bracket base and the patient's tooth anatomy. Thick or uneven cement distribution at the bracket-tooth interface can negatively impact bond integrity as well as proper expression of the bracket prescription.
In an in vitro study, Drs. Jain, Shetty, Mogra, Shetty, and Dhakar said, "The thickness of the adhesive layer under a bracket may be an important factor that affects the final tooth position and bond strength. With increasing use of preadjusted brackets, it is important to ensure that a consistently even layer of composite is placed under each bracket to take full advantage of bracket design and to avoid the need for compensatory bends to be placed in the archwire."3
Because LightForce brackets are custom-designed to match each tooth's particular morphology, brackets can be bonded with a uniformly consistent cement layer.
Proprietary mechanical base designed for greater retention and more predictable debonding
The LightForce 100% Mechanical Base was designed for reliable bonding, and debonding. The proprietary under-loc™ retention mechanism provides deep undercuts for a reliable and predictable bonding experience.
Low profile for patient comfort with highly contoured edges and smooth tie-wings
Patient comfort with brackets — while tooth-movement technology has helped clinicians to reach orthodontic goals, patients will also measure their orthodontic experience by the amount of comfort or discomfort that they experience throughout the process. This is integral to non-relative patient referrals, multi-sibling referrals, and the word-of-mouth reputation of the office. In their marketing strategies, orthodontists who are vying to attract patients in this competitive marketplace can shine a bright spotlight on the comfort aspect of patient treatment when using these unique brackets.
LightForce Brackets are designed with patient comfort in mind. Our polycrystalline material and custom base provide the necessary strength in a low-profile bracket designed to minimize contact with soft tissues. Additional comfort features include smooth contoured edges and tie wings.
Software
Simple interface
Orthodontists want to maximize time spent with patients, not time in front of a computer screen. LightForce's simple and intuitive online interface is designed for fast and efficient treatment planning.
Cloud-based review and approval
Simple easy to use treatment planning software allows for review and approval from virtually anywhere.
Flexible bracket positioning while maintaining optimal treatment goals
The fully digital design and manufacturing provides the ability to vary bracket positioning as needed based on each patient's unique treatment plan. The software compensates dynamically to modify the bracket programming to maintain the straight wire goal while positioning to avoid occlusal interference.
Creates an ideal occlusion
Utilizing the perfect blend of software and technology along with clinical expertise, the LightForce system offers the 3D skeletal information and landmarks needed for the orthodontist to create an ideal occlusion.
The LightForce system creates the suggested ideal occlusion based on skeletal information from images and dental landmarks on each tooth. The doctor then has the opportunity to make adjustments to the occlusion based on individual clinical considerations and treatment preferences.
Complete control of all aspects of treatment
After approval of the initial treatment plan, the clinician will receive an email from LightForce letting him/her know that the patient's case is ready for evaluation. Because the LightForce treatment planning software is real-time, 3D, and interactive, the doctor has control over virtually every aspect of the case.
Approval to delivery in 7 to 10 days
The LightForce platform allows for fast delivery of the patient's custom appliance. Just 7 to 10 busines days from approval, the customized appliances are on the way.
Precise control of final tooth position
The LightForce system provides precise control over the final tooth position at the planning stage to help you achieve your treatment goals. Make precise adjustments directly on the 3D model and visualize the impact on the finish in real time.
This information was provided by LightForce Orthodontics.
Besides this innovative customized bracket system, there are many other ways to inspire patients to orthodontic treatment and to grow your practice. Read Dr. Shalin Raj Shah's introduction, "Leadership — paving new paths and inspiring others in 2019 and beyond," here.
Weber DJ 2nd, Koroluk LD, Phillips C, Nguyen T, Proffit WR. Clinical effectiveness and efficiency of customized vs. conventional preadjusted bracket systems. J. Clin Orthod. 2013;47(4):261-266.
Cash AC, Good SA, Curtis RV, McDonald F. An evaluation of slot size in orthodontic brackets–are standards as expected? Angle Orthod. 2004;74(4):450-453.
 Jain M, Shetty S, Mogra S, Shetty VS, Dhakar N. Determination of optimum adhesive thickness using varying degrees of force application with light-cured adhesive and its effect on the shear bond strength of orthodontic brackets: an in vitro study. Orthodontics (Chic.). 2013;14(1):e40-e49.