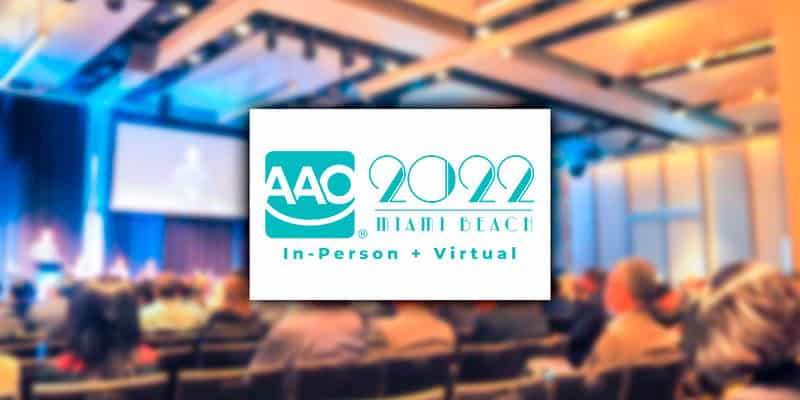 3M™
What can AAO attendees expect from 3M™ this year?
Our team is excited to highlight the innovations that make 3M™ an industry leader in digital workflows. Don't miss our speaker sessions where we'll dive into detailed overviews of our priority digital solutions, including the 3M™ Oral Care Portal, 3M™ Clarity™ Aligners Flex + Force, and 3M™ Digital Bonding.
Tell us more about Clarity Aligners Flex + Force and how the materials fit into the 3M digital workflow space.
A two-material system like Clarity Aligners Flex + Force gives orthodontists the flexibility to seamlessly leverage
complementary materials throughout a single treatment plan. Updates to the Oral Care Portal allow clinicians to customize each patient's treatment using Clarity Aligners Flex + Force in a single treatment design for truly customized treatment.
How is 3M addressing the biggest challenges facing orthodontists today?
From the Oral Care Portal to the new Clarity Aligners Flex + Force materials, we've designed tools and products that can give you the choice and control you need to deliver results. Through our robust education offerings, you can stay on the cusp of the orthodontic industry through extensive training. And when you run into challenges, you can lean on your dedicated customer care team of sales and service executives who provide on-demand custom support.
Visit 3M at AAO Booth No. 3400
Brava by Brius™: Bringing transformative technology to orthodontics
Brius Technologies is a forward-thinking innovation company dedicated to improving the orthodontic experience of both patient and orthodontist. Brava™, its flagship product, is the first orthodontic system to provide simultaneous, independent tooth movement — a radical departure from traditional mechanics.
The Brava Independent Mover™ System consists of an anchorage base and flexible NiTi arms that connect independently to each tooth via a bracket. Unlike traditional bracket systems that can cause unwanted tooth movement and round-tripping, Brava's reactive forces translate to its anchorage base, which then dissipate along the entire arch. With clinically insignificant reactive forces, the AI preprogrammed into Brava puts each tooth on an independent path to its planned position. The movement of any tooth has little to no effect on any other tooth. Leveraging digital workflow (scan, setup, and approval), the sophisticated algorithms of Brava's proprietary Planner Software consider ethnicity, age, gender, and root morphology to calculate the precise moment and force for each tooth for each patient. Brava's optimized, AI-driven biomechanics result in an esthetically superior, personalized, and highly effective and efficient treatment. With machine learning to further customize treatment for tomorrow's patients, Brava is built for now and the future. Not braces. Not aligners. Independent Movers.
Visit Brius at AAO Booth No. 1003
The Norris 20/26® System
 Control over torque and tip has eluded clinicians for years and has been compensated in various ways — from specifying additional degrees in programming, to repositioning, to wire sequencing. Finally, a solution is available with the Norris 20/26® System. Developed by Dr. Robert "Tito" Norris, this system provides unbelievable control with precise tooth movement and superior case finishing.
A bracket slot that better fits the wires you want to use
For doctors who love the PSL workflow but want an easier time finishing in a 19 x 25 wire, the .020 x .026 slot allows clinicians to pick up torque control earlier in treatment and maintain optimal three-dimensional control of the teeth throughout the finishing phase.
Why settle for an unreliable door?
If a bracket door breaks, collects plaque, or self-opens, the benefits of self-ligating go out the window. A self-ligating door needs to be user-friendly for staff and dependable throughout treatment. The Norris 20/26® door employs the most advanced door technology and ensures doctors and clinical teams will love its reliability from start to finish.
Come see for yourself at the DynaFlex® No. 2413 Booth in Miami. Each day we'll have in-booth lectures, product demos, and exciting giveaways.
Visit DynaFex at AAO Booth No. 2413
Gaidge: Introducing a better way to manage your patients
Stop by Booth No. 2018 at the AAO to see Gaidge's latest development — the New Patient Tracker! This addition to the Gaidge suite of business solutions will allow practices to track new patients from the moment they call in through the time they convert into an active start!
The New Patient Tracker will feature:
Patient Dashboard: The dashboard will offer organization and workflow management for all patients in the start queue. The dashboard features a comprehensive list of new patients and observation-ready patients with custom-sorting capability to make it easy to organize and track all pre- and post-appointment tasks, including:

Insurance verification completion
New patient forms submission
Appointment confirmations
Next appointment scheduled verification
Which patients need follow-ups
Breakdown of treatment recommended, outcome, contracts, and fees

Reporting: View your critical Treatment and Observation Coordinator performance metrics in chart and graphical formats. Everything from conversion ratio to financials helps you monitor starts achievement and individual performance against your goals or bonus programs.

Evaluate case acceptance, starts, and exams by TC.
View statistics for all pending patients and monitor follow-ups.
Track contract amounts, initial fees, and production.

Treatment + Fee Presentation: Seamlessly display your treatment recommendations and fee options.

Payment Slider Tool with down payment, discounts, and insurance
Ability for patients to accept treatment via email
Visit Gaidge at AAO Booth No. 2018
Ormco™
The Damon Ultima™ System
The new Damon Ultima™ System is the first true full expression* orthodontic system with a proprietary integrated wire and slot design that virtually eliminates play for faster and more precise finishing. It provides orthodontists with earlier and precise control of rotation, angulation, and torque. This unique and patented technology is designed to deliver the signature Damon™ Smile, resulting in full expression with lighter forces to treat in less time and to fully express your prescription with fewer wire bends. The Damon Ultima System is designed to reduce wire bends throughout treatment. With this system, rotations are completed with the first round-sided rectangular wire, and full expression is achieved with the second. After all rotations are corrected, the wire/bracket interface returns to a passive state while maintaining the desired rotational alignments throughout the remainder of treatment with the .0275" dimension wires.
Options for enhanced torque control
The Damon Ultima brackets are available in neutral, retrocline, and procline options for enhanced torque control. Larger size and different material Damon Ultima archwires are available for more torque control when needed.
To learn more about the Damon Ultima System, please visit: https://ormco.com/products/damon-ultima-system/.
*Data on file.
Ormco is a medical device manufacturer and does not dispense medical advice. Clinicians should use their own professional judgment in treating their patients. Individual patient results may vary.
Visit Ormco at AAO Booth No. 3617
Step-1 PumEtch
Smile Stream Solutions is excited to launch our most recent breakthrough, innovative product — Step-1 PumEtch.  Step-1 PumEtch is a patent-protected, tooth preparation formula that combines pumice and etchant into one singular solution.  Step-1 PumEtch has received FDA 510(k) clearance and is indicated for use in preparation of a tooth's surface for the direct bonding of orthodontic appliances, as well as in preparation for dental sealant procedures. In this way, Step-1 PumEtch not only eliminates a procedural step, but also virtually eliminates the need for redundant materials and equipment like slow speed handpieces.
Invented by a Board-certified orthodontist, Dr. Frank Besson, and exclusively developed by Smile Stream Solutions, Step-1 PumEtch brings clinical perspective together with manufacturing excellence. Even the dropper bottle that controls the flow of liquid was specially designed to ensure the proper mix of both pumice and etchant, every time. Step-1 PumEtch is then easily dispensed into a dappen dish and applied with a microbrush for either isolated or full-tooth coverage.
With Step-1 PumEtch, the first step in your tooth prep is the only step you'll need.
Visit Smile Stream Solutions at AAO Booth No. 2226
The science and innovative features behind Spark Aligners
Join Dr. Trevor Nichols; Dr. Marc Olsen; and Mr. Rick Matty, VP/GM, Global Innovation, as they share their insights and techniques regarding Spark Aligners.
Spark's advanced technology enables more sustained force retention* and better surface contact with the tooth compared with the leading aligner brand.* The superior force retention and surface contact of the Spark Aligner is due to its manufacturing technology. Spark Aligners are made with 80%* better printing resolution and a more uniform surface texture than the leading aligner brand.*
In addition, doctors can obtain results without resorting to optimized attachments. Spark's beveled attachments conform to a patient's oral anatomy, matching the surface of each tooth for a more uniform attachment surface.*
Plus, Spark's Approver Software™ is designed to give orthodontists start-to-finish control for more efficient and effective treatment planning. CBCT integration lets orthodontists import and visualize CBCT patient data,* while posterior Bite Turbos can be added to address complex cases.*
Join us to learn more about the Science Behind Spark and how orthodontists like you are using Spark to achieve great finishes and beautiful smiles. Be sure to ask about our On-Site Promotions.
*Data on file.
Visit Spark at AAO Booth No. 3617
Specialty Appliances
Specialty Appliances started integration of advanced technology in 2006. Today Specialty Appliances is 3D-printing splints, and both laser-sintered bands and crowns, and can print entire appliances out of metal. The advantage of digitally designed 3D-printed appliances can be appreciated by both doctors and patients. The doctor benefits by saving time and money with the elimination of unnecessary separator appointments. Practices will enhance patient satisfaction by cutting repeat appointments due to band fit issues. Digitally designed printed appliances further improve patient experience by eliminating uncomfortable tissue blanching. With over 40 years of experience and leadership, Specialty Appliances remains on the forefront of progress in digital technology.
Visit Specialty Appliances at AAO Booth No. 1200
uLab Systems, Inc.
Helping you build the digital orthodontic practice of the future
Providing you the highest-quality aligners in packaging that features your practice
Our uDesign 7.0 release, now with uAssist treatment planning, is a comprehensive aligner workflow solution that can be used across moderate to complex cases and gives you the convenience, efficiency, control, and flexibility you need when it comes to treatment planning, pricing, and delivery. Plan cases yourself, or use the new uAssist button within uDesign to send it to our digital assistants. Options are at your fingertips, so you can focus on what's best for your patients and your practice.
uDesign 7.0 from uLab —  It's the upgrade you've been waiting for
uAssist — concierge treatment planning services
Improved Guided Setup — both faster and smarter than before
Auto Staging — one-click intelligent collision avoidance and sequencing
uView — chairside consulting and treatment plan details on the web
See all of our AAO activities and register at ulabsystems.com/ulab-AAO.
AAO Booth No. 2400
The uLab Forum, May 20, Loews Hotel
Daily booth presentations
Individual uDesign 7.0 demonstrations — by appointment
Fred Talk, May 22, Dr. Bryn Cooper
Tech Select LIVE!, May 21, Dr. Rooz Khosravi
Visit uLab Systems at AAO Booth No. 2400
Stay Relevant with Orthodontic Practice US
Join our email list for CE courses and webinars, articles and mores