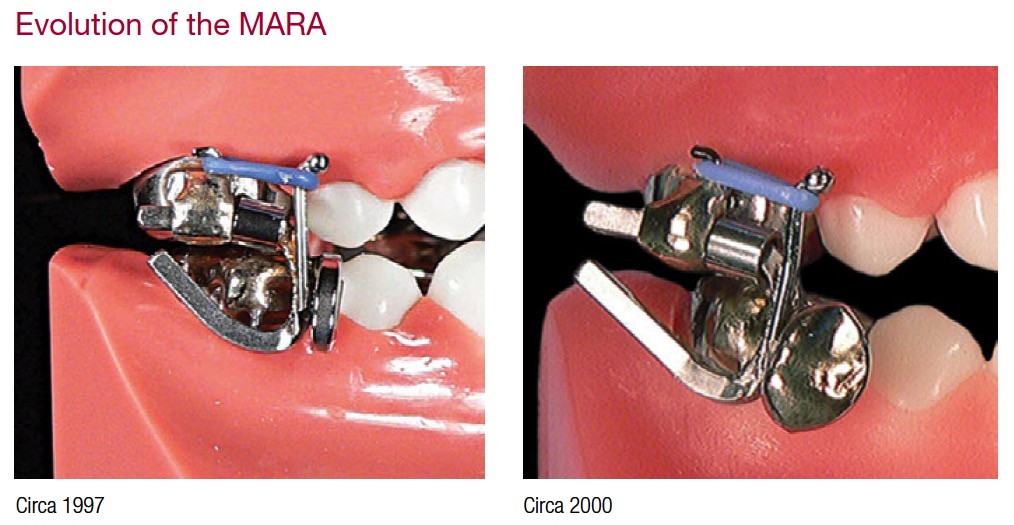 AOA released the first generation of the Mara™ back in 1994 and has since worked with many doctors, introducing multiple enhancements, all designed to make sure we're delivering one of the best Class II appliances for doctors and patients. Today's version, the MARA 3.0, offers a sleek, forged lower arm designed to withstand natural mastication forces and provide a smaller profile than that of previous designs.
AOA currently produces over 10,000 MARAs annually!
"As the orthodontist becomes comfortable in the performance of the appliance, the simplicity of design becomes more appreciated since there is little to master," says Jerry Engelbart, AOA's lead MARA technician since the MARA first made its debut.
The basic MARA consists of:
Four crowns or bands
Upper and lower archwire tubes
Lower arms soldered to the crowns
Upper elbow tubes soldered to the crowns
Upper elbows shimmed to support the desired advancement. Ball end hooks for ligation
Lower lingual archwire soldered to lower crowns/bands
The MARA can also easily be combined with a variety of different expansion screws to incorporate both transverse correction and mandibular advancement into one simple design. Another benefit of this appliance is the option for placement at various stages of patient treatment. It can be just as easily placed in a mixed dentition as it can in a permanent dentition due to its compact size and ease of delivery. Its ability to combine with upper and lower brackets, 5-5, can have an influence on reducing overall patient treatment time.
To get started today or for more information, call our experienced Technical Support and Customer Care Team at 800-262-5221.
About AOA
Since 1984, AOA has set the standard in providing the orthodontic profession with a full range of custom-crafted appliances. We have become a well-known industry leader founded on our creative technicians, family culture, and overall knowledge of the orthodontic market. With decades of industry experience, AOA continues to satisfy its customer base by striving to produce high-quality appliances while providing first-class customer service. From start to finish, AOA has an unlimited number of customized appliances.
This information was provided by AOA.
Stay Relevant with Orthodontic Practice US
Join our email list for CE courses and webinars, articles and mores