Dr. Sima Yakoby Epstein, founder of OrthoNu, tells how her own dental challenges caused her to invent innovative products that make orthodontic treatment less stressful.
Dr. Sima Yakoby Epstein explains how OrthoNu can redefine oral care for patients in orthodontic treatment
How can orthodontists show patients that they care about them? Adding technology to our practices is certainly helpful in improving our clinical skills, but how do we create the best experience for patients even after they leave the office? That means showing them that we care about the situations that make them uncomfortable, inconvenienced, vulnerable, or stressed during their time in treatment.
Reinventing the goody bag
One of the ways orthodontists connect to patients is by our goody bags. Patients excitedly look inside the bag that is supposed to hold some products that will help them through treatment — but often all they find are a toothbrush and some plastic flossers. They leave the office and then are surprised, confused, and frustrated about all of the ways that they have to problem-solve about their braces or aligners and of the emergencies that may create painful problems for them or their children. This is one of the reasons that I created OrthoNu — to change the way we address patients' pain points, discomfort, and anxiety and also to improve their perception of us in the process.
"It's really important to make sure that your patients are taking care of their teeth properly throughout treatment — and they can do it better if they have the right tools."
Depending on oral hygiene, a patient's microbiome is constantly shifting. When constant inflammatory state is added to the situation, as is the case with braces or aligner wearers, the result can be cavities, periodontal disease, and an influx of bacteria from having metal, ceramics, or plastics in the mouth. It's really important to make sure that your patients are taking care of their teeth properly throughout treatment — and they can do it better if they have the right tools.
Convenient self-care solutions
Tweakz for Braces and Aligners are science-driven and set the tone for patient care. Adult patients and parents face inevitable unforeseen problems that happen with braces or aligners. During the many emergencies that can happen with braces, parents have to deal with an uncomfortable child, without any solution except to call for an emergency visit. For braces, 99% of emergencies are broken brackets and sharp distal ends. And for aligners, 92% of emergencies are rough edges and removal of overly retentive trays.
Tweakz for Braces addresses these issues. The Flush Distal End Cutter eliminates the sharp wires, and the wire cutter holds the cut piece so it doesn't fall in their mouth or down their throat. That's so much more hygienic and safer than using nail clippers that previously were used to clip someone's toe or finger nails. The Dislodged Bracket and Elastic Remover removes broken or dislodged brackets (self-ligating or conventional) and food from hard-to-reach areas and between teeth. The Rubber Band Applicator removes and replaces rubber bands with ease, so no one has to stick their unwashed fingers in their mouth at work or at school. And now, you can save your nail file for your nails. The Diamond Dental File helps smooth out rough spots on brackets, hooks, and bands that can cause ulcerations.
The Tweakz for Aligners 4-in-1 tool kit includes a Dental Pick to remove food from hard-to-reach areas and between teeth. The Elastics Applicator removes and replaces rubber bands in an easy and sanitary way. The Aligner Remover can remove retentive aligners. (No more breaking nails or chipping polish when removing a tough aligner.) Patients can put that emery board back in their bag because the Diamond Dental File helps smooth out rough spots on composite attachments or aligners that can cause ulcerations.
These two products will make so many aspects of braces and aligners easier and less stressful. The small carrying case (that comes with a mirror) can easily fit in a purse, pocket, or backpack, with all the tools needed right at your fingertips. Tweakz clinical-quality material is easy to just wipe down with an alcohol wipe, wash with soap and water, or throw into the top rack of the dishwasher.
While avoiding emergency visits makes parents happy, reducing unexpected chairtime also helps the practice finances. Chris Bentson, Partner at Bentson Copple and Associates, says, "Most orthodontic visits are due to a device problem causing discomfort that is in the interest of the patient to resolve as quickly as possible, yet many of these could be resolved by the patient on their own well enough to wait for the next scheduled visit. At an average cost to the practice of $300 per visit, empowering patients to resolve bracket and wire problems on their own, eliminating the need to come into the office, can have financial and operational benefits to the practice."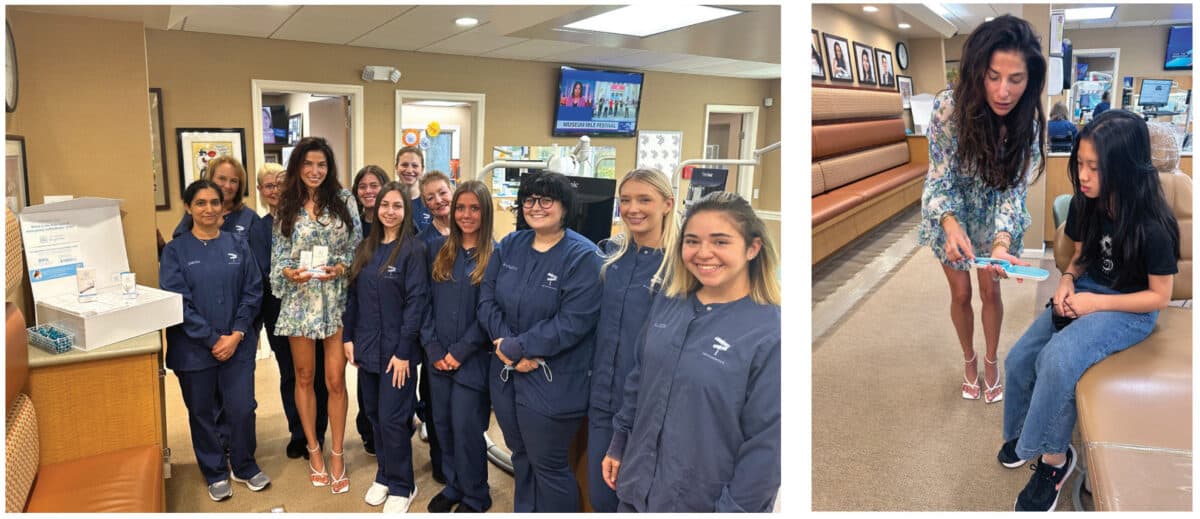 Continuing to redefine orthodontic care
OrthoNu continues to innovate. We are dedicated to introducing other products that help the microbiome of the mouth. It's a fact that sometimes, braces just don't feel good. We are developing other solutions for the pain points of braces created with products that contain functional ingredients. Two products that will debut by winter of 2023 and that have never been offered before will increase the comfort of braces and aligners. A healthy oral microbiome is encouraged by all of the products that will be produced by OrthoNu. Ingredients are anti-microbial, anti-inflammatory, beneficial for the gingiva, and able to remineralize teeth and keep that enamel strong throughout treatment.
On a mission to reinvent the goody bag, OrthoNu is creating other products that address pain, discomfort, oral hygiene, cleaning, and demineralization. We want to give the patient options for the issues that really happen during their time of treatment, to develop products that kids and parents appreciate and want to use in an easy and seamless way. Our goal is to be recognized in the industry for creating a pipeline of products that are the new standard of care.
Eighteen products are in the OrthoNu innovation pipeline, two of which are in collaboration with the University of Pennsylvania dental/medical/engineering schools, and a part of a 3-year development process. Currently, we already have three patents and approximately 14 patents pending. Most of these products will be rolled out in 2024.
By putting these products in the goody bag, orthodontists are saying to patients, "I'm giving you this as a gift, because I want you to know that when there's a problem, you have a tool to solve it, and we support you until you can come to the office." If parents want more than is provided in the goody bag, they can go to OrthoNu online and set up a subscription for whatever works for that patient, or the orthodontist can sell the products in the office.
Orthodontic inspiration
When I was in a car accident, at 13 years old, I sustained many injuries. One caring and compassionate orthodontist guided me throughout the treatment process. I remember how important it was to understand what was happening to me and what to expect. Because I was a child of immigrant parents, they didn't always understand the terminology. If that orthodontist had not provided that emotional and clinical support throughout the whole process, I probably wouldn't have come out of it unscathed. There was a lot of trauma involved, not only because I was a teenager, but also because of my extensive esthetic issues — teeth that were different sizes and different lengths, having braces and surgery, and other complicated procedures. It was a very challenging time, and although my parents were well-meaning, they sometimes did not know how to handle certain situations, many of which were painful for me.
Later on, this doctor inspired me to realize that I and other orthodontists have the opportunity to help people in my situation every single day. In a moment of vulnerability, the most beautiful gift a clinician can ever give someone is helping them when they're struggling. It could be something simple as saying to a patient in discomfort, "I have something for you. Don't worry; you're going to be okay. Everything is set up so that you can succeed." Orthodontists already have the clinical skills to help patients succeed, and in the goody bag, OrthoNu can supply the products that help every patient to be better prepared to be successful in their care.
Stay Relevant with Orthodontic Practice US
Join our email list for CE courses and webinars, articles and mores