Editor's Intro: Tracking the health and progress of your practice can provide the data needed for fact-based decision-making. Gaidge's cloud-based analytics software offers visibility into your practice's performance and business metrics so that you can achieve your goals.
What it means to be a modern orthodontic practice
In today's business environment, practice owners must take on the CEO role to drive operations, efficiencies, profitability, and strategy. With the changing orthodontic market, practices have more external pressures than ever before. To thrive, growth must be pursued, while also navigating a competitive climate where general dentists are offering more orthodontics, corporate dentistry is driving costs down, and direct-to-consumer solutions are having an impact on patients' willingness to pay as well as their understanding of quality clinical outcomes.
Successful business leaders, interested in even basic sustainability have been relying on data for fact-based decision-making for over a decade. When one is looking for growth and expecting profitability, the need is compounded. Data analysis, business intelligence, and insights have become requirements for successful decision-making in all industries. While "big data" has been around for some time, we continue to face the problem of what to do with it all. How do we make use and make wise decisions from all the information that we have gathered? Large companies have teams of analysts as standard practice, pulling everything from quarterly financial data to individual customer trends by product, time of purchase, method of purchase, and so on. And yet, the data must be synthesized in such a way that leaders can understand, digest, and determine a path forward. This is where we are seeing the greatest opportunity.1 Data science is a relatively new field that has emerged due to the need to gather, understand, and communicate large sets of information in simple actionable ways. It takes on the latest stumbling block: making all the information we have at our finger-tips meaningful.2
Gaidge® answers the complicated question of what to do, and how to do it. We bring the analysis and the data science to the orthodontic practice.
Powering your practice with data analytics
The Gaidge platform's powerful features work seamlessly to give you unprecedented visibility into your practice's performance, essential business metrics, and your most important goals.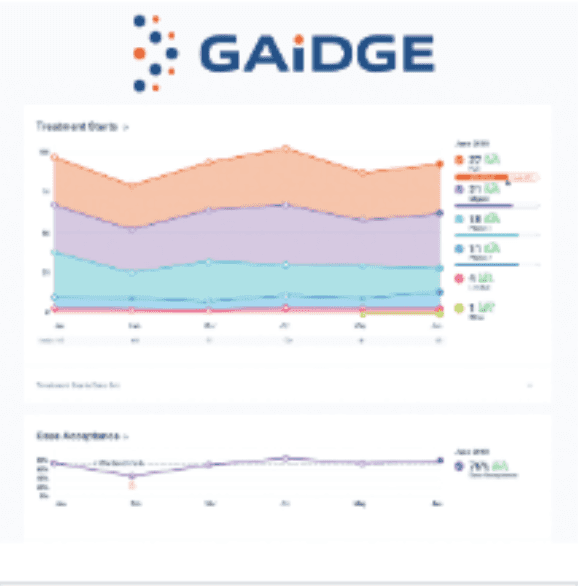 Gaidge is a business intelligence software, custom-designed for orthodontists. It fully integrates with your practice management software for seamless operations. More importantly, Gaidge provides significant timesavings and automation for up-to-date information about your practice. The Gaidge software takes large data sets stored in practice management software databases and synthesizes it into easy-to-understand dashboards that provide actionable business insights about performance. It also features goal setting tools, comparisons, and benchmarks so that you can construct your unique path to progress. Fifty years of combined experience in practice operations and software technology laid the foundation for the knowledge required to bring data analytics and data science to the business of orthodontics. Gaidge was founded by a need to support the highly detailed work of practice management consultants, increasing efficiency and value during the consulting process with the end goal of helping clients' businesses improve and thrive in a way that was sustainable daily.
Gaidge users describe the software as an essential tool3 that is easily accessed via desktop or mobile. It features customized permissions so each member of the office can participate and contribute. Gaidge practices are also part of a community with access to national and regional comparison metrics, so they can see how they perform compared to others like them. The company offers robust onboarding support, data entry protocols, user meetings, CE webinars, and online communities for tips, sharing, and updates.
For the modern orthodontic practice, there is an abundance of choices to explore when considering how to best run the business and how resources should be allocated. The first step is to know and understand the key performance indicators (KPIs) that communicate the health, efficiency, and profitability of your practice. It is our goal to enhance knowledge and improve the quality of decisions while reducing the time it takes to get there, so clinicians and teams can better focus on patient care and a positive treatment experience.
About Gaidge
Gaidge is an essential business management tool that provides business intelligence dashboards, benchmarking, and performance comparisons for orthodontic practices. Our cloud-based analytics software provides 80-plus metrics daily on the health and progress of the practice, increasing business acumen and enhancing productivity and satisfaction for doctors and their staff. Gaidge fully integrates with the leading practice management systems to ensure accuracy and to streamline office functions and operations. To learn more, visit www.gaidge.com.
For more information on how cloud-based analytics software can benefit your practice, read "Who is minding the store of your practice?"  
Bean R, Davenport TH. Companies are failing in their efforts to become data-driven. Harvard Business Review. February 5, 2019. https://hbr.org/2019/02/companies-are-failing-in-their-efforts-to-become-data-driven. Accessed April 8, 2019.
Bowne-Anderson H. What data scientists really do, according to 35 data scientists. Harvard Business Review. August 15, 2018. https://hbr.org/2018/08/what-data-scientists-really-do-according-to-35-data-scientists. Accessed April 8, 2018.
https://www.gaidge.com/. Accessed April 8, 2019.