Editor's Intro: Digital workflow brings exciting advancements to both your patients and practice.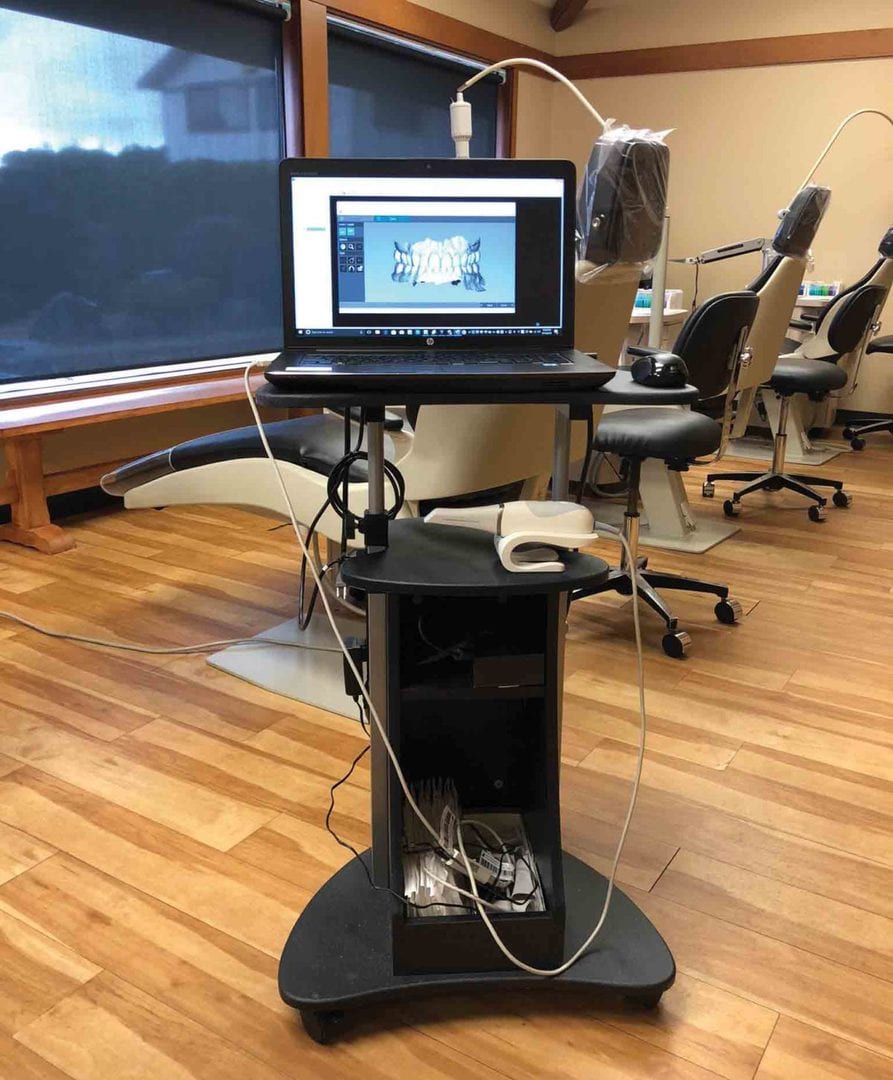 Dr. Andrew Nalin discusses his journey to a digital office
I've always dreamed of having an all-digital office since first purchasing my practice 11 years ago. I took the first step toward going fully digital with an intraoral scanner, the CS 3500 (Carestream Dental), and when the opportunity came to upgrade, I switched to the CS 3600 intraoral scanner. We started using it for digital impressions — in fact, we got rid of alginate impressions almost completely — but that was just the beginning. Next, came a Formlabs 3D printer, the perfect piece of technology to combine with the open architecture of the CS 3600 for printing clear aligners. Finally, I took my imaging 3D with a system that combines 2D-panoramic imaging, cephalometric imaging, CBCT, and model scanning — the CS 8100SC 3D. CS OrthoTrac Cloud for practice management completes my digital integrated workflow.
Going digital means impressions are easily stored on a computer, not in boxes on shelves
Digital dimensions
There were several reasons I had my heart set on digital, and I've seen numerous benefits in every aspect of my practice. From patients to referrals, going digital isn't just trendy; it has had far-reaching positive effects on the people I interact with daily.
Patients
Most important, patients reap the benefits of digital technology. Dealing with children means many arrive at the practice for a first appointment nervous and shy. Unfortunately, I overhear too many parents psych out their kids with outdated information: "Ugh, they're going to put this yucky goo in your mouth that will make you gag." That's when my team and I step in with the great news that we're a digital practice. Both parents' and children's eyes light up as they watch the digital impression take shape on the screen. We even give patients their 3D printed model when we're done; they love having something to walk away with. Overall, the experience is less stressful and more accurate for our patients.
I have three 3D printers throughout the practice, and the CS 8100SC 3D is compact enough to fit in tight spaces
Staff
Staff members also appreciate digital technology as it has a shorter learning curve and is faster and easier to use. For example, the imaging system is intuitive enough that new team members pick it up right away, and digital impressions are less messy and faster than traditional impressions. In fact, now — after becoming accustomed to the intraoral scanner — staff hate it when they see traditional impressions on the schedule. (We still take a few for expanders since labs struggle with digital impressions for that kind of device.) I even find myself taking more impressions with a scanner than I ever would have taken traditional impressions.
Tips for realizing your digital dreams

What is your long-term digital goal? Pinpoint what you hope to accomplish with digital technology, so you know exactly what you need to achieve it.
When new technology is released, see if your manufacturer is offering trade-in deals to upgrade.
Keep your eye on the mail. I found my long-sought-after 3D printer thanks to a flyer for a company that sells the printer and recognized early on that it could be used for dentistry.
Visit vendors' booths at the annual association meetings — a lot have relationships with other companies that can help put together a complete digital solution.
Join Facebook groups that discuss these emerging technologies. As you sift through these discussions, you can learn a lot.
Office production and workflow
One of my main reasons for investing in the scanner and 3D printer was to fabricate my own clear aligners. It's more cost-effective (about $3 a model) and faster since there's no need to wait on shipping from a lab, and things will only get better as technology continues to evolve. The cost of resin has already come down since installing the printer, and the scanner has received firmware updates that improve speed and accuracy.
Digital technology also lets us provide our patients with better service. If a retainer is lost or broken, the patients can bring their 3D-printed model in, and we can fabricate a new aligner in about 5 minutes. In the past, a stone model would break when the retainer was made, so a new impression would have to be taken if the patients lost their retainer. Digital impressions are a better way of doing business and a value-add for the patient, not to mention cheaper for them and the practice.
Referrals
Since investing in digital technology, I've noticed an increase in referrals. They send their patients to me for several reasons. The four-in-one CS 8100SC 3D imaging system can capture images that meet almost all specialists' clinical needs while keeping patients in a friendly practice environment (rather than sending them to an imaging center). Additionally, it features low-dose protocols that suit the pedodontic and young adult markets well. Referrals are also impressed with my setup for fabricating clear aligners; I'm the only practice in the area that's doing so, and word has gotten out.
The digital future
I may have my all-digital practice, but that doesn't mean I've stopped dreaming. With a new year ahead of us, there are several new ways orthodontists can make their digital workflow even better.
New ways to approach treatment
With the ease of digital technology and the low cost of in-house aligners, my mindset has changed as I plan treatment for patients. I'm starting to prefer aligners to brackets, and I'm doing things with aligners I never would have done 2 years ago. To ensure that the patients fully understand the treatment and are comfortable with a somewhat "experimental" approach, I make a deal with them: Let's try it with aligners, and if it doesn't work, we'll do braces. I've found there are a few who eventually do need braces, but even then, if they can do 90% of treatment with aligners first, they're thrilled.
More technology in-house
I recently had a study club come to my office to observe my workflow. As the word spreads, we'll see more practices bringing workflows in-house, not just to cut out the lab, but to even cut out clear aligner companies. Direct-to-consumer aligner marketing is increasing patient demand, but orthodontists must adapt to capitalize on this increased interest. More cost-effective equipment and faster, more intuitive software will help facilitate this transition.
Exciting advancements in 3D printing
The future advancement I'm most excited for is using software to virtually place brackets and then directly print the template itself rather than the model. Additionally, I'm eagerly awaiting the day we can direct print aligners, without having to print the models then thermoform and trim the aligners.
The desire for a digital practice wasn't because it was cool or trendy, but because an integrated digital workflow is more accurate, saves time, and helps me provide the best care for my patients. As technology continues to advance, I look forward to incorporating new technology and treatment paths into my practice.
Learn more about digital workflow!