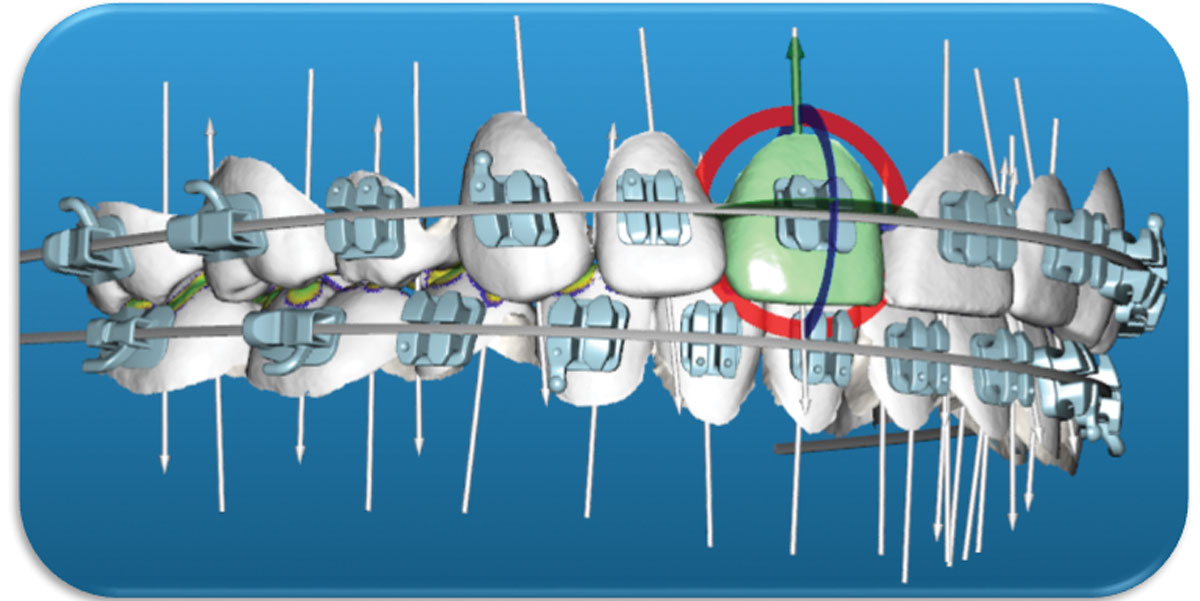 Specialty Appliances is proud to announce the exclusive North American agreement with Arcad Digital Solutions. Arcad is the developer of Arcad VSi (Virtual Setup Interface), an orthodontic computer-aided treatment software designed specifically for precision straight wire bracket placement. Arcad's user-friendly interface allows orthodontists to approve or modify a digitally proposed end-of-treatment result in a matter of only minutes. Specialty Appliances combines this sophisticated case planning technology with their decades of indirect bonding leadership and expertise. This new revolution of indirect bonding is called 3DiB™ (3-Dimensional Intelligent Bonding), exclusively from Specialty Appliances.
The goal of 3DiB is to optimize straight wire appliances with perfect bracket placement. Intelligent bonding technology delivers faster treatment while reducing inefficient wire bends and bracket repositioning.
Ultimate CAD Precision
First, Specialty uses the intelligent software to segment each tooth and carefully identify the long axis, key anatomical landmarks and the doctor's prescribed bracket heights. Next, they use the prescribed treatment plan to guide the virtual ideal post-treatment finish. Bracket position is optimized by using the identified tooth landmarks and the prescribed fully engaged finishing archwire. The ideal finish and bracket positions are checked for quality and uploaded to the doctor's cloud portal.
Absolute Control
With 3DiB, orthodontists can maintain their desired level of control through an intuitive web-based approver software. In just a few short minutes, doctors can fine-tune teeth and/or the bracket positions while visualizing the real-time counter effects on both pre and posttreatment models. The simplified approver approach gives orthodontists full control without consuming valuable time.
Reduced Chairtime
Once approved by the orthodontist, Specialty Appliances prints the malocclusion model. Using a proprietary system, brackets are placed to capture the exact virtual position, and production of the indirect delivery tray is completed. The doctor's chairside bonding time is greatly reduced if not eliminated. Clinical staff members can efficiently deliver their doctor's high tech bracket placement. 3DiB minimizes doctor and patient chairtime, while maximizing quality and office production.
This information was provided by Specialty Appliances.