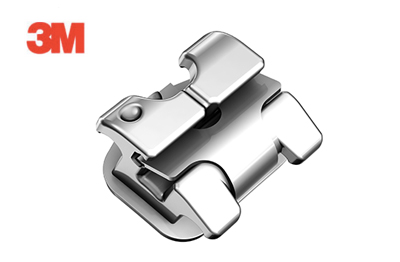 Victory Series Active Self-Ligating Brackets revolutionize treatment options
MONROVIA, Calif. – (April 16, 2014) –The Victory Series™ brand family of orthodontic brackets from 3M Unitek is known by industry professionals worldwide for its quality. Now, this renowned family has expanded into the self-ligating bracket category, with the introduction of new Victory Series™ Active Self-Ligating Brackets. Designed using extensive practitioner input, Victory Series Active Self-Ligating Brackets combine industry benchmark performance
with APC™ Adhesive, the most efficient bonding system in orthodontics, resulting in an outstanding and unique treatment choice.
Victory Series Active SL Brackets bring active door appliances to a higher level of performance, featuring a robust ligating mechanism that provides durability and ease of operation. A full slot-width size door allows optimal rotational control, and no special instrument is necessary to open or close the door, so orthodontists can incorporate the brackets into their practice without changing their technique. Patient comfort is also enhanced with thoughtful design aspects like round, low profile hooks and rounded edges on the bracket body.
The design of Victory Series Active SL Brackets allows dynamic interaction between the ligating mechanism and the archwire as treatment phases change, with performance advantages in each stage — passive, interactive and active. With this design, orthodontists can efficiently progress from the initial leveling and alignment through final finishing and detailing.
3M Unitek recruited orthodontists who were using competitive active self-ligating brackets for design input, and asked them to treat their patients with the brackets in an evaluation phase. Comments received were overwhelmingly positive, including:
"I felt I was in control the entire duration of treatment, as I had no loss of the ability to ligate the wire in an active state."

"What I found most exciting about the Victory Series Active SL Bracket system was the quality finishing I was seeing with a straight wire. Quality engineering led to improved lower anterior alignment."

"Dependability, control, and quality are what I get with…Victory Series™ Active SL Brackets. Doctors using active self-ligation should consider this system."
Victory Series Active SL Brackets are available pre-coated with proven APC™ II Adhesive, which reduces bonding steps and variables for added efficiency and convenience. Maintaining the exceptional quality that the Victory Series brand is known for, the brackets are manufactured to strict tolerances and extensively tested to assure reliability. With this combination of bracket and adhesive, orthodontists and their patients can enjoy the unique benefits of the world's only pre-coated active self-ligating bracket.
For more information, visit www.3MUnitek.com/VSactiveSL. To see the product first-hand, visit the 3M Unitek booth #903 at the American Association of Orthodontists' Annual Session in New Orleans.
###
About 3M Health Care
3M Health Care offers solutions in the medical, oral care, drug delivery, food safety and health information markets. We have an unparalleled ability to connect people, insights, science and technology to think beyond today, solve problems, and make better health possible. Our culture of collaboration empowers us to discover and deliver practical, proven solutions that enable our customers to protect and improve the health of people around the world. Learn more at 3MHealth Care.
About 3M
3M captures the spark of new ideas and transforms them into thousands of ingenious products. Our culture of creative collaboration inspires a never-ending stream of powerful technologies that make life better. 3M is the innovation company that never stops inventing. With $31 billion in sales, 3M employs 89,000 people worldwide and has operations in more than 70 countries. For more information, visit www.3M.com or follow @3MNews on Twitter.
3M, APC and Victory Series are trademarks of 3M. © 3M 2014. All rights reserved.
FROM:
3M Unitek
Orthodontic Products
2724 S. Peck Rd.
Monrovia, CA 91016
Contact:
Vanessa de Bruijn
Karwoski & Courage
(612) 342-9670
v.debruijn@creativepr.com
Mary Kokkinen
3M Public Relations & Corporate Communications
651-733-8806
mckokkinen@mmm.com
Stay Relevant with Orthodontic Practice US
Join our email list for CE courses and webinars, articles and mores