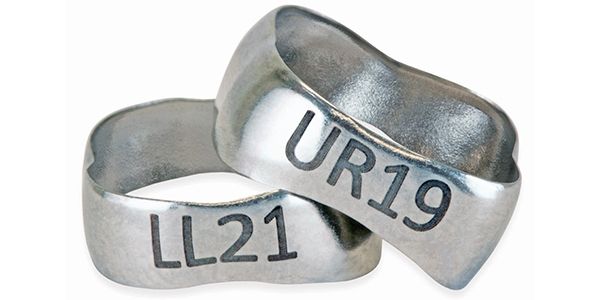 Sheboygan, Wisconsin – American Orthodontics is proud to introduce MRX molar bands – the company's most advanced band.
"This MRX band line is a direct result of AO's innovative product development system," says AO Senior Product Manager Andrew Pietzner. "It delivers on our mission of continuous improvement and takes our band line to the next level of quality and performance."
MRX bands are manufactured at AO's manufacturing facility in Sheboygan, with a state-of-the-art process that ensures consistency and functionality. The bands feature a highly anatomical shape for precise crown fit, high strength and exceptional elastic spring back, and an etched interior that virtually eliminates loose bands and cement washout.
MRX bands are permanently laser-marked with sizes 1-32, and are available precision-welded with AO's industry-leading LP Tubes.
Learn more at https://www.americanortho.com/bands-attachments.html
ABOUT AMERICAN ORTHODONTICS: American Orthodontics is the largest privately held orthodontic manufacturer in the world, proudly based in Sheboygan, Wisconsin. Since 1968, American Orthodontics has been manufacturing quality orthodontic products and peripherals for customers in more than 100 countries. More than 95% of American Orthodontics' products are manufactured at its Sheboygan headquarters using highly automated production equipment and a skilled, dedicated workforce. With 11 wholly owned subsidiaries, a direct sales force in North America, and a global team of exclusive distributors, American Orthodontics is a true orthodontic industry leader, committed to providing customers quality products, personalized service and dependable delivery.