The orthodontic profession is one driven by education. Doctors and staff must be constantly learning in order to keep up with the latest technology, clinical techniques, and more. Continuing education (CE) credits help the orthodontic professional maintain, develop, or increase knowledge, but these events are often attended strictly as a requirement for professional development. American Orthodontics (AO) decided to take the idea of CE a step further by not only offering CE, but also once-in-a-lifetime experiences. This concept became AO's Ultimate CE.
Each AO Ultimate CE event features informative clinical lectures by expert speakers covering a wide range of topics, including treatment techniques, practice management, and more. Each of these intriguing lectures is complemented by an amazing entertainment experience.
All of the 2015 Ultimate CE Events held so far have sold out. These include events at the Academy of Country Music Awards in Dallas, Texas, and the Indianapolis 500. Here's a detailed look at upcoming AO Ultimate CE for 2015.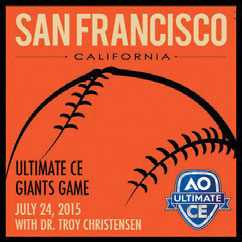 San Francisco Giants Baseball Experience
July 24, 2015 — San Francisco, California
This event begins with an up-close tour of AT&T Park — one of the nation's premier ballparks and home to the World Series Champion San Francisco Giants. Following the tour, attendees will head up to our suite for lunch, then an engaging lecture by Dr. Troy Christensen, who will explain why he made the switch to the Empower® Dual Activation System, and how the increased efficiency and exceptional value of self-ligation and the Dual Activation System can be utilized. The day will be capped off by watching the Giants take on the Oakland A's from the comfort of our suite.
Kohler Food and Wine Experience
October 22, 2015 — Kohler, Wisconsin
This exciting weekend features a lecture on 3D Orthodontics and Self-Ligation in your practice from Dr. Ed Lin and a tour of AO's state-of-the-art manufacturing facility. The weekend also includes the best of the famous Kohler Food and Wine Experience, which includes cooking events with world-renowned chefs, plus the extra-ordinary Taste of the Vine wine tasting with live music and hors d'oeuvres from the Kitchens of Kohler.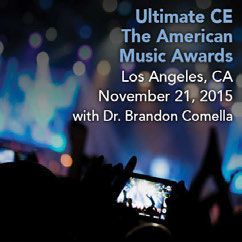 American Music Awards Experience
November 21, 2015 — Los Angeles, California
This amazing event includes a lecture by Dr. Brandon Comella, who will demonstrate the value to offering only esthetic options to patients as a way to differentiate your practice. Attendees will then head to the American Music Awards at the famous Nokia Theater, experience all the glitz and glamour of the Red Carpet, and see incredible performances from some of the world's top artists.
New York Dining Experience — Per Se Restaurant
December 4, 2015 — New York, New York
This unforgettable Ultimate CE experience at the acclaimed New York City restaurant Per Se is a gourmand's delight! Attendees will first enjoy a captivating lecture on 3D Orthodontics and Self-Ligation from Dr. Ed Lin. Everyone's taste buds will then take a once-in-a-lifetime journey at a private dinner courtesy of the Michelin 3-star Per Se restaurant, run by world-renowned Chef Thomas Keller.
Ultimate CE events fill fast. Registration is available at events.americanortho.com
About American Orthodontics
American Orthodontics is the largest privately held orthodontic manufacturer in the world, proudly based in Sheboygan, Wisconsin. Since 1968, American Orthodontics has been manufacturing quality orthodontic products and peripherals for customers in more than 100 countries. More than 90% of American Orthodontics' products are manufactured at its Sheboygan headquarters using highly automated production equipment and a skilled, dedicated workforce. With 11 wholly owned subsidiaries, a direct sales force in North America, and a global team of exclusive distributors, American Orthodontics is a true orthodontic industry leader, committed to providing customers quality products, personalized service, and dependable delivery.
Stay Relevant with Orthodontic Practice US
Join our email list for CE courses and webinars, articles and mores