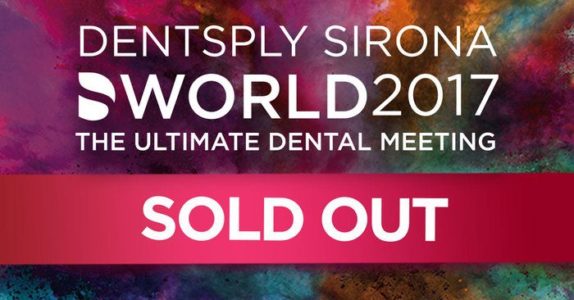 This year's event in Las Vegas is sold out, but registration is available for Dentsply Sirona World 2018 in Orlando
CHARLOTTE, N.C.(Aug. 31, 2017) –If you missed the chance to attend this year's Ultimate Dental Meeting in Las Vegas, register now for Dentsply Sirona World 2018 in Orlando, Florida, so as not to make the same mistake twice!
Dentsply Sirona World is heading back to the Sunshine State for next year's event. Hosted at the Rosen Shingle Creek Resort from Sept. 13-15 in the heart of Orlando, this educational festival will yet again offer the crème de la crème of clinical and business speakers, and entertainment. Attendees can earn continuing education while broadening their scope of knowledge and expanding their professional network.
Per tradition, the Ultimate Dental Meeting provides education for all dental professionals, including specialists. Currently, tracks include*:
Business & Practice Management
CAD/CAM
Endodontics
Imaging
Implantology
Office Design
Orthodontics
Preventive
Prosthetics & Lab
Restorative
Special Markets & Topics
SIROWORLD 2016, the first annual Ultimate Dental Meeting, was located at the Rosen Shingle Creek andwas met with substantial success and rave reviews by those within the dental community. Breaking Dentsply Sirona records, SIROWORLD set the precedent for future meetings like Dentsply Sirona World 2017, which is anticipated to transcend all events previously hosted, and 2018 will have even more surprises in store. To learn more about Dentsply Sirona World 2018, visit www.dentsplysironaworld.com.
To register for Dentsply Sirona World 2018, visit www.dentsplysironaworld.com.For any event questions, please contact the help desk by email at events@dentsplysironaworld.com or by phone at 844.462.7476.
*Tracks and educational content are subject to change. To remain updated, visit www.dentsplysironaworld.com regularly.
News Contacts
Julie Bizzell
Director Marketing Services
julie.bizzell@dentsplysirona.com
Caitlin Couillard
CAD/CAM Marketing Coordinator
caitlin.couillard@dentsplysirona.com
Marion Par-Weixlberger
Director Public Relations & Corporate Communications Manager
marion.par-weixlberger@dentsplysirona.com
4835 Sirona Drive, Suite 100
Charlotte, NC 28273
T 800-659-5977
F 704-602-4373
www.dentsplysirona.com
ABOUT DENTSPLY SIRONA:
Dentsply Sirona is the world's largest manufacturer of professional dental products and technologies, with a 130-year history of innovation and service to the dental industry and patients worldwide. Dentsply Sirona develops, manufactures, and markets a comprehensive solutions offering including dental and oral health products as well as other consumable medical devices under a strong portfolio of world class brands. As
The Dental Solutions Company TM, Dentsply Sirona's products provide innovative, high-quality and effective solutions to advance patient care and deliver better, safer and faster dentistry. Dentsply Sirona's global headquarters is located in York, Pennsylvania, and the international headquarters is based in Salzburg, Austria. The company's shares are listed in the United States on NASDAQ under the symbol XRAY. Visit www.dentsplysirona.com for more information about Dentsply Sirona and its products.