DynaFlex® Introduces Clear Precision Buttons to the Precision Aligner Button line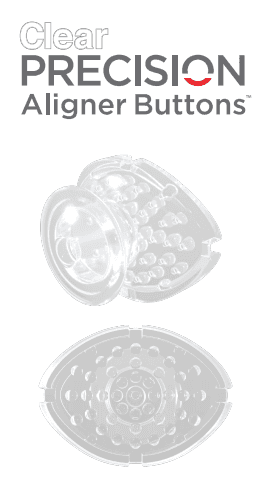 Following the success of Precision Buttons™ from MAO by DynaFlex, Drs. Christopher Cetta and Richard Kaye have developed a new esthetic attachment for wearing elastics with aligners. Clear Precision Buttons™ are comprised of a translucent composite-ceramic hybrid and universally fit canines and premolars within the aligner cutout windows. The patented design has a maximized surface area for retention and is contoured to fit comfortably at the gumline. These innovative features not only offer the most esthetic choice, but reduce unnecessary emergency visits for patients while saving doctors valuable chair time.
Buttons are available by contacting your local representative, calling our customer care team at 866-346-5665, or online at www.dynaflex.com.