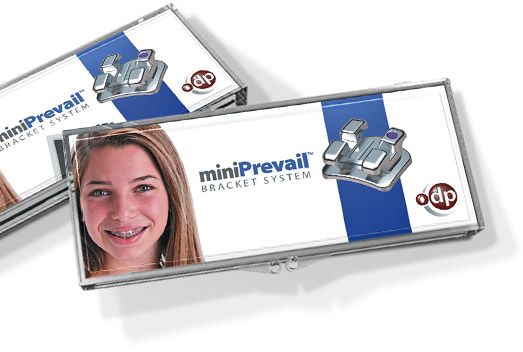 At the 2018 AAO Annual Meeting, G&H will be introducing our new miniPrevail™ Family of products. Many doctors use and enjoy our low profile twin bracket the miniPrevail™ and recognize it as a high quality bracket. Along with improvements made with the miniPrevail, we are excited to expand the product portfolio to introduce our new self-ligating bracket and our new buccal tube.
Our new, low profile buccal tube, the miniPrevail™ LP Tube is an example of taking feedback from clinicians and experts in the field, and then focusing on innovation. While developing this new tube, our designers took ease of placement for the orthodontist, as well as patient comfort as our primary goals. As a result, we have designed a tube that takes the guess work out of placement with a distinct "crosshair" sight lines positioning feature as well as a funneled entrance for easy wire insertion. The sleek hook design allows for simplified bonding and ultimate patient comfort. With these new tubes, our customers will see real benefits within their practices.
The miniPrevail™ SL is our newest interactive, self-ligating bracket. Using a NITI spring clip, our new bracket allows for passive engagement during initial leveling and alignment while using round wires. When the treatment plans call for rectangular wires, the miniPrevail™ SL becomes active to provide effective torque and rotational control to finish a successful treatment plan. This means shorter treatment times for patient cases, and more efficiency for our orthodontists.
Of course, our best-selling twin bracket is the cornerstone of this portfolio. We are renaming it to miniPrevail™ LP TWIN to capture the customer driven enhancements that have been made over the past couple of years and its important role in the miniPrevail family.
The miniPrevail™ line, speaks to the highest quality of G&H's products. As a manufacturer, G&H has long been associated with excellent orthodontic products. We are proud of the reputation that we have garnered in the industry and continue to look for ways to innovate and bring new, improved products to market.
ABOUT G&H ORTHODONTICS
G&H Orthodontics, Inc. is a leading provider of clinical solutions for the orthodontic community serving customers for over 40 years in over 90 countries. G&H® is the manufacturer of a full line made in the U.S.A. including brackets, bands, tubes, wires, springs, elastomeric and other orthodontic supplies. G&H is compliant with the U.S. FDA, ISO 13485:2003, Medical Device Directives, 93/42 EEC and Canadian Medical Device Guidelines which ensures availability of products worldwide. G&H Orthodontics is a privately held company headquartered in Franklin, Indiana.
To learn more about G&H Orthodontics breadth of products, visit GHOrthodontics.com
G&H Orthodontics, G&H and the G&H Orthodontics logo are registered trademarks of G&H Orthodontics.