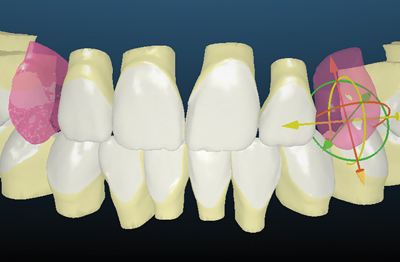 You said you wanted the Damon™ System available in more prescriptions. The Ormco team heard you.
Now, the Damon™ System is available in an all new prescription — yours! With the introduction of Damon™ Custom this spring, you can order the exact prescription values* needed to best treat each individual patient.
An industry first, Damon Custom allows orthodontists to order their own prescription value for every upper and lower 5-5 Damon Custom bracket. Here's how it works:
Stock your Rx — Order multiple kits of a popular Rx, modify an existing Rx, or create your own
OR
Order per patient — Order the Rx you deem necessary to best treat each individual case
Damon™ Custom facts
Harnessing the power of Ormco's patented technology, Damon Custom is conveniently packaged in completely individualized prescription single patent kits. The bracket features and benefits include :
Damon Custom pad
80-gauge mesh for superior bonding
Damon™ 3MX rhomboid pad with vertical scribe line for easy placement
90-degree, horizontal slot drop-in hooks
Easily fits in the horizontal slot for treatment versatility
Increased distance from the gingival tissue allows for greater patient comfort
Upper and lower brackets open to the occlusal
Patented SpinTek™ slide technology facilitates ease of opening for comfortable, easy wire changes and adjustments
Personalizing and simplifying treatment
With Damon Custom, ordering is easy! No digital software to learn, no hoops to jump through — ordering will be available through a simple online form on our website, www.ormco.com.
Due to high demand for Damon Custom, doctors interested in participating in the limited, pre-launch this spring are encouraged to visit www.ormco.com to complete an interest form.
Be sure to visit Ormco booth No. 1805 at the AAO 2014 Annual Session to learn more about Damon Custom, and place your pre-launch order!
* Within manufacturing limitations.
Insignia™ Ai
Here at Ormco, we're excited to take digital orthodontics to the next level with the launch of Insignia™ Ai. The newly introduced Insignia platform features a dramatically updated approver interface that is both user-friendly and visually appealing.
Meet the new approver interface
Insignia Ai's clean, sleek design creates a more intuitive experience and now includes a Wizard that navigates users through the suggested approval process step by step to provide an added level of case support. Not sure what step is next or the best way to make a critical adjustment? Just let the Wizard guide you!
For a clearer visual of the smile transformation, a movie can be created that will superimpose the tooth movement from initial malocclusion to the final design of the patient's smile. This visual is a great tool to help patients better understand the treatment process and build excitement for the final results.
Insignia Ai has combined two occlusion tools into a simultaneous function that allows you to interact with the patient's occlusion from multiple angles. Now you have access to an unprecedented level of interactive visualization to achieve both the esthetics and occlusion you prefer.
In creating Insignia Ai, Ormco partnered with Dr. Dwight Damon to integrate Damon™ System treatment mechanics. Clinicians now have the option to select the Damon™ archform as the basis of their patient's archform design. When selected, geometric algorithms based on the Damon archform will drive the design of the case. The clinician will also be able to view a virtual Damon ruler — an exact digital replica of the Damon™ Arch Symmetry Template.
Experience Insignia Ai
With so many new features, we've developed a comprehensive, interactive online tutorial to ensure you can explore the new software. Please visit the website, https://ai.ormco.com, and check out the videos below:
What Is Insignia™? — discover the unique features of Insignia as a newer user
Check Out the New Approver Interface — tutorial for experienced users to learn about the updates to Insignia
Watch Insignia Ai in Action — watch how the Wizard can assist in completing a case from start to finish
If you're heading to the AAO 2014 Annual Session in New Orleans, be sure to visit Ormco at booth No. 1805 for a hands-on demo!
To learn more about Insignia Ai and Damon Custom, visit www.ormco.com.
This information was provided by Ormco.
[cp_popup display="inline" style_id="19825″ step_id = "1"][/cp_popup]
Stay Relevant in Orthodontics
Sign up for industry news, CE articles and webinar invitations, and cutting-edge case studies.