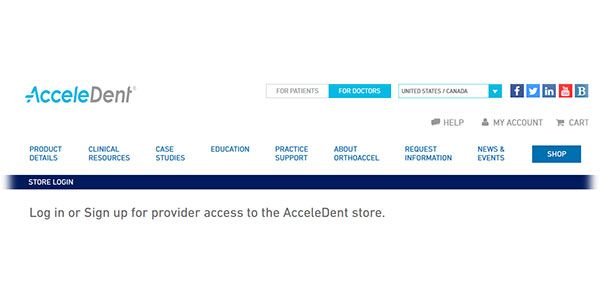 HOUSTON (Oct. 31, 2016) – OrthoAccel® Technologies, Inc., the leader in accelerated orthodontics, today announced the launch of shop.acceledent.com, an e-commerce site that enables orthodontic and dentistry professionals to conveniently order AcceleDent® units and marketing materials online. OrthoAccel manufactures AcceleDent, the first and only FDA-cleared vibratory orthodontic device that has been clinically proven to speed up treatment by as much as 50 percent and relieve the discomfort associated with orthodontic treatment.
Through the new e-commerce site, which is only accessible to industry professionals, orthodontists and their team members can purchase AcceleDent patient kits and accessories, including AcceleDent units, mouthpieces and replacement USB cables, adapters and covers. Practice staff can also order AcceleDent demo units and display stands to help them communicate the benefits of AcceleDent to prospective and current patients.
"OrthoAccel is committed to delivering superior and personalized service to our AcceleDent providers and this new e-commerce site allows us to further streamline the ordering process," said Michael K. Lowe, president and CEO of OrthoAccel. "As awareness of AcceleDent's benefits continues to grow, we want to ensure that practices have what they need to satisfy every patient who is ready to accelerate treatment with AcceleDent."
Lowe added that AcceleDent is now available in more than 3,300 orthodontic practice locations in North America and that the e-commerce site makes it easier for orthodontists to provide patients the fast, safe and gentle solution to accelerated orthodontic treatment.
To start using the site, existing customers can visit shop.acceledent.com and log in using the primary e-mail associated with their practice and create a password by clicking the "forgot password" option. New customers should register by clicking the "apply now" option. They will then be contacted by an OrthoAccel representative who will navigate them through the account setup process. Users can access shop.acceledent.com via their desktop computers or mobile devices. For more information, e-mail shop@orthoaccel.com or call 1-866-866-4919.
About OrthoAccel® Technologies, Inc.
OrthoAccel® Technologies, Inc. is a privately owned medical device company engaged in the creation, manufacturing, marketing and sales of innovative solutions that enhance dental care and orthodontic treatment. Among the company's innovations is AcceleDent®, an FDA-cleared, Class II medical device that speeds up orthodontic treatment by as much as 50 percent and reduces discomfort associated with orthodontic treatment when used in conjunction with braces or aligners. OrthoAccel, the Leader in Accelerated Orthodontics, has received positive feedback from patients and leading orthodontists from around the world who recommend the award-winning AcceleDent as the fast, safe and gentle solution to accelerate orthodontic treatment. Ranked on Deloitte's 2015 Technology Fast 500 as one of the fastest growing companies in North America, OrthoAccel is based in Houston, Texas and maintains a global presence through its EMEA office in Essen, Germany. To learn more about OrthoAccel's focus on improving the journey to healthy, beautiful smiles, visit AcceleDent.com.

Sign Up for E-News
Subscribe today for articles, offers, and more from Orthodontic Practice US.