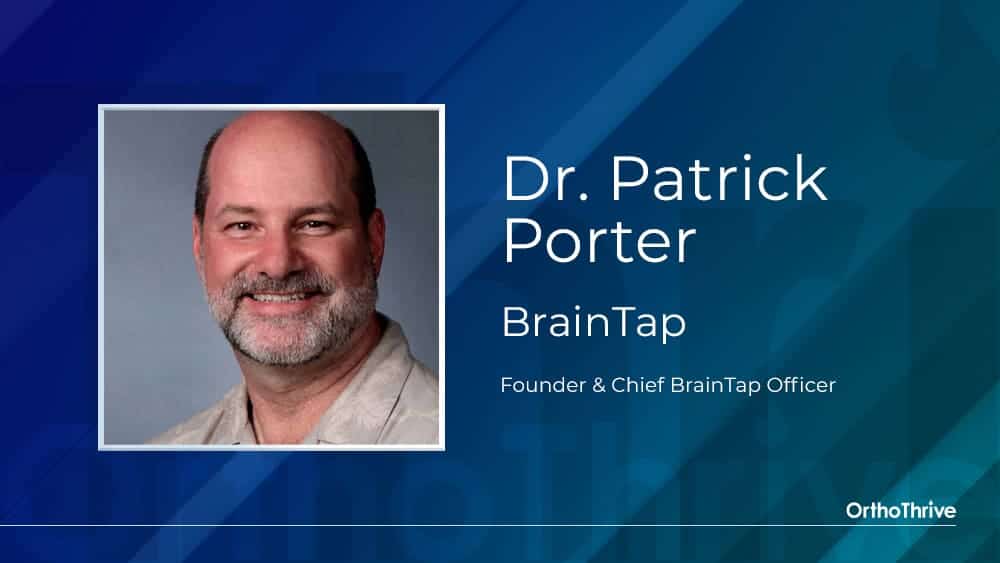 Charleston, SC – Ortho Sales Engine, the team behind OrthoThrive, the educational web series for orthodontists, is once again producing their web series featuring candid interviews with guests from the world of orthodontics, including Dr. Patrick Porter of BrainTap.
"After airing daily live segments at the start of the pandemic for which we received positive feedback from numerous orthodontic offices and were recognized by IMDb as a talk-show TV series, we decided to continue providing this free information in a weekly web series," says Rich Carnahan, co-founder of Ortho Sales Engine.
The on-demand episode released today features Dr. Porter, who has been seen in The Wall Street Journal, People, and Business Week, as well as on NBC and ABC. With its proprietary app and headset technology, which can be used by orthodontic patients during exams, BrainTap enables users to tackle the challenges of today's stressful world and enhance quality of life through improved brain health.
Next week's episode will feature Dr. Paul Homoly of Homoly Communications. Dr. Homoly offers his expertise in leadership and practice improvement to orthodontists and other healthcare professionals.
No fee or registration is required to view the OrthoThrive series. New episodes will continue to be posted on Wednesdays at OrthoThrive.com/TV.
About Ortho Sales Engine
Ortho Sales Engine (OSE) is a growth agency, based in N. Charleston, South Carolina, that specializes in custom inbound marketing solutions for orthodontists. OSE, founded by Rich Carnahan and Richie Guerzon, offers more than 20 marketing-related services for doctors of orthodontia. Carnahan serves as the firm's Creative Director/Senior Designer and holds a Bachelor of Science degree in Mass Communication with a concentration in advertising and marketing from Kent State University in Kent, Ohio. Guerzon serves as Director of Marketing Technology and Senior Marketing Strategist and holds a Bachelor of Science degree from the College of Charleston, a black belt in Lean Six Sigma, and is a former manager and data analyst with Boeing, South Carolina. To learn more about Ortho Sales Engine, visit orthosalesengine.com.
Stay Relevant with Orthodontic Practice US
Join our email list for CE courses and webinars, articles and mores