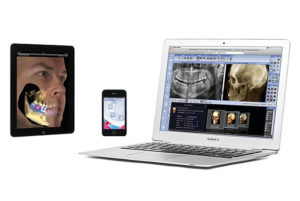 Dental equipment manufacturer Planmeca Oy developed Planmeca Romexis® software as an open-architecture platform, making it compatible with most software operating systems and dental equipment. Now, Planmeca has taken this technology to a new level with Planmeca Romexis Cloud service, which works with Planmeca Romexis software so dentists can access and share diagnostic images from any imaging unit. This information is then accessible on most digital platforms, including mobile, Mac, and Windows-based operating systems, and can be stored for up to 14 days.
Planmeca Romexis Cloud service lets dental professionals communicate with colleagues and transfer images and key case information securely, quickly, and seamlessly. This brings new possibilities to the dental practice, such as providing access to specialists from remote general practitioners, giving rural dentists the same referral base as any dentist in a large metropolitan area.
The Planmeca Romexis Cloud service also includes these features:
All treatment plan elements are automatically added, including annotations and measurements.
Virtual patient cases include 2D X-ray images and photos, CBCT volumes and 3D photos
Images and reports are easily shared with patients.
With a North American office located in Roselle, Illinois, and international headquarters in Helsinki,
Finland, Planmeca is well established in high-tech dental markets and currently serves 120 countries worldwide. Planmeca's dental product line includes:
2D and 3D dental X-ray equipment
Open-architecture dental imaging software
Dental care units and equipment
Dental cabinetry and furniture
For more information, visit https://www.planmecausa.com
[cp_popup display="inline" style_id="19825″ step_id = "1"][/cp_popup]
Stay Relevant in Orthodontics
Sign up for industry news, CE articles and webinar invitations, and cutting-edge case studies.