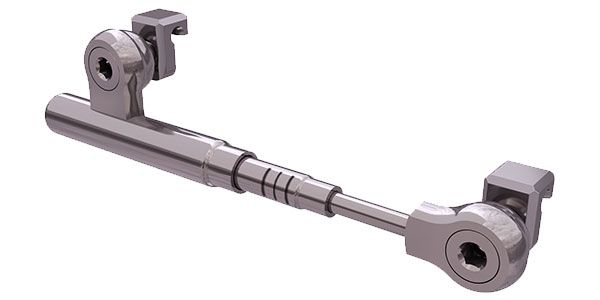 Sheboygan, Wisconsin – American Orthodontics is pleased to announce two new features on its PowerScope 2 Class II Corrector. PowerScope 2 now features a magnetic sleeve that slides onto the hex head driver, ensuring a secure hold on the appliance during installation and stabilizing the attachment nut when seating it on the wire. In addition, PowerScope 2 has new activation lines that provide a clear visual cue during activation. The three distinct lines are spaced 2mm apart and reference the level of appliance activation, ranging from no activation to partial to full. The appliance also includes an improved attachment nut to increase durability and ease of installation.
"The response we have had to PowerScope since its development has been tremendous," says AO Senior Product Manager Dan Lopez. "These enhancements are a direct result of AO's commitment to continuous improvement, and we are confident they will help drive the product's success even further."
PowerScope 2 is a one-size-fits-all appliance that requires no lab setup or special band assemblies. It attaches wire to wire for quick and easy chairside installation, and features an internal NiTi spring mechanism that delivers 260 grams of force for continuous activation during treatment.
Additional innovative features of PowerScope 2 include unique ball and socket joints to maximize lateral movement without compromising patient comfort. The appliance utilizes a reverse screw thread assembly to minimize screw loosening during treatment, and its fatigue tested, durable telescoping design won't disengage, helping reduce the number of emergency visits.
PowerScope 2 is available in five-patient or single-patient kits. Complete product details, videos, and more can be found at americanortho.com/PowerScope.
ABOUT AMERICAN ORTHODONTICS:
American Orthodontics is the largest privately held orthodontic manufacturer in the world, proudly based in Sheboygan, Wisconsin. Since 1968, American Orthodontics has been manufacturing quality orthodontic products and peripherals for customers in more than 100 countries. More than 90% of American Orthodontics' products are manufactured at its Sheboygan headquarters using highly automated production equipment and a skilled, dedicated workforce. With 11 wholly owned subsidiaries, a direct sales force in North America, and a global team of exclusive distributors, American Orthodontics is a true orthodontic industry leader, committed to providing customers quality products, personalized service and dependable delivery.