LED Medical Diagnostics Announces Successful Results for Latest Clinical Research Using VELscope® Tissue Fluorescence Technology
Study Shows the Use of a VELscope When Determining Surgical Margins for Excision of Early-Stage Oral Cancer Leads to Significant Reduction of Local Recurrence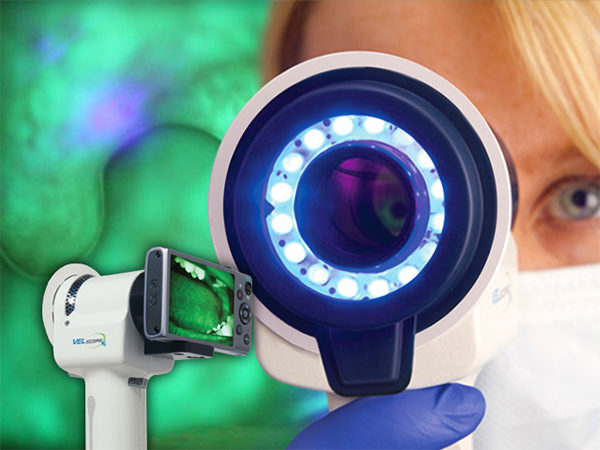 Vancouver, British Columbia, January 26, 2016 — LED Medical Diagnostics Inc. ("LED" or the "Company") (TSX-V: LMD) is pleased to announce that the results of a study, titled "Fluorescence Visualization-Guided Surgery for Early-Stage Oral Cancer", have been published in the Journal of the American Medical Association – Otolaryngology – Head and Neck Surgery.
The publication reports the findings of a retrospective, case-control observational study that was conducted on 246 patients from September 1, 2004, to August 31, 2009. The study showed a significant reduction in the rate of local recurrence of early-stage squamous cell carcinoma and high-grade precancerous lesions in patients where VELscope tissue fluorescence visualization was used to assist in determining the surgical margin for excision, compared to those patients where conventional methods were used.
"This is really a revolutionary way for surgeons to visualize a diseased region," stated Dr. Catherine Poh, principal investigator and Provincial Oral Medicine Leader for Oral Oncology at the BC Cancer Agency. "We are now working with head and neck surgeons across Canada to conduct a multi-center trial that will convince the world to change practice and improve the treatment of oral cancer."
"The results of this important clinical study will be of great interest to oral cancer patients and practitioners alike," commented Dr. David Gane, CEO of LED. "It adds to the growing body of peer reviewed literature that corroborates the use VELscope as an effective adjunct in oral cancer treatment, while further supporting its use in concert with a comprehensive oral examination to screen for the presence of oral cancers and pre cancers."
"Fluorescence Visualization-Guided Surgery for Early Stage Oral Cancer" has been published online in the Journal of the American Medical Association – Otolaryngology – Head and Neck Surgery (JAMA Otolaryngology Head Neck Surg. Published online January 14, 2016. doi:10.1001/jamaoto.2015.3211). For access to the complete study, visit https://goo.gl/Xp4Hao.
About Dr. Catherine Poh
Dr. Catherine Poh is an associate professor in the Faculty of Dentistry at the University of British Columbia, a clinician scientist at the BC Cancer Agency, and an oral pathologist and researcher at the Vancouver Coastal Health Research Institute. She is also a Canadian Institutes of Health Research clinician scientist and a Michael Smith Foundation for Health Research Scholar. Dr. Poh is also one of two practicing oral maxillofacial pathologists in British Columbia, Canada, and an active staff member of the Oral Oncology Department of the BC Cancer Agency as well as the Oral Mucosal Disease Program at Vancouver General Hospital. Her primary research focus involves application of molecular and imaging tools for community screening, early detection, and management of cancerous and precancerous oral lesions.
About VELscope® Vx Enhanced Oral Assessment
The distinctive blue-spectrum light of the VELscope Vx Enhanced Oral Assessment System causes the soft tissues of the mouth to naturally fluoresce. Healthy tissues fluoresce in distinct patterns that are visibly disrupted by trauma or disease, such as neoplastic lesions, chemical irritation, and side effects from medication, thermal damage, and fungal, viral or bacterial infections. Use of the VELscope Vx handheld adjunctive device allows a wide variety of oral abnormalities to be discovered, often before they become apparent to the unassisted eye. It is also the only tissue fluorescence device with photo/video documentation capabilities through the viewing mechanism, a key function for referrals and patient records.
There are more than 40,000 new cases of oral cancer diagnosed in the United States alone every year and early detection is critical for survival; when detected early, the five-year survival rate rises from less than 50% to more than 80%. VELscope systems are used during more examinations for oral cancer and other oral diseases than any other adjunctive device. For more information, visit www.velscope.com.
About LED Medical Diagnostics
Founded in 2003 and headquartered in Vancouver, British Columbia, Canada, LED Medical Diagnostics Inc., through its wholly-owned subsidiaries LED Dental Inc. and LED Dental Ltd, provide dentists and oral health specialists with advanced diagnostic imaging products and software, in addition to the award-winning VELscope tissue fluorescence visualization technology. Backed by an experienced leadership team and dedicated to a higher level of service and support, LED Dental is committed to providing dental practitioners with the best technology available by identifying and adding leading products to its growing portfolio. The Company is currently listed on the TSX-V under the symbol "LMD", the OTCQX under the symbol "LEDIF", as well as the Frankfurt Stock Exchange under the symbol "LME". For more information, call 884.952.7327 or visit www.leddental.com/investor-relations.
Media Contact for LED Dental:
David J.C. Davies
Phone: 250.744.7415
Email: ddavies@harbourwerks.com
Investor Relations:
MZ Group
Mike Cole
Phone: 949.444.1341
Email: mike.cole@mzgroup.us
Corporate Contact:
LED Medical
David Gane, CEO
Phone: 604-434-4614 x227
Email: david.gane@leddental.com
Neither the TSX Venture Exchange nor its Regulation Services Provider (as that term is defined in the policies of the TSX Venture Exchange) accepts responsibility for the adequacy or accuracy of this release.
Forward Looking Statements
This press release contains statements which, to the extent that they are not recitations of historical fact, may constitute forward-looking information under applicable Canadian securities legislation that involve risks and uncertainties. Such forward-looking statements or information include statements regarding, but not limited to the Company's future growth strategy, its distribution strategy and product offerings, potential expansion of the Company's technology to other medical applications or markets, or the potential introduction of new technologies by the Company. Persons reading this press release are cautioned that such statements or information are only predictions, and that the Corporation's actual future results or performance may be materially different. Factors that could cause actual events or results to differ materially from those suggested by these forward-looking statements include, but are not limited to competition risks, distributor risks, product development risks such as regulatory, design, intellectual property and other factors described in the Corporation's reports filed on SEDAR including its Annual Information Form and financial report for the year ended December 31, 2015. Preliminary, unaudited financial results for the quarter and year ended December 31, 2015 are subject to adjustment as the Company completes its year end audit and other processes and are not necessarily indicative of operating results for any future periods. This list is not exhaustive of the factors that may affect the Company's forward-looking information. These and other factors should be considered carefully and readers should not place undue reliance on such forward-looking information. All forward-looking statements made in this press release are qualified by this cautionary statement and there can be no assurance that actual results or developments anticipated by the Company will be realized. The Company disclaims any intention or obligation to update or revise forward-looking information, whether as a result of new information, future events or otherwise, except as required by law.