TP Orthodontics adds Pre-coated Brackets to its Top-selling Nu-Edge® Line
La Porte, IN (October 2, 2019) – TP Orthodontics, Inc. now offers a pre-coated option with Nu-Edge NX™ brackets.
Ready to place right out of the package, Nu-Edge NX brackets are pre-coated with eXact® clear orthodontic adhesive. Risk of contamination is reduced, and the brackets set easily without sliding – with minimal flash clean-up. Pre-coated brackets from TP Orthodontics bring convenience and increased efficiency to the orthodontic practice.
Nu-Edge brackets are constructed of cobalt chromium, which is biocompatible for nickel sensitive patients. Engineered for reliability, exceptionally strong CoCr helps prevent archwire slot collapse, while the low profile mini-twin design integrates easily into the orthodontic practice. A self-ligating version is also available. 
Dr. Brooks Barefoot, of Total Orthodontics in Lone Tree, Colorado states, "I have used Nu-Edge for over 7 years and love their reliability. Easy to place and remove, no pinched slots, no issues with tie wings and it is easy to cut steel ties around the brackets. Nu-Edge brackets are low-profile while offering great rotational and torque control."
To learn more about Nu-Edge NX Pre-Coated Brackets, or other brackets in the Nu-Edge line, visit tportho.com or call 800-348-8856.
About TP Orthodontics, Inc.
For seven decades, TP Orthodontics, Inc. has provided orthodontists products and services to achieve optimal results for their patients. Dental professionals around the globe trust TPO® brands for unsurpassed quality and performance. TPO is an ISO-certified manufacturer and provider of premier orthodontic services and products, including an innovative aesthetic offering. In addition to its manufacturing plant and headquarters in La Porte, Indiana, TPO maintains distribution centers throughout Mexico, Europe, Australia, South Africa, South America, Japan and China. Visit tportho.com for more information.  
Nu-Edge NX bracket detail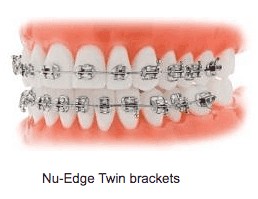 Nu-Edge Twin brackets
FOR IMMEDIATE RELEASE
CONTACT: Sandra Hoefer, VP, Global Marketing
TEL: 800.348.8856
EMAIL: Sandra.Hoefer@tportho.com