Panthera has an end-to-end digital workflow that results in a truly customized appliance for the patient. 
Béatrice and Diane Robichaud explain how Panthera's cutting-edge technology is transforming treatment experiences
The French have played a distinguished role in the development of new dental technology. In 1973, a dentist named Dr. François Duret is credited with having invented CAD/CAM dentistry in his DDS thesis, "Optical Printing." By the late 1980s, he had developed revolutionary CAD/CAM technology that made it possible to design, manufacture, and fit a crown within a single patient sitting.
Building upon the work of Dr. Duret and others, our family participated in the development of the world's first CAD/CAM oral appliance and the very first software that made 3D-printed nylon devices possible. Today we are excited to be at the forefront of dental technology's 4th industrial revolution, combining artificial intelligence, advanced robotics, smart automation, machine-to-machine communication (M2M), and 3D printing in our new state-of-the-art production facility in Quebec City.
Consistent precision in our manufacturing process is the key goal of this technology. It led us to lay concrete floors 3 times the thickness required by building regulations to ensure that traffic vibrations could not affect the performance of printing and milling machines capable of single-digit micron accuracy. As a company, we are truly passionate about precision, efficiency, speed, true customization, perfect traceability, and reproducibility. We are excited about what the technology means on a daily basis, allowing us to delight practitioners and patients with exceptional treatment experiences.
Benefits of a fully digital CAD/CAM workflow
In our Sleep division we call the application of our technology Digital Sleep Dentistry 4.0™. If practitioners use an intraoral scanner, then we can meet their needs with a workflow that is entirely digital from end-to-end, thereby fully realizing the benefits of the technology.
Practitioners can transfer scans to us seamlessly from any major scanner, removing unnecessary time and effort and providing a high-quality input from which we can produce a high-precision appliance. The scans are then analyzed in our proprietary design software. Depending on the patient's dental morphology and the prescription, the algorithms, and preprogrammed parameters, our software makes proposals that are adjusted and accepted by our designer team.
Digital design files are then transferred to a first-in-class powder bed printer where the appliance is printed in nylon polyamide using Selective Laser Sintering (SLS), creating the appliance layer by-layer by melting layers together in the print bed. With 3D printing, the device is not subject to multiple human interventions, so again, the risk of human error is reduced.
But more importantly from a treatment perspective, this method makes it possible to truly customize the appliance for the patient.
The constant development and control of our software, combined with our experience and techniques in 3D printing, offer a unique design versatility that meet market requirements and specific requests from our customers and patients.
The printed appliance finally undergoes a proprietary and automated nylon-polishing process reducing roughness by 90%, followed by a final quality inspection before being shipped. Automation at each step ensures efficiency, traceability, and scalability. The entire process from receipt of order to dispatch takes on average 8 days, which means patients can be treated faster than ever before with an appliance that fits like a glove.
Versatility of nylon
Our sleep appliances are all single-material products made from 100% medical-grade biocompatible type-12 polyamide nylon — a strong yet lightweight hypoallergenic material with high-mechanical and high-thermal resistance. With a 3D-printed appliance made in such a versatile material, the thickness can be varied to achieve either flexibility or rigidity as required. Often the desired therapeutic effect can be achieved with less material volume than would be needed in an appliance made from traditional materials like acrylic, meaning less bulk in the mouth and a higher chance that the appliance will be tolerated.
Polyamide 12 is an ideal material with which to manufacture appliances that need to protect natural dentition and restorations from damaging parafunctional forces, thanks to the design that takes care of the biomechanics of the masticatory system. Panthera Dental offers two families of oral appliances, both of which are ideal for bruxers.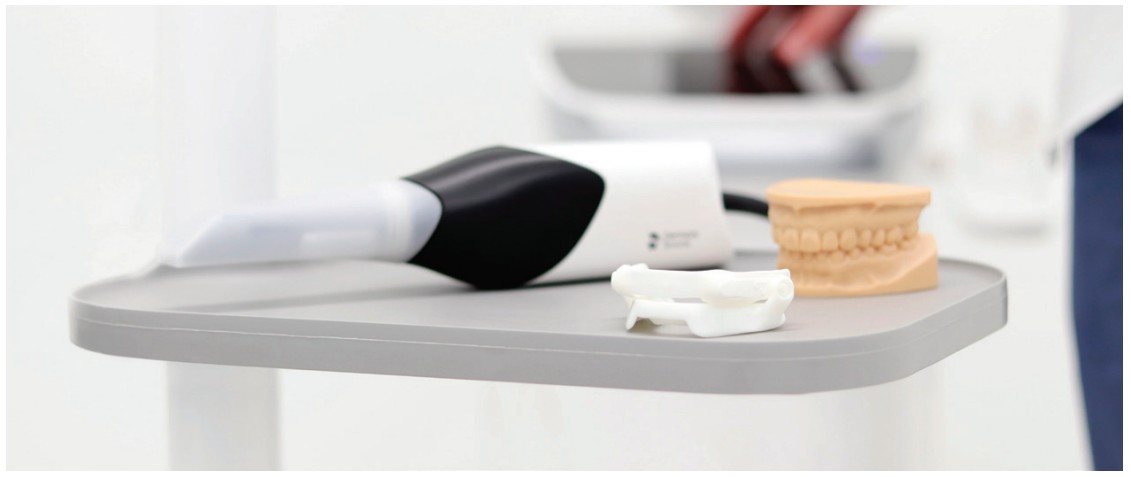 Digital Sleep Apnea Devices (D-SAD)
As with other mandibular advancement device designs, our D-SAD Classic and D-SAD X3 appliances treat the symptoms of sleep-disordered breathing by holding the mandible forward and slightly open to increase space for air to flow. The D-SAD Classic was first launched in North American markets a decade ago and has become a leading appliance design. One of its key strengths is that because advancement is achieved using interchangeable rods that connect upper splint (around the canines) and lower splint (around the molars), the mandible is held by a pull/traction force. This exerts less pressure on TMJ than a design that exerts a push/compression force and works in alignment with the occlusal plane, minimizing the risk of patients developing TMJ disorders during treatment.1
Our biomechanical design method also allows us to minimize risk of other dental side effects. It means we can make optimum use of undercuts to maximize retention on the multi-root teeth and avoid contact entirely with the relatively weak incisors, thereby minimizing risk of tooth movement. The design maintains a 150-micron gap between anterior bands and incisors, indeed between splint and soft tissues too, thereby also reducing risk of gingival irritation.
We have some standard design features — for example, our plateaus will never contact posteriorly so that the masticatory bruxing muscles are not stimulated. And we have some common customization options such as the addition of anterior discluders or orthodontic elastics. But practitioners can request any number of design customizations to suit the patient in front of them, and the CAD/CAM technology allows us to fulfill the need. Furthermore, the Panthera D-SAD Classic is now PDAC-Medicare approved for E0486.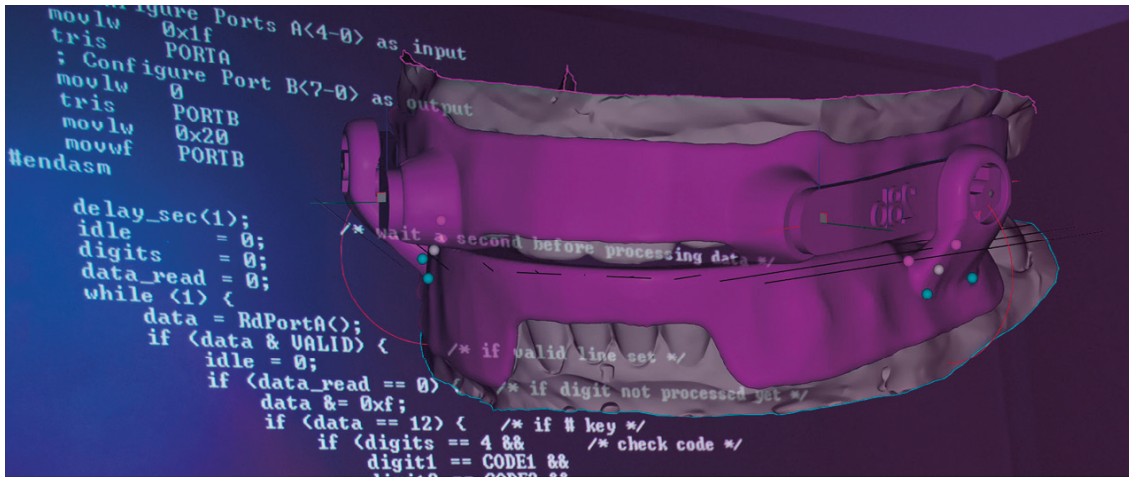 Digital Occlusal Appliances (D-OCA)
Occlusal appliances may be used for occlusal stabilization, treatment of temporomandibular disorders to prevent tooth wear and/or to relieve associated symptoms such as headache, muscle soreness, or TMJ pain. They may have an active therapeutic purpose (reconditioning muscles or repositioning the TMJ) or a passive purpose (protecting the dentition). Splints can be placed on either the maxillary or mandibular arches or both and typically cover all the dentition on the respective arch.
Our biomechanical design method allows us to minimize risk of dental side effects.
Panthera Dental now offers a range of Digital Occlusal Appliances (D-OCAs), consisting of a family of night guards (NG Single, NG Double, NG Neuro) and a family of therapeutic appliances (3Force Control occlusal splint system). When the objective is simply to limit tooth damage or protect restorations, a night guard can be used.
Using CAD/CAM and nylon to produce D-OCAs means that we can meet all the optimum requirements for successful treatment:
Appliances are precisely tailor-made for each patient using the same principles described earlier to maximize retention, to minimize side effects, and to achieve a great first-time fit.
The hardness of nylon is ideal for bruxers because it reduces muscle contractions compared to softer splint materials.2
Occlusal contacts are precisely configured with the following:

Flat plateaus with soft transitions between contact points
Contact points with a minimum of one cusp of the antagonist teeth, preferably in the large axis of the teeth and on the supporting cusp
Simultaneous contacts and limited contact surfaces
Reduced-last molar posterior contact3
Furthermore, the durability of nylon allows us to warranty D-OCA and D-SAD appliances against in-mouth breakage for a period of 3 years, and the usable life of the appliances may be a lot longer.
The future
We're very excited about the further advances that lay ahead of us. We recently announced an expansion of our D-SAD range to include an oral appliance to treat the pediatric OSA population. The D-SAD|Myo incorporates two unique elements: the patient-tailored mandibular appliance and a rolling-ball mechanism. It allows the child to independently perform tongue exercises with the device in place and has been shown to significantly improve breathing during sleep in children with OSA.4
The agility of our technology has allowed us to quickly iterate on the initial design developed by Dr. Michèle Hervy, a sleep and orthodontic pediatric specialist and the inventor of the appliance. We expect to be able to launch this new medical device in 2023.
To find out more about Panthera Sleep, visit www.pantherasleep.com.
Read more about Panthera and its oral appliance designed for pediatric OSA patients. 
Chèze L, Navailles B. Impact of two mandibular advancement devices on the temporomandibular joint Impact on temporomandibular joint of two mandibular advancement device designs. ITBM-RBM. 2006;27(5-6):233-237.
Okeson J. The effects of hard and soft occlusal splints on nocturnal bruxism. J Am Dent Assoc. 1987;114(6):788-791.
Dawson P. A classification system for occlusions that relates maximal intercuspation to the position and condition of the temporomandibular joints. J Prosthet Dent. 1996;75(1):60-66.
Huang Y. Neutral supporting mandibular advancement device with tongue bead for passive myofunctional therapy along term follow-up study. Sleep Med. 2019;(60):69-70.
Stay Relevant with Orthodontic Practice US
Join our email list for CE courses and webinars, articles and mores