Editor's intro: This oral care breakthrough, EverSmile, gives patients who wear clear aligners and clear retainers confidence and maximum wear and can lead to better patient compliance and more successful outcomes. 
Oral care breakthroughs for cleaning clear aligners and clear retainers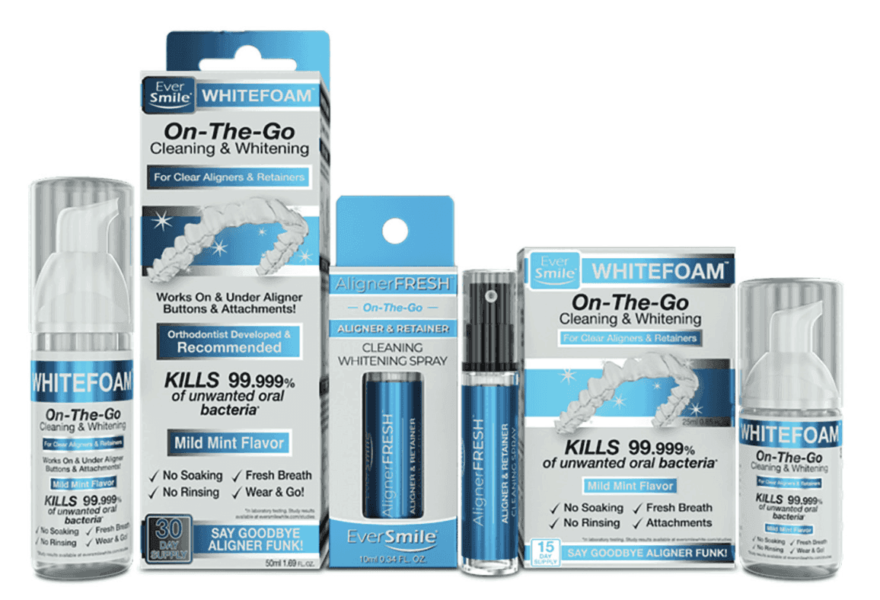 As the orthodontic profession embraces clear aligners, more patients are using this nearly invisible method of straightening teeth. Aligners need to be worn up to 22 hours each day to achieve best results, which means that patients are constantly removing and replacing them for meals, beverages, and snacks. Orthodontist and inventor Michael Florman repeatedly heard the same question: "How do I keep my aligners clean on the go?" Other cleaning solutions require a lengthy soak, extending the time the aligners remain outside the mouth. Dr. Florman invented EverSmile® WhiteFoam™, the first aligner cleaner worn in the aligner trays themselves, enabling maximum wear time for better patient compliance. In addition to cleaning aligners and teeth, WhiteFoam freshens breath and gently whitens teeth, addressing patients' insecurities about "aligner funk" and discoloration, and enabling the most pleasant and effective aligner experience possible. With EverSmile WhiteFoam, your aligner patients finish treatment with the straightest, brightest, healthiest smile possible!
EverSmile WhiteFoam is a lightly minty blend of hydrogen peroxide and anionic surfactants that eliminate 99.999% of bacteria that lead to decay and bad breath. The peroxide also breaks up staining molecules that would otherwise be trapped between the aligner and teeth. Using WhiteFoam regularly will gently whiten teeth without painful sensitivity. No stains and no biofilm — "Say Goodbye to Aligner Funk!" WhiteFoam leaves aligner patients feeling confident and fresh.
Since its introduction in 2014, EverSmile WhiteFoam has become the No.1 aligner cleaner, with over 1 million bottles sold. WhiteFoam works with ALL clear aligners: Invisalign®, Orthly™, Smile Direct Club™, Candid®, ClearCorrect®, and all others. No matter which choice your patients make, we are here to help them on their journey to bright healthy smiles. WhiteFoam can also be used with permanent retainers after treatment is finished!
In addition to WhiteFoam, EverSmile has released AlignerFresh™, a pocket-sized spray with the same formulation as WhiteFoam, to ensure that your patients can care for their teeth and their aligners even in situations where it's not possible to brush — in the car after their morning coffee, before an important meeting, while at a festival, or even after drinks at the bar. We will soon be releasing WhiteFoam F, which will add .02% sodium fluoride to WhiteFoam's formulation, to help protect enamel and prevent cavities.
We have also released OrthoChews™, designed to relieve the discomfort associated with braces adjustments or new aligner trays. Gently chewing on these ensures that aligner trays are properly seated, so treatment progresses as planned. The quatrefoil shape enables grip and comfort, and they are made from medical-grade, biocompatible, hypoallergenic silicone. Two hardness levels in each package allow patients to choose the one that brings the most relief.
You're doing your best to make sure your patients achieve their best smiles. Your patients have invested time and money, and yet compliance can still be a challenge. Let EverSmile help you and your patients toward the best outcomes by making aligner treatment as easy and comfortable as possible!
Our products are available on Amazon.com as well as in stores at select CVS locations, Bed Bath and Beyond, and Harmon. In 2020, EverSmile products will also be available in select Walgreens and Walmart locations. You can access more information and our full line of products at www.ever smilewhite.com.
This information was provided by EverSmile®.
EverSmile is no stranger to providing an oral care breakthrough to patients. Read about how its other products also achieve high standards for oral care here.