Editor's intro: As an esthetic aligner system, Orthocaps has addressed the common issues of aligner therapy while delivering forces for accurate tooth movement. 
The result of years of product development, the Orthocaps® aligner system is designed to address core problems that many aligner systems have — specifically, the inability to transmit force to teeth without mechanical or directional loss and the lack of adequate control while delivering forces that move teeth accurately.
Developed by Dr. Wajeeh Khan, an orthodontist in Germany, the Orthocaps® aligner system has many unique features and benefits that arise from the use of high-performance materials and precise high-pressure thermoforming techniques that assure an exact tooth fit to maximize surface area with the aligner. Nearly 30,000 successful, completed cases have been documented using the system.
The manufacturing process produces a distinctively clear and esthetic aligner appearance without the striations that commonly appear on the outer surface of most aligner systems due to their printing processes. Orthocaps® aligners are polished to create a smooth surface along the gingival margin, minimizing gum and tongue irritability for improved comfort. The thermoplastic material possesses highly elastic properties essential for tooth movement through light forces. As a consequence, doctors are able to treat complex cases not traditionally chosen for aligner therapy.
An innovative Dual Layer Polymer design is a dual-component material that produces a soft inner layer that grips better than traditional aligners, enabling doctors to express the movement necessary for their prescription. Because of the firm grip of the inner material, fewer attachments are required compared to other aligner systems. The firm outer layer provides strength and force application, protecting against damage and maintaining aligner stability. The combination of these two materials produces improved movement efficiency.
Unlike other aligner systems, the Orthocaps® TwinAligner® system uses a thinner daytime aligner for comfort and esthetic appearance, and a slightly thicker nighttime aligner for force-level customization and improved treatment efficiency. The soft inner layer grips the teeth for precise movement. The TwinAligner® solution creates less material stress because day or night aligners are worn no more than 12 hours at a time. This twice daily aligner approach is more hygienic, produces less discoloration, and reduces tray replacement costs if an aligner is lost. Treatment can continue with a single aligner until the next stage.
Another distinctive feature of Orthocaps® is the preformed attachments with Nano Ceramic Resin that come with the aligner tray. "With the precise adaptation of the aligner tray and the ease of having pre-filled attachments, this makes for a much more comfortable experience for the patient, and a more seamless appointment for the doctor and staff by decreasing chair time," says Dr. Keith Dobrin, Bancroft Orthodontics, Waldwick, New Jersey. With its color-matching system, Orthocaps® trays are virtually invisible. Fraction pad attachments with a .3 mm-.5 mm thickness are available and can be placed or removed at any time.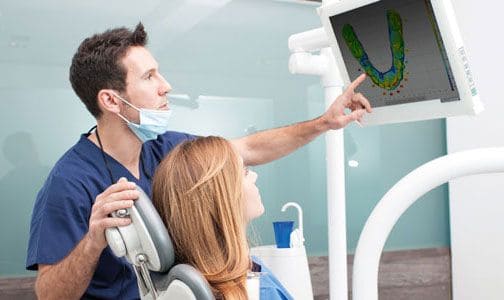 Doctors will experience a rapid and accurate setup process with Orthocaps®. Using the iSetup® digitized treatment planning software, doctors can expect a precise aligner treatment plan the first time. Prescriptions like MBT or Roth can be specified, assuring exact tip, torque, and rotation measurements. With the iSetup® process, doctors can avoid the "back and forth" of refinement common with other aligners during the setup process.
After each treatment phase, a detailed 3D evaluation report is made to monitor progress and to adjust and adapt plans for accurate and optimal results. Fewer refinements are typically needed because of the thermoforming process, inner tray material gripping the teeth, and the precision of the iSetup® process.
Orthocaps® is designed, engineered, manufactured, and distributed to 35 countries by Ortho Caps GmbH, selected as a "TOP 100" among Germany's small and medium-sized enterprises. The company was founded by Dr. Kahn in 2006. Orthocaps® is represented by Denver-based Rocky Mountain® Orthodontics (RMO®) in the United States and Canada.
This information was provided Rocky Mountain® Orthodontics (RMO®).
For more information on the Orthocaps esthetic aligner system, check out Dr. Wajeeh Khan's article, "New concepts in aligner therapy with the Orthocaps® system."
Stay Relevant with Orthodontic Practice US
Join our email list for CE courses and webinars, articles and mores