Marketer Rachael Sauceman offers examples of how marketing your telemedicine options attract more patients to your practice.
Marketer Rachael Sauceman discusses safe and effective marketing evolving after the COVID-19 crisis
According to the American Dental Association's Center for Professional Success™,1 as of April 23, 2020, 32 states allow emergency-only dental care, 13 have deemed dentistry to be essential, and 6 have no specific regulations surrounding dentistry. Many states are operating with regulations that extend through late April or early May, while others are much longer such as Oregon, whose emergency-only dental mandate currently runs through June 15.
As dental and orthodontic practices navigate state-by-state regulations — as well as recommendations set forth by the Centers for Disease Control and Prevention,2 the American Dental Association,3 and the American Association of Orthodontics4 — orthodontists and dentists are working to develop safe and effective ways to continue delivering care to patients and generating income during this challenging time.
Across the entire healthcare vertical, we're seeing an unprecedented adoption of telemedicine as a way to continue serving patients at this time. Telemedicine has long been a trend as younger generations prefer to access care on their own terms, but red tape from regulations and payers, as well as growing pains from the implementation process, have held back a lot of practices from adopting telemedicine. But in today's environment, telemedicine is helping many practices and patients weather the storm.
Whether you've implemented a telehealth solution already, or you're considering one as your state approaches the return of non-emergency dental care, ensuring patients are aware of this new offering is just as crucial as implementing the technology. This 10-step checklist can help clinicians market virtual appointments from your orthodontic practice.
Update your website
Especially during the COVID-19 pandemic, prospective patients are looking for detailed information about your practice's current operations. And because different patients may consume information differently, it's important to have your COVID-19 statement and telemedicine offerings accessible in multiple ways.
If you already have a COVID-19 statement on your website, be sure to provide information regarding telemedicine options from that page — and while it may seem like a big project if you're in a hurry to add virtual appointment details to your website, it's important to have a specific page dedicated to telemedicine offerings. Although your existing patients would probably search for your specific practice, this may also be an opportunity to gain new patients who are uncomfortable returning to in-office appointments. Having a dedicated telemedicine page ensures you can capture both types of searches.
We like this example from Hiser Orthodontics5 in Alpharetta, Georgia, an Atlanta suburb. Hiser has added links to a COVID-19 statement and Virtual Appointments information from the practice homepage. Additionally, the COVID-19 page addresses specific needs patients may experience, including virtual consultation information.6
Make sure patients understand what to expect
The more questions you can answer for patients in advance, the more likely they are to be comfortable with a virtual appointment. Some common questions you might be able to address in an FAQ section on your telemedicine page include:
Are you currently seeing existing patients only, or can new patients schedule a virtual appointment?
What types of orthodontic issues can be addressed with a virtual appointment?
Can patients access some treatments, such as teeth-whitening kits or clear aligners, by driving by the practice or having them mailed?
What types of orthodontic problems are considered to be emergent?
Will my insurance cover this appointment?
How do I schedule a virtual appointment?
What is the process to connect with a provider at the time of my appointment?
Contact existing patients
Since existing patients are more familiar with your pre-COVID-19 processes and procedures, they may be unaware that telemedicine is an option. Send an email with details and a link to your new telemedicine page through an existing platform, if you have one, or consider reaching out to patients individually with short phone calls.
"Virtual has been well received by existing patients," says Doug Hiser, DMD, MS, owner of Hiser Orthodontics. "It actually increases our level of service and care because the communication lines are wide open."
Promote on social media
Although it can't be your only form of outreach, be sure to notify your followers on social media.
Since the average post on a Facebook business page reaches only 6.4% of all the people who like the page,7 it's a good idea to consider boosting your Facebook posts. If you'd like to implement a more sophisticated marketing plan, you may decide to invest in ads on Facebook, Instagram, and Twitter — or whichever platforms currently draw the most engagement. Social media ads not only help your content display to more of your existing followers, but also draw in prospective patients who may not be familiar with your practice.
Consider Google Search ads
Search ads offer highly effective marketing because they're displayed to patients and prospective patients as they're actually searching for you. As dental and orthodontic offices reopen before some people may feel comfortable with making a trip to a physical office, there's a good chance that some of those individuals may search for telemedicine orthodontic consultations. By implementing Google Search Network Ads for your telehealth offerings, you'll have a high likelihood of pulling this type of patient to your website.
For example, orthodontists can't target people who are having trouble with braces on Facebook. But they can target people who are looking up information about how to relieve pain from braces on Google Search.
If you are rolling out a new virtual appointment offering, we suggest the following:
Figure 3: Changes in traffic in the COVID-19 crisis (Source: WordStream8)

Start with branded advertising. Existing patients and those who may already be familiar with your brand will likely search for your practice specifically. Having an ad that references your virtual offerings will ensure those individuals are made aware of this new option.

Create ads to answer FAQs. As an orthodontist, the types of problems you may see are fairly specific. Do patients often ask you about gum pain or other effects of orthodontic treatment? Create ads that target the types of concerns patients may search for.
Implement more general ads. Since some patients may simply search for virtual orthodontic appointments, orthodontic telehealth visits, etc., ensure some of your ads focus on these general terms and topics.
Broaden geographic targeting. While advertising for in-office visits should be more targeted, patients from more distant or remote locations may be interested in your virtual consultations.
Be where your customers are going for information
COVID-19 has changed essentially everything — the way we communicate, the way we work, our purchasing habits, and the list goes on. It's also impacted the way users search for and consume content.
In this data from WordStream,8 we see that search volume is down, but content consumption on the Google Display Network and YouTube are booming. The Google Display Network enables advertisers to show ads on content throughout the web, such as local and national news websites, lifestyle blogs, YouTube videos, mobile apps, and games, which may be a good place for your practice to advertise.
You may also choose to begin creating video content that you can upload to YouTube and embed into blogs or relevant pages on your website. Cellphone cameras can record video of decent enough quality without having to invest in high-dollar productions. (Online retailers offer cellphone tripods and/or light rings that can enhance the quality of your video.) Topics to consider include:
Educating patients about the telemedicine platform you're using. Walk them through what to expect during a virtual consultation, and be sure to cover topics such as why you chose the particular platform you're using, as well as patient privacy. Once you've uploaded this video to YouTube, be sure to embed it on your telehealth webpage.
Introducing yourself to prospective new patients (if you're taking them). Talk about the immediate needs for telemedicine as it relates to COVID-19, and explain your plans for the future. Are there situations in which you could consult with a patient who was previously seeing a different orthodontist? Explain that in your video.
Offering helpful tutorials that can prevent patients from needing emergent care. Do your patients have common symptoms and complaints? Could many of them be solved with better dental hygiene or compliance in their treatment plan? Make videos to address these topics.
Even after COVID-19 is no longer a consideration, video content on YouTube can benefit your search rankings.
Update your local listings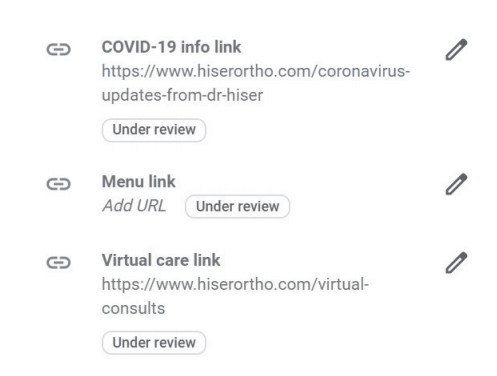 Did you know that more than 50% of searches result in no clicks9 whatsoever to a website? This means many prospective patients may take action by calling your practice or gaining other pertinent information directly from listings on Google, Bing, Yahoo! Maps, and Google My Business. Be sure to provide information about COVID-19 and virtual appointments in those listings (and keep track of what you've updated in a spreadsheet, so you can remove the COVID-19 details when appropriate).
Google My Business is also currently allowing providers to add two unique links to local listings: a link to COVID-19 information and another to telehealth information on your website. If your practice operates in more than one location, you'll need to add the links to each profile, all of which can be found in your Google My Business dashboard.
Update meta information on your website

Meta information is the blue link text and descriptive text underneath that appears directly in search results listings. While many websites have default meta information that is pulled from the site's page title and content, it can be customized to offer more detail for searchers. Meta information is also crawled by search engines, meaning that it can increase the likelihood of your website appearing to prospective patients.
Although you may not need to update every page on your site, be sure key pages — e.g., your homepage, provider pages, and location pages — make note of virtual appointment offerings.
"We have seen an increase in virtual consultations [during COVID-19]," says Dr. Hiser.
Dr. Hiser also explained that virtual appointments have reduced the level of stress and anxiety associated with being able to make a visit to a physical office — which means they're also lowering the barrier of entry. Updating your meta information helps ensure patients can find your practice as they're exploring these new options.
Set up a direct-mail campaign
Although it's not as quick to implement as a digital marketing campaign, direct mail often generates good results. Whether you are notifying existing patients about your new offering or trying to reach prospective patients in your community, direct mail can be an effective approach.
Consider incorporating a HIPAA-compliant chat feature
Since telehealth visits are a fairly new offering — especially for orthodontic and dental practices adapting out of necessity to COVID-19 — we're all still uncovering the challenges and barriers to care that patients may be experiencing. A patient may wonder if virtual care is the appropriate solution for his/her issue. There may be uncertainty about costs and insurance. We're experiencing unprecedented levels and sources of stress and anxiety; add to that having to navigate dental health needs in a new way, and patients may just avoid the problem entirely.
By integrating a feature like chat, patients can engage directly with your scheduler or practice administrator to get answers to simple questions. You may also find out what is holding patients back and encourage them to feel comfortable with a less traditional path to care. (This can also be a great way to find out what's not being answered on your telemedicine page on your website. Add content to address common questions you receive.)
Many chat tools are very easy to integrate — they just require your developer to insert some code. Just be sure that you select a tool that is HIPAA-compliant!
COVID-19 State Mandates and Recommendations. ADA Center for Professional Success. https://success.ada.org/en/practice-management/patients/covid-19-state-mandates-and-recommendations. Accessed April 24, 2020.
CDC Guidance for Providing Dental Care During COVID-19. Centers for Disease Control and Prevention. Updated April 8, 2020. https://www.cdc.gov/oralhealth/infectioncontrol/statement-covid.html. Accessed April 24, 2020.
ADA recommending dentists postpone elective procedures. ADA News. Posted March 16, 2020. https://www.ada.org/en/publications/ada-news/2020-archive/march/ada-recommending-dentists-postpone-elective-procedures. Accessed April 24, 2020.
COVID-19 Resources for Orthodontists. American Association of Orthodontists. Updated April 24, 2020. https://www1.aaoinfo.org/covid-19/. Accessed April 24, 2020.
Hiser Orthodontics webpage. https://www.hiserortho.com/. Accessed April 24, 2020.
Virtual Consultations. Hiser Orthodontics webpage. https://www.hiserortho.com/virtual-consults. Accessed April 24, 2020.
Bain P. 10 Need to Know Facebook Marketing Stats for 2019. Social Media Today. Posted February 5, 2019. https://www.socialmediatoday.com/news/10-need-to-know-facebook-marketing-stats-for-2019/547488/. Accessed April 24, 2020.
Irvine M. 4 Major Trends Caused by COVID-19 and How to Respond [Data]. WordStream. https://www.wordstream.com/blog/ws/2020/03/23/covid-19-business-trends. Updated April 16,2020. Accessed April 24, 2020.
Nguyen G. Now, more than 50% of Google searches end without a click to other content, study finds. Search Engine Land. https://searchengineland.com/now-more-50-of-google-searches-end-without-a-click-to-other-content-study-finds-320574. Posted August 14, 2019. Accessed April 24, 2020.
Stay Relevant with Orthodontic Practice US
Join our email list for CE courses and webinars, articles and mores