Vision by SoftSmile, powered by AI offers a treatment planning solution that guarantees precision.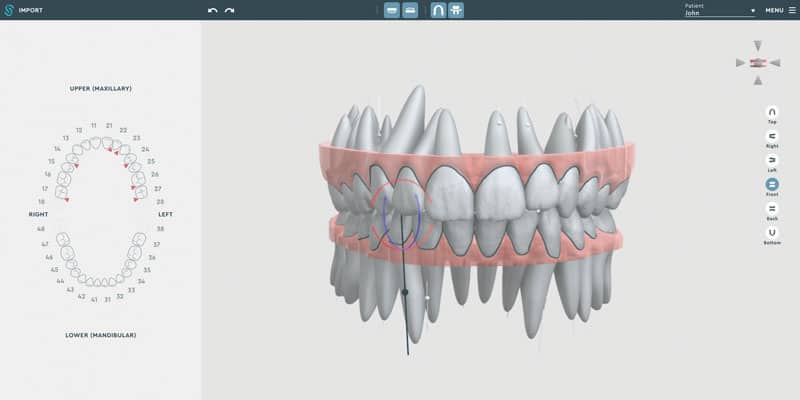 VISION is the innovative treatment planning solution by SoftSmile. The software is powered by artificial intelligence that generates key aspects of treatment planning while guaranteeing precision through every step of the process. Machine-learning algorithms automate the time-consuming processes of treatment planning and facilitate the final setup of aligned teeth based on orthodontic measurements.
With VISION, doctors have ensured control over their patients' treatment. This revolutionary technology can now be implemented in any practice without a doctor having to go through third-party designers and/or manufacturers. Doctors won't have to sacrifice high medical standards, alter their workflows, or invest a huge amount of time and money into learning new software or buying additional equipment. Any doctor who has ever worked with any of the main clear aligner solutions on the market will be able to quickly learn to use VISION. SoftSmile also provides flexible aligner printing options: Doctors can choose whether they want to use a lab partner, print with SoftSmile, or print their aligners in-house.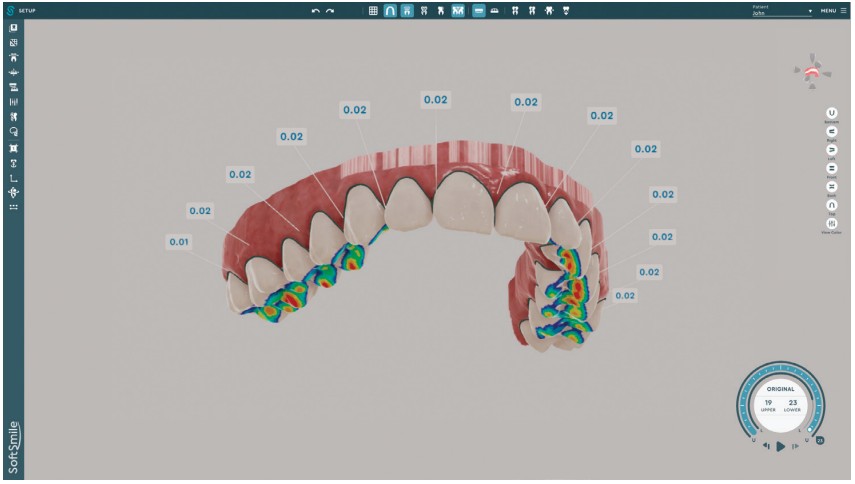 The software's interface is both intuitive and visually stunning. SoftSmile has combined advanced functionality and esthetics. VISION's state-of-the-art visualization is based on biomechanical principles, which improve accuracy during treatment planning. The software provides a complete set of data, calculates actual forces and stress, analyzes the length of roots, the width of crowns, and even the density of the plastic material.
This one-of-a-kind software solution has capabilities, including but not limited to the following:
Intuitive and comprehensive staging

automatic IPR
group movement
full flexibility for treatment strategy

Automated treatment planner based on actual real-time stress calculation and biomechanical principles
Web viewer, editor, and a distributed managing system facilitating cooperation among doctors, technicians, manufacturers, and patients
Postprocessing that now includes automated cutting lines generation
Self-learning and automated segmentation
Advanced cloud infrastructure
VISION's absolute precision and unparalleled performance in treatment planning is powered by SoftSmile's proprietary algorithms.
SoftSmile has been granted over 64 U.S. patents and has more than 20 patents pending (as of April 2023).
VISION was recently cleared by the U.S. Food and Drug Administration (FDA) pursuant to a 510(k) pre-market notification. Additionally, over 100 of the most acclaimed orthodontists from around the world have tested the software.
This FDA clearance sets in motion SoftSmile's plans to transform the market by offering doctors treatment planning software directly, which makes it possible to offer more options to patients, thereby cutting costs and increasing efficiency.
This information was provided by SoftSmile.
Stay Relevant with Orthodontic Practice US
Join our email list for CE courses and webinars, articles and mores