Free Webinar: How Dr. Burton Reduced Aligner Lead Time From 8 Weeks to 1 Day
Presented by: Dr. Jay Burton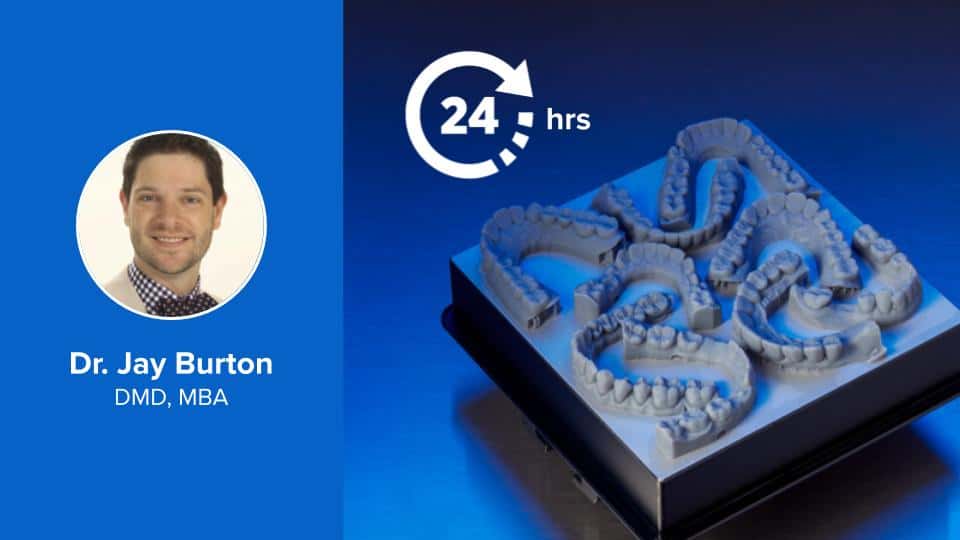 Webinar: FormLabs - April 2021
What you will learn:
How to arrange and plan your patient appointment schedules with a new in-house digital orthodontic workflow.
Recommendations for beginner, intermediate, and advanced aligner software.
Dr. Burton's first impressions of the Form 3 and how the new printer will impact his practice.
When ordering clear aligners from an outside source, deliveries can take up to six to seven weeks in some cases, and mid-course corrections and revisions can be very costly. By bringing production in-house, you can deliver aligners faster and have the freedom and flexibility to adapt quickly and cost-efficiently, no matter what challenges you face. In this webinar, Dr. Burton will share his personal story of how he used desktop 3D printing to bring aligner production in-house and how he adjusted his practice's day-to-day operations and appointment schedules so he could successfully deliver same-day aligners with the Form 3, 3Dprinter.
Dr. Jay B. Burton, DMD, MBA, (pictured at left) is a global thought leader and expert who lectures and publishes regularly on the topics of 3D imaging and diagnostics, as well as 3D printing applications for orthodontics. Currently, he is in private practice in Nashville, TN. Dr. Burton completed his orthodontic residency at NYU and dental school at the University of Louisville.
Faris Sheikh, webinar specialist at Formlabs, has helped Formlabs run over 40 live broadcasts from around the world to educate over 21,000 engineers, manufacturers, dentists, and jewelers on how to successfully incorporate 3D printing into their day-to-day workflows. Previously, Sheikh most notably ran an online technology show on hardware and software products totaling over 2 million global views.
Formlabs designs and manufactures powerful and accessible 3D printing systems. Headquartered in Boston with offices in Germany, Japan, and China, the company was founded in 2011 by a team of engineers and designers from the MIT Media Lab and Center for Bits and Atoms. Formlabs is establishing the industry benchmark for professional 3D printing for engineers, designers, and manufacturers around the globe, and accelerating innovation in a variety of industries, including education, dentistry, healthcare, jewelry, and research. Formlabs products include the Form 2 SLA 3D printer, Fuse 1 SLS 3D printer, Form Cell manufacturing solution, and Pinshape marketplace of 3D designs. Formlabs also develops its own suite of high-performance materials for 3D printing, as well as best-in-class 3D printing software.