User feedback leads to new offerings and product enhancements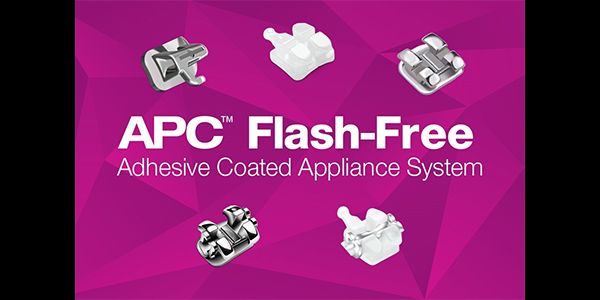 ST. PAUL' Minn. – (April 26, 2016) – Saving time and simplifying procedures is key to maintaining a profitable practice. With the introduction of the APC™ Flash-Free Adhesive Coated Appliance System in 2013, orthodontists have seen the elimination of the flash removal step from bracket bonding, saving significant time without compromising bond strength.
When orthodontists said they wanted more brackets available with this adhesive system, 3M listened. At the American Association of Orthodontists (AAO) 2016 Annual Session, 3M will introduce Victory Series™ Low Profile Brackets with APC Flash-Free Adhesive (to be available in August), enabling this 3M line of best-selling brackets to now offer best-in-class bonding efficiency.
Victory Series Low Profile brackets with APC Flash-Free Adhesive will join Clarity™
ADVANCED Ceramic Brackets, the SmartClip™ SL3 and Clarity™ SL Self-Ligating Appliance Systems and Victory Series™ Superior Fit Buccal Tubes in offering orthodontists advanced adhesive technology that allows them to move directly from bracket placement to bracket cure without removing adhesive flash. Patients treated with 3M brackets that include APC Flash-Free Adhesive also benefit from added protection for tooth enamel and a quicker and easier debonding appointment.
Further positioning orthodontists for productivity and patient satisfaction, 3M will also introduce enhancements to the SmartClip SL3 Self-Ligating Appliance System, resulting in improved rotational control and reduction in engagement and disengagement forces. By continuously incorporating user feedback, 3M is perfecting an arsenal of products that enhance efficiency, improve the patient experience and simplify procedures.
"3M Oral Care offers unique and efficient products that help orthodontists differentiate their practices, grow case starts and enjoy clinical, professional and personal success," said James Ingebrand, Vice President and General Manager, 3M Oral Care. "Brilliant aesthetics, expanded availability of APC Flash-Free Adhesive and enhancements to SmartClip SL3 Self-Ligating Brackets are just three of the exciting reasons to visit the 3M exhibit at the 2016 AAO Annual Session."
Industry experts will be discussing their experience with 3M products, along with tips and tricks for use at the 3M booth #1321 between 11:00a.m. and 2:00p.m. on Saturday, April 30, and Sunday, May 1. Topics include Class II Correction, aesthetics, digital orthodontics and lingual orthodontics, with notable experts including Drs. Lisa Alvetro,
Moe Razavi, Shane Langley, Adam Schulhof, Anoop Sondhi, Bill Vogt, Neil Warshawsky and Robert Waugh.
Orthodontists are encouraged to visit the booth to experience the benefits of APC Flash-Free Adhesive first hand, and to try out 3M's patient-facing Paint Your Smile web app on a big screen.
For more information, visit 3M.com/AAO2016.
###
About 3M Oral Care
3M Oral Care promotes lifelong oral wellness through inventive solutions that help oral care professionals achieve greater clinical, professional and personal success. Learn more at 3M.com/dental (dental) or 3M.com/ortho (orthodontics).
About 3M
At 3M, we apply science in collaborative ways to improve lives daily. With $32 billion in sales, our 90,000 employees connect with customers all around the world. Learn more about 3M's creative solutions to the world's problems at www.3M.com or on Twitter @3M or @3MNewsroom.
3M, APC, Clarity, SmartClip and Victory Series are trademarks of 3M. Used under license in Canada. © 3M 2016. All rights reserved.