suresmile® fusion … finally, lingual treatment that is both precise and predictable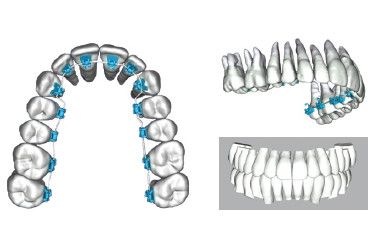 The latest in digital technology. Precise indirect bonding techniques. The efficiency of self-ligating appliances. Clinical assistance throughout treatment.
suresmile fusion is the lingual treatment system that gives clinicians the ideal combination of esthetics, function, and comprehensive control.
fusion brings together the precision of suresmile treatment planning software, robotically bent archwires, along with the laboratory expertise of Specialty Appliances and the efficiency of GC Orthodontics' self-ligating, low-profile bracket system … all supported by the clinical expertise of lingual orthodontists.
Why should you prescribe fusion?
Expert start-to-finish assistance from lingual orthodontists
Self-ligating, low-profile design brackets from GC Orthodontics
Advanced treatment planning using the suresmile system
Computer-aided digital bracket placement
The precision of suresmile robotically bent archwires to deliver precise and predictable finishes
Indirect bonding trays
Modifications available at any time throughout treatment
Starting a fusion case is easy — all you need is upper and lower scans in STL format and treatment instructions. We'll take it from there.
To place an order for your first fusion case, visit the fusion North America doctor portal at www.fusionnorthamerica.com
SAVE 20% ON YOUR FIRST 5 fusion CASES:

To take advantage of this special first 5 fusion offer, call suresmile at: 855.281.0966 (toll-free) or 972.728.5901. You can also reach us via email at: fusion@orametrix.com.
Visit suresmile at Booth No. 531 at the 2016 AAO Annual Session!