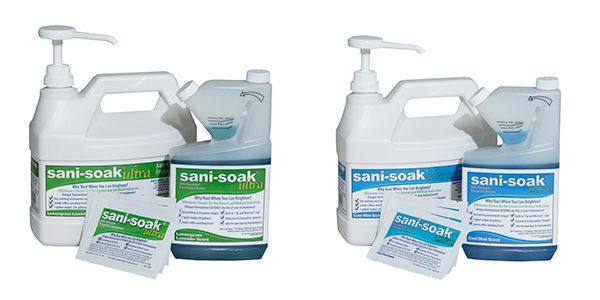 Sani-Soak Ultra is an anti-corrosive enzymatic cleaner that can be used as an ultrasonic cleaner and/or an evacuation system cleaner. Sani-Soak Ultra is designed to brighten and extend the life of instruments, is non-toxic, and is safe to use on burs, and instruments. It is available in Cool Mint or Lemongrass Lavender scent. Sani-Soak Ultra is available in quart or gallon bottle or a 64-count box of 0.5 oz uni-dose packets. The quart bottle has a built-in "tip and measure" cup, and it yields 64 gallons of cleaner.
The following are excerpts from a September 2015 Research Report performed by John A. Molinari, Ph.D. and Peri Nelson, B.S. on behalf of THE DENTAL ADVISOR Microbiology Research Center, Dental Consultants Inc., Ann Arbor, Michigan.
Read the entire Research Report at www.enzymeindustries.com/sanisoakultra/
Cleaning Efficiency of Sani-Soak Ultra Enzymatic Cleaner System
Results
Excellent cleaning of contaminated instruments was noted after processing with Sani-Soak Ultra Enzymatic Cleaner System. The overwhelming majority (149/150) of soiled instruments showed no evidence of debris after a 10 minute ultrasonic cycle…
Summary
In the present investigation dental scalers and probes were heavily contaminated with organic soil prior to undergoing processing in an ultrasonic cleaner. The amount of challenge debris on instruments was far greater than what would be expected in clinical settings. After contaminated instruments were processed in an ultrasonic unit for 10 minutes, rinsed, and subsequently visually observed, it was found that Sani- Soak Ultra Enzymatic Cleaner System effectively removed the extensive dried material in >99% of soiled test samples.