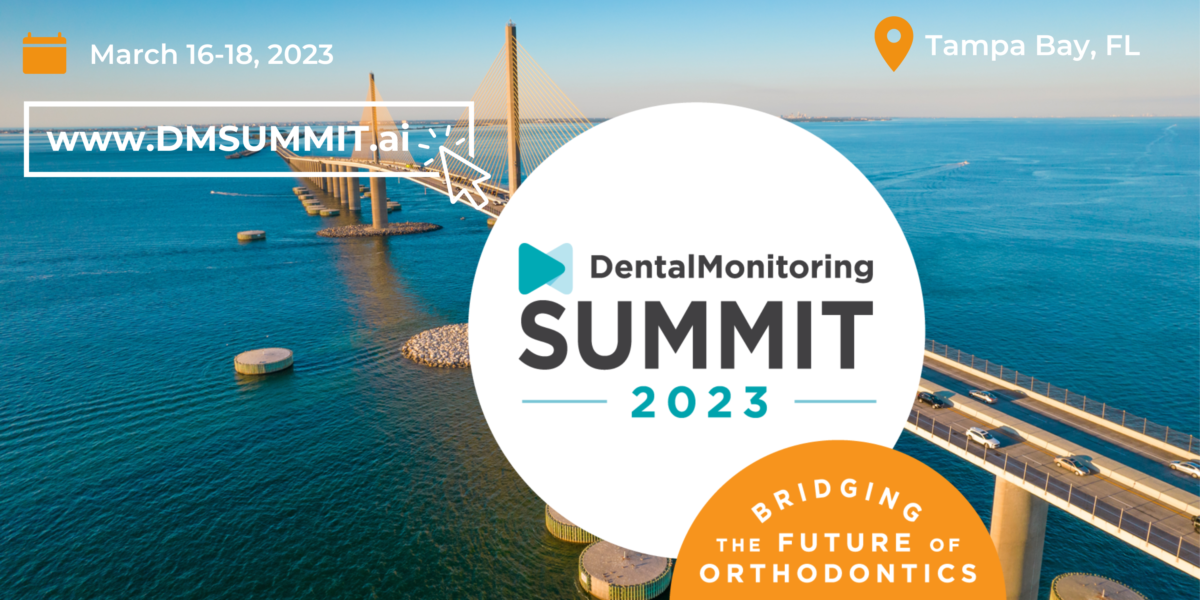 Austin, TX, January 26, 2023 — From March 16 through the 18th, DentalMonitoring will invite all current and prospective users to spend two and half days with industry leaders at the DM Summit in Tampa Bay, Florida. Attendees will discover new strategies and best practices to use with DentalMonitoring's best-in-class remote monitoring solution. The seminar will focus on the benefits of bringing artificial intelligence and automation into orthodontic workflows. Attendees will be prepared and motivated to increase their clinical efficiency and scale their practices while providing a more convenient treatment experience.
Twelve distinguished speakers, including Dr. Bill Dischinger, Dr. Barry Benton, Dr. Tara Gostovich, Dr. Alyssa Carter, and Christ Bentson, will teach proven strategies to support the three pillars of practice optimization. The growth areas for Summit attendees are elevating clinical control, increasing practice efficiencies, and attracting more patients.
Dr. Bill Dischinger explains the benefits that attendees will learn during the DM Summit. "Patients are consumers who value their time and convenience. Our patients are extremely busy. If you can tell patients in the consult room that you will straighten their teeth in twelve months and they only have to come in four times during the year, they will see the benefit. And implementing DentalMonitoring opens up our schedule. We let the AI automate monitoring and notifications based on our protocols, so our in-office time is spent on new starts or taking care of the patients that need clinical intervention."
The two and half-day event will include full-day seminars with a roster of twelve industry experts, followed by several break-out sessions to meet and collaborate with peers and share insights and experiences. To close the weekend, attendees will unwind at a "Havana Nights" themed gala.
Doctors and their team members can register at www.DMSummit.AI. Early bird discounted pricing is available until January 31, 2023 .
About DentalMonitoring – www.dental-monitoring.com
AD_COR_PR_DentalMonitoring North American 2023 Summit _002_01_A_US_en DentalMonitoring exists to make dentistry smarter. Its family of software solutions helps dental professionals make high-quality care connected, smarter and more sustainable, through the use of AI at all stages of the patient journey.
Since its founding in 2014, DentalMonitoring has developed cutting-edge algorithms that perform high-level clinical analysis on intraoral images and 3D files. Our Intelligent Platform includes an early assessment tool to screen for all major oral health concerns and to create realistic simulations of treatment outcomes, DentalMonitoring, a customizable cloud-based platform for clinical monitoring and communication automation and DM Insights, a solution to perform data analysis and unlock scalable and efficient workflow throughout the entire patient journey.
With over 600 employees operating in 53 countries around the world, DentalMonitoring is the only AI-based solution applicable to all treatments, fixed and removable appliances of all brands.
Stay Relevant with Orthodontic Practice US
Join our email list for CE courses and webinars, articles and mores