Chatsworth, CA, April 2018 — Dolphin Imaging and Management Solutions announces Blue, a brand new, browser-based web application of all core Dolphin functions. New and established practices—including those currently using an existing practice management system—are encouraged to migrate to Blue. "Blue adds a new exciting option for practices to run their office with Dolphin," notes Chester H. Wang president of Dolphin. "Practices can choose Blue, the browser-based application; desktop Dolphin software with a local office server; or Dolphin software hosted on a private Cloud server."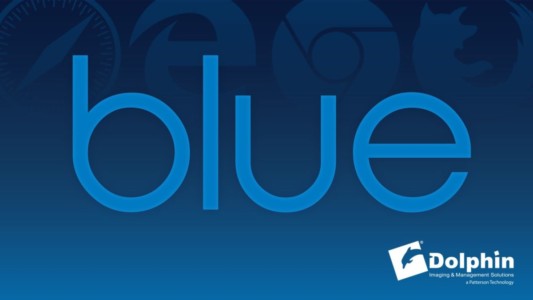 Blue is designed for the orthodontic practice, with features for pediatric dental and oral maxillofacial practices to be added in the imminent future. Blue is enterprise-ready, meaning it can accommodate an extremely large number of patients with no performance degradations, while supporting multiple clinicians and office locations. Blue is also an excellent solution for smaller, less complex practice operations.
Conceived, designed and built from the ground up, Blue connects to the reliable and high-performance Microsoft Cloud platform, allowing offices to access data from nearly anywhere at any time. It requires no plugins or onsite computer servers; works on all popular operating systems; and runs on all devices such as PCs, Macs, tablets and smart phones. It offers automatic software updates and features, automated backups, and an unlimited amount of storage capacity.
All data privacy compliance measures have been addressed in Blue, enabling practices to easily keep their PHI (Protected Health Information) and PII (Personally Identifiable Information) secure, and stay compliant with HIPAA (Health Insurance Portability and Accountability Act of 1996). Further, strict privacy compliance and data security are designed and implemented based on Dolphin's parent organization, Patterson Companies (NASDAQ:PDCO).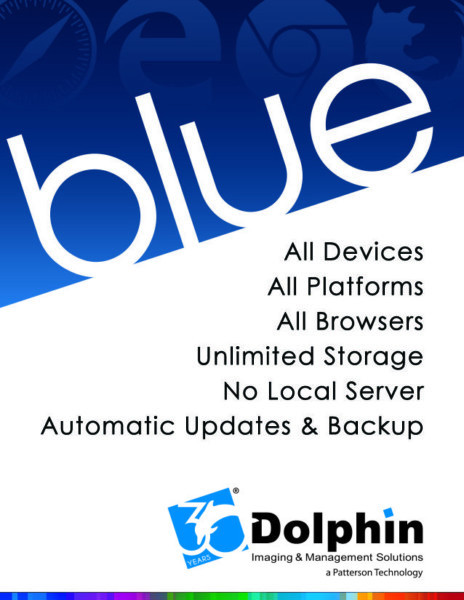 Blue is available in two tiers:
Blue Imaging includes all imaging and patient communications, such as 2D photos and radiograph capture and archiving, image annotations, cephalometric tracings and measurements, Aquarium® patient education movies, and patient letters with images.
Blue Enterprise includes the entire feature set of Blue Imaging plus a customizable practice Dashboard with programmable widgets, and the following practice management features: scheduling, financials, treatment card/charting, patient questionnaire, SMS (short message service feature), electronic claims, Appointment Reminders (via SMS or Email), Care Calls, electronic signature, practice reporting.
Pricing for Blue is subscription-based, with competitive rates and a choice of payment plans, which minimize upfront costs for the practice. For more information visit www.dolphinimaging.com/blue.
Dolphin Imaging & Management Solutions
Dolphin provides high-quality imaging, diagnostic, and case presentation software for dental specialty professionals worldwide. Dolphin products tightly integrate with digital x-ray units, CBCT systems, telephonic solutions and Web-enabled applications, and are compatible with the latest operating systems and computers, including Macintosh computers. Dolphin products are backed with round-the-clock, personalized technical support. For more information, visit www.dolphinimaging.com or call 818.435.1368.
Patterson Dental provides a virtually complete range of consumable dental products, equipment and software, turnkey digital solutions and value-added services to dentists and dental laboratories throughout North America.