CHICAGO – The Foundation for Endodontics is proud to announce the 2017 Edge Endo Educator Fellowship award recipient, Varvara Chrepa, D.D.S., M.S., assistant professor in the department of endodontics at the University of Washington. Dr. Chrepa impressed the selection committee with her passion for education and research.
[vc_row][vc_column width="2/3″][vc_column_text]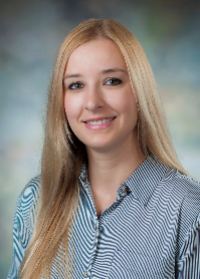 [/vc_column_text][vc_column_text]"Academic dentistry is undeniably stimulating; the opportunity to interact with students, help them learn and instill within them the passion for endodontics is truly singular," said Dr. Chrepa. "These interactions fuel me and make me look forward to going to work every day. My current position allows me to interact with students at the predoctoral and graduate level as well as providing me with protected time to conduct clinical and translational research; it's great."
The basis of successfully strengthening the specialty of endodontics lies with our educators. Making sure that specialists are teaching endodontics at dental institutions across the U.S. and Canada is a top priority for the Foundation for Endodontics. The Endodontic Educator Fellowship is one way the Foundation is directly addressing this priority. The award provides funding to individuals who commit a minimum of five years to a full-time academic career in endodontics at a dental school that is accredited by or has a reciprocal agreement with the Commission on Dental Accreditation of the American Dental Association. Recipients receive $50,000 a year, for five years; up to $250,000 is available per recipient. Foundation corporate donor Edge Endo is supportive of endodontic education and strengthening the pool of valuable endodontic educators. Edge's founder and owner, Dr. Charles (Chuck) J. Goodis, increased the company's pledge to the Foundation during the 2016-2017 campaign to support the Endodontic Educator Fellowship, which the company also supported in 2016. Edge Endo's commitment to strengthening endodontic education helps shape the future of the specialty.
"At EdgeEndo we are excited and proud that Dr. Chrepa was chosen as the 2017 recipient of the Foundation for Endodontics Educator Fellowship
Award. We congratulate and support her teaching and research efforts and look forward to a long relationship with the Foundation for Endodontic
Educator Fellowship Awards," said Dr. Goodis.
Since its creation in 2001, the Foundation for Endodontics' Endodontic Educator Fellowship Award has recognized endodontic educators and the
critical role they play in strengthening the specialty. A list of past recipients is available at https://www.aae.org/aae-foundation/funding/fellowship-awardrecipients.aspx.[/vc_column_text][vc_column_text]About the Foundation for Endodontics American Association of Endodontists Foundation, headquartered in Chicago and incorporated in 1966, is the philanthropic arm of the AAE. As a 501(c)(3) charity organization, it is to support endodontics by providing resources and funding for research, education, public awareness and access to care. For information about the Foundation for Endodontics, please visit www.aae.org/foundation.
About Edge Endo
Edge Endo's mission is to deliver endodontic products and solutions at a substantially lower cost, which benefits practitioners and patients
everywhere. The company is dedicated to the pursuit of bringing leadingedge products to the dental industry and revolutionizing endodontic
practices around the world. Edge Endo was founded in 2012 and is headquartered in Albuquerque, New Mexico. This message was sent to ahall@aae.org by the American Association of Endodontists. Need to update your email preferences or unsubscribe? Click to visit the AAE Email Communications Subscription Center.
AAE | 211 E. Chicago Ave., Suite 1100 | Chicago, IL 60611-2691
Phone: 800-872-3636 (U.S., Canada, Mexico) or 312-266-7255
Fax: 866-451-9020 (U.S., Canada, Mexico) or 312-266-9867[/vc_column_text][/vc_column][vc_column width="1/3″][vc_column_text]Mission
The mission of the Foundation is to support endodontics by providing resources and funding for research, education, public awareness and access to
care.
Vision
The Foundation supports saving natural teeth for all through the efforts of endodontic specialists.
Core Values
Integrity, Accountability, Responsive, Innovative, Collaborative, Impactful[/vc_column_text][/vc_column][/vc_row]