Henry Schein Orthodontics Presents
Orthodontic Excellence and Technology Symposium in San Diego, CA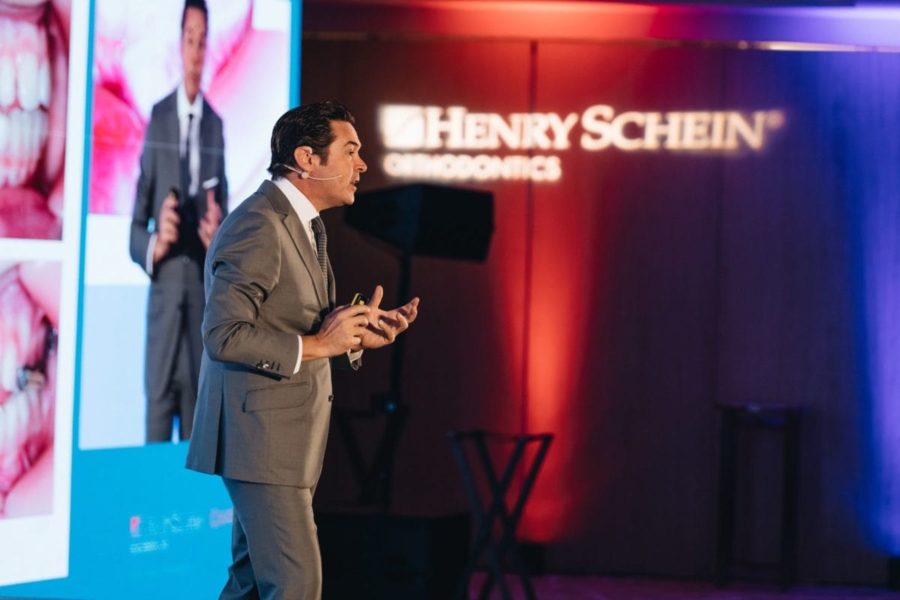 Event Will Demonstrate the Sagittal First Philosophy and the Latest Innovations to Help Orthodontists Deliver Enhanced Patient Care, and Practice Efficiency;
Featuring Keynote Speaker, Dr. Luis Carrière
Carlsbad, CA October 3, 2018 — Henry Schein® Orthodontics™, the orthodontics business of Henry Schein, Inc., is pleased to announce its Orthodontic Excellence and Technology Symposium that will take place from February 21-23, 2019 in San Diego, California, at the iconic Hotel del Coronado Resort.
The Symposium will focus on the evidence-based Sagittal First™ Philosophy powered by the Carriere® Motion 3DTM Appliance, feature the latest tools and technologies to help operate a more efficient and productive orthodontic practice, and raise awareness about solutions that can help make a total-health difference in patients' lives. The Symposium will also showcase unique clinical results that the new SLX™ Clear Aligner Systems can deliver, feature world-renowned speakers presenting innovative concepts to help diagnose and establish treatment plans, and explore strategies with industry leaders that can increase clinical efficiency and help deliver optimal results for patients
New this year will be the opportunity to attend a pre-symposium workshop. Attendees may choose to register for one of three, four-hour workshops that will take place on the afternoon of Thursday, February 21.
The Program Chairman will be Henry Schein Orthodontics' lead clinical advisor, Dr. Dave Paquette, and the keynote speaker, will be Dr. Luis Carrière. Dr. Carrière will focus on evidence-based clinical solutions for the treatment of complex Class II and Class III cases.
"Innovations in our profession are ranging from equipment and material to treatment concepts that positively impact every aspect of how we achieve consistent clinical excellence while enhancing the patient experience," says Dr. Carrière. "Therefore, it is crucial to be open to new concepts, participate in regular training, and exchange knowledge and best practices with experts. With simple, bonded biomimetic devices, such as Motion 3D Appliances, together with the Sagittal First Philosophy – a new treatment paradigm that enables a doctor to correct Class I occlusion at the beginning of treatment – orthodontists can reposition the mandible, expand the airway and balance the relationship between the nose, upper and lower lips, and chin, for facial harmony – either for Class II or Class III cases. This results in a non-invasive approach to facial balance that greatly reduces extractions and surgery and thus the need of interdisciplinary therapy for the good of patients. I am convinced that orthodontists play a critical role in improving the lives of patients."
Dr. Dave Paquette and Dr. Luis Carrière will be supported by featured speakers, Dr. John Graham, and Dr. Jep Paschal.
Additional speakers, with more speakers to be announced, include:
Dr. Ana-María Cantor
Dr. Sean Carlson
Dr. Lou Chmura
Dr. Mario Chorak
Dr. Christy Fortney
Dr. Scott Frey
Dr. Glenn Krieger
Dr. Bruce McFarlane
Dr. Mike Ragan
Dr. Thomas Shipley
Dr. Norihide Tsubura
Rosemary Bray
At the Symposium's exhibition area, a broad spectrum of the latest innovations and new clinical solutions will be showcased, focusing on the integrated processes of the digital workflow, including intraoral scanning, CBCT imaging, clinical orthodontic planning, and 3D printing. In addition, several networking occasions will be available to allow orthodontists the opportunity to share their experiences with other peer professionals from around the world.
As in prior years, the event is expected to sell-out, bringing together leading orthodontic speakers and forward-thinking attendees in a powerful learning environment. To register, visit www.HSOSymposium.com or call 877.448.8606 for early bird pricing, which ends 90+ days before the course.
About Henry Schein Orthodontics
Henry Schein Orthodontics provides a wide range of orthodontic products to the worldwide dental market. The Company sells directly to U.S. practitioners and through an established network of independent dealers in International markets. For more information on Henry Schein Orthodontics contact us at: 800.547.2000 or 760.448.8600, via email: usasales@henryscheinortho.com or via our Web site at www.HenryScheinOrtho.com
About Henry Schein, Inc.
Henry Schein, Inc. (Nasdaq: HSIC) is a solutions company for health care professionals powered by a network of people and technology. With more than 22,000 Team Schein Members serving more than 1 million customers globally, the Company is the world's largest provider of Business, Clinical, Technology, and Supply Chain solutions to enhance the efficiency of office-based dental, animal health, and medical practitioners. The Company also serves dental laboratories, government and institutional health care clinics, and other alternate care sites.
A Fortune 500® Company and a member of the S&P 500® and the Nasdaq 100® indexes, Henry Schein's network of trusted advisors provides health care professionals with the valued solutions they need to improve operational success and clinical outcomes. The Company offers customers exclusive, innovative products and solutions, including practice management software, e-commerce solutions, specialty and surgical products, as well as a broad range of financial services. Henry Schein operates through a centralized and automated distribution network, with a selection of more than 120,000 branded products and Henry Schein private-brand products in stock, as well as more than 180,000 additional products available as special-order items.
Headquartered in Melville, N.Y., Henry Schein has operations or affiliates in 34 countries. The Company's sales reached a record $12.5 billion in 2017, and have grown at a compound annual rate of approximately 15 percent since Henry Schein became a public company in 1995. For more information, visit Henry Schein at www.henryschein.com, Facebook.com/HenrySchein, and @HenrySchein on Twitter.
Contact: Angela Ruggiero – Senior Manager, Corporate Communications
Phone: 631.454.3116, email: Angela.Ruggiero@henryschein.com