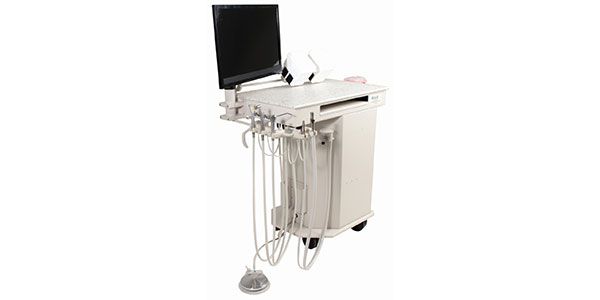 ASI has just introduced its Triton Dental System with Extended Worktop (model 90-2046). This new design merges the Triton Dental System with the Assistant's Extended Worktop system for a complete solution for the rear treatment wall.
The 90-2046 is a fully self-contained dental system, with air compressor, vacuum and water supply onboard. There is no need for centralized utilities – just plug it in.
Two air-driven handpiece connections are included, and are operated through a single foot control. Air and water convenience outlets and rear-mounted power supply make it possible to connect additional auxiliary instruments.
Positioned between the Doctor and Assistant, the 90-2046 provides convenient access to handpieces and suction instruments, while also providing an ample work surface. The center slide out tray makes an additional work surface for the assistant, or can be used for storage of a keyboard. ASI's Rail Storage system can be used for storage bins, sharps containers, file caddies, glove boxes, waste receptacles and bottle holders.  More information can be found at www.asiportable.net.
About ASI
ASI Medical, Inc. has been designing and creating innovative products for dental professionals since 1994. As the leading developer of integrated dental delivery systems, ASI's solutions are as unique as each of its customers.
ASI can be contacted by visiting www.asimedical.net, emailing us at sales@asimedical.net, or by calling 800.566.9953.