Embrace digital dentistry, easily
Based on PolyJet 3D Printing technology, the Objet30 OrthoDesk is your entry point into the world of digital dentistry. With it, you can:
Digitize your workflow from CAD file to model
Accelerate production times
Increase capacity
Eliminate manual modeling
Enjoy a clean, safe, efficient process
Store models digitally
Lead the market with cutting-edge technology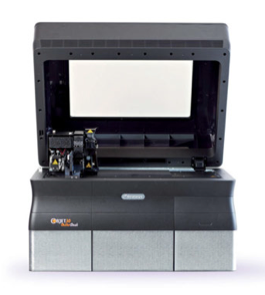 Digital orthodontics is rapidly becoming the industry standard. With the power to slash delivery times, increase capacity, and eliminate bulky model storage, the advantages are clear. But due to size and cost considerations, 3D printers have only been suitable for larger labs. Until now.
Objet30 OrthoDesk is specially designed for small- to medium-sized labs and clinics. It is compact, affordable, and easy to use. With industry-leading inkjet-based 3D printing technology, it offers all of the advantages of a 3D printer, in a package that is just right for you.
The future of orthodontics fits on your desktop
Objet30 OrthoDesk is the first system of its kind, combining state-of-the art 3D printing technology with a small footprint. It is easy to use and includes specialized dental printing materials in convenient sealed cartridges. Now, you can fabricate stone models, orthodontic appliances, delivery and positioning trays, clear aligners, and retainers — right on your desktop.
Digitize your workflow, today
With the Objet30 OrthoDesk 3D Printer automating your model work, you can dramatically reduce fabrication times and increase output per technician. By transitioning to a fully digital process, you also eliminate the discomfort and inconvenience of physical impressions and build customer satisfaction.
Fast ROI for labs and clinics of any size
The Objet30 OrthoDesk is specially designed to meet the needs of smaller labs and clinics. It combines speed and accuracy, ease of use, compact size, and specialized dental materials — at a price that ensures rapid return on investment.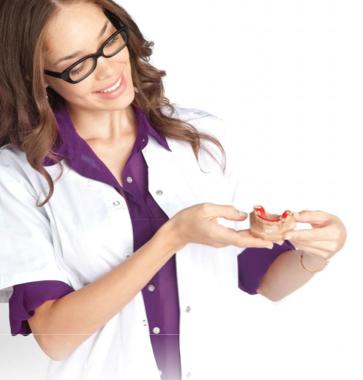 An end to physical model storage
With a fully digital process, there is no need to store bulky, physical models. Store all of your cases digitally, for as long as you need.
Materials
The Objet30 OrthoDesk offers three PolyJet Dental Materials, specially engineered for dentistry, in convenient sealed cartridges:
VeroDentPlus (MED690), a dark beige material that prints layers as fine as 16 microns to create amazingly fine features and finish, and offers excellent strength, accuracy, and durability
Clear Bio-compatible (MED610), a transparent material medically approved for temporary in-mouth placement
VeroGlaze (MED620), an acrylic material for realistic veneer models and diagnostic wax-ups that require A2-Shade color match
To learn more, visit www.stratasys.com/industries/dental
This information was provided by Stratasys.
[cp_popup display="inline" style_id="19825″ step_id = "1"][/cp_popup]
Stay Relevant in Orthodontics
Sign up for industry news, CE articles and webinar invitations, and cutting-edge case studies.