Announcement of Brand Evolution Speaks to Brand's Recommitment as Innovative
Partner for All Orthodontic Needs
Brea, Calif., April 21, 2023 — With over 60 years of distinguished history in providing the orthodontic community with a breadth of high-quality, innovative products, solutions, and education, Ormco™ announces a brand refresh inspired by its recommitment as an innovative partner to the orthodontic community. With a continual dedication to partnership, investment in doctor-inspired innovation, and greater clinical freedom, the company will share its new company tagline, "Driving the future of orthodontics, together" along with the unveiling of a visually refreshed brand identity at this year's American Association of Orthodontists (AAO) in Chicago, Illinois April 21-24, 2023.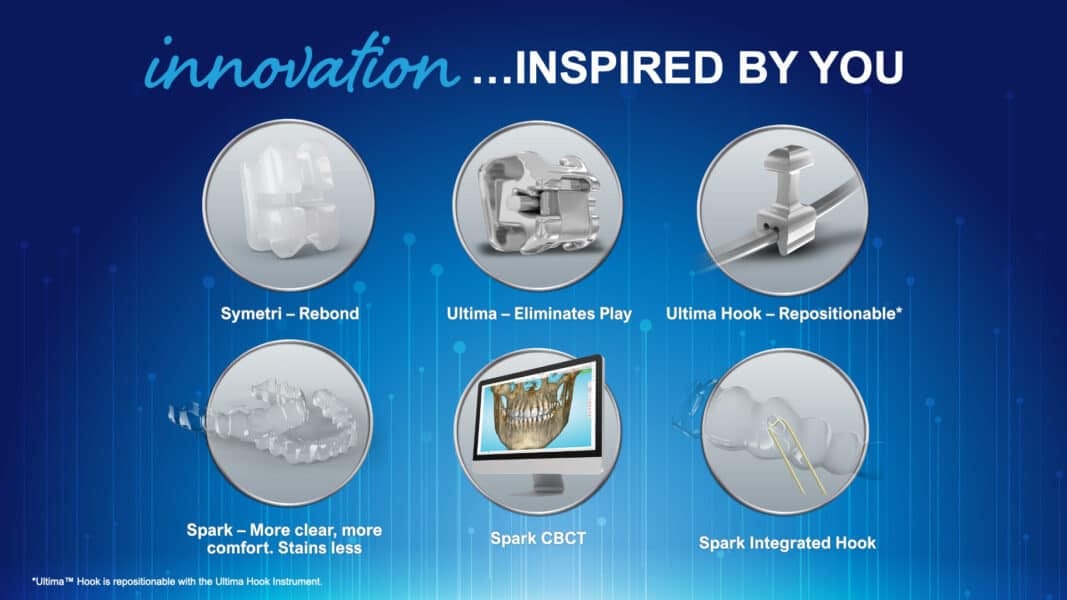 Initial elements of Ormco's brand refresh include:
New Company Tagline: "Driving the future of orthodontics, together"
New Logo: As a prominent representation of the company and its dedication, the new logo incorporates "Together" as a recommitment to collaboration and doctor-inspired innovation.
New Brand Colors: Fresh new colors convey passion and bring to life Ormco's commitment, dedication, innovation, and future-focused partnership for all orthodontic solutions.
"In the spirit of a brand refresh, we continue to recognize and respect the expertise of orthodontic specialists as well as their investment in advancing their education, building a vision for their practices, and growing their businesses, all while helping patients enjoy healthier beautiful smiles," said Eric Conley, SVP Orthodontics for Envista. "The renewed commitment to our existing and new customers is to provide best-in-class products, doctor-inspired innovation, and clinical freedom by giving the flexibility to choose orthodontic solutions and preferences that best fit their practices," he continued.
As part of its commitment to driving the future of orthodontics, Ormco continually invests in doctor-inspired innovations. Ormco has more than 1000 patents worldwide and invests millions annually in Research & Development to ensure its products continue to respond to the evolving needs of orthodontists and patients.
"By investing in innovation, Ormco is also investing in me. It's a symbiotic partnership. We make Ormco better, and Ormco makes us better," said Dr. Trevor Nichols of Frost Nichols Orthodontics.
"Ormco also invests in the success of orthodontists through industry-leading partnership," said Dr. Stuart Frost of Frost Nichols Orthodontics. "As the single, trusted, and proven partner for orthodontic specialists, Ormco helps simplify vendor management so we can focus on growing our practice. We turn to Ormco as our one source for complete orthodontic needs, as well as robust educational offerings, a dedicated support team, marketing resources, a generous loyalty program, and expert-led events to keep us at the forefront of our profession," Dr. Frost continued.
The significant investment in R&D has led to a number of industry-first and breakthrough products and features including:
The first true full expression system designed for faster and more precise finishing with the Damon Ultima™ System.1
The new Ultima™ Hook, the only repositionable hook.2
Proprietary ceramic bracket technology and advanced clear bracket design with Symetri™ Clear
TruRoot™ for Spark™ Clear Aligners that allow doctors to see actual roots in the treatment plan
Ormco's new OrthoPulse® 2.0 light-powered treatment accelerator that applies low-intensity infrared technology for up to 50% faster treatment time3 and a 73% reduction in pain4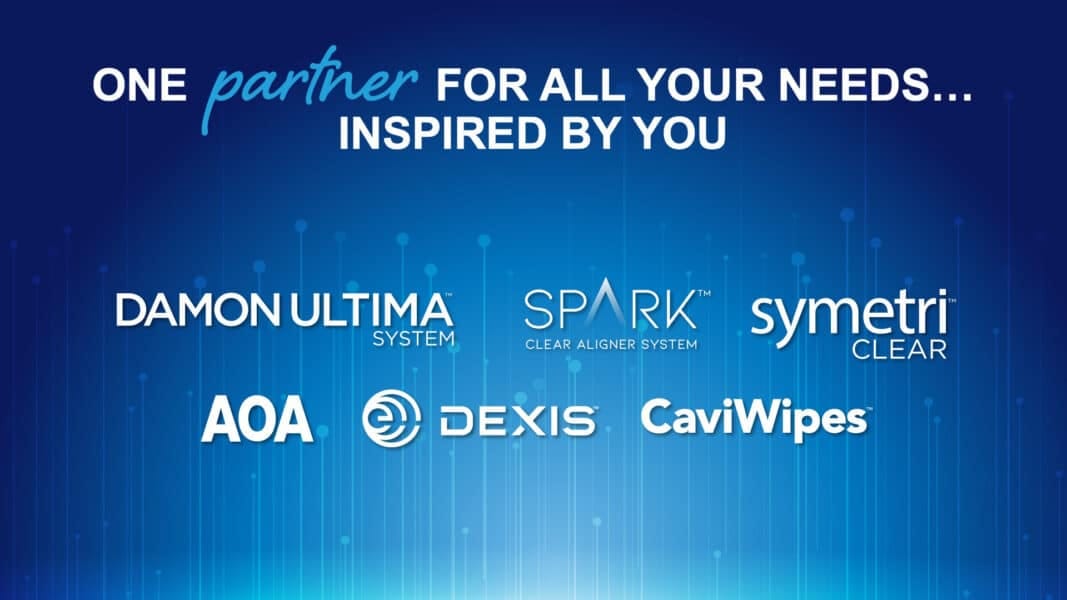 Along with the Damon Ultima System for self-ligation, Ormco's portfolio includes the Spark TM Clear Aligner System, Titanium Orthos TM, Symetri TM Clear, AOA Lab, Mini Twin TM, and OrthoPulse® Light Accelerated OrthodonticsTM*. In addition, as part of the Envista family of companies, Ormco provides doctors with Dexis™ IS scanning solutions and Metrex™ infection prevention solutions. With a portfolio encompassing wire and bracket systems, clear aligners, light accelerated technologies, 2D and 3D imaging, infection prevention, custom appliances, and more — Ormco provides a full gamut of innovations that help doctors improve patients' smiles by leveraging the future of orthodontics.
Learn more at https://ormco.com/en-us/our-mission
ABOUT ORMCO
Envista is a global family of more than 30 trusted dental brands, including Nobel Biocare, Ormco, DEXIS, and Kerr, united by a shared purpose: to partner with professionals to improve lives.  Ormco, headquartered in Brea, Calif., is a global leader and innovator of orthodontic products and solutions to help enhance the lives of its customers and their patients. For 60 years, Ormco has partnered with the orthodontic community to help create over 20 million smiles in over 140 countries. Distinguished products range from twin brackets (Symetri™ Clear, Titanium Orthos™ and Mini Diamond™) to pioneering self-ligating appliances with the Damon™ System (including Damon Ultima™ System and Damon™ Clear2). The Spark™ Clear Aligner System is designed to meet the needs of the orthodontist with the TruGEN™ material and 3D Approver software. Ormco's Insignia™ Advanced Smile Design™ provides an all-inclusive customized indirect bonding solution for efficiency through personalization. From personalized service to professional education programs and marketing support, Ormco is committed to helping orthodontists achieve their clinical and practice management objectives. Connect on Facebook at www.facebook.com/myormco and LinkedIn at www.linkedin.com/company/ormco.
ABOUT ENVISTA HOLDINGS CORPORATION
Envista is a global family of more than 30 trusted dental brands, including Nobel Biocare, Ormco, DEXIS, and Kerr, united by a shared purpose: to partner with professionals to improve lives. Envista helps its customers deliver the best possible patient care through industry-leading dental consumables, solutions, technology, and services. Our comprehensive portfolio, including dental implants and treatment options, orthodontics, and digital imaging technologies, covers a wide range of dentists' clinical needs for diagnosing, treating, and preventing dental conditions as well as improving the aesthetics of the human smile. With a foundation comprised of the proven Envista Business System (EBS) methodology, an experienced leadership team, and a strong culture grounded in continuous improvement, commitment to innovation, and deep customer focus, Envista is well-equipped to meet the end-to-end needs of dental professionals worldwide. Envista is one of the largest global dental products companies, with significant market positions in some of the most attractive segments of the dental products industry. For more information, please visit here.
1Data on file.
2Using the Ultima™ Hook Repositioning Instrument.
3 Shaughnessy et al. Intraoral photobiomodulation-induced orthodontic tooth alignment: a preliminary study. BMC Oral Health, 2016. 16:3
4Al-Okla N, Ferguson D et al. Pain perception of photobiomodulation treated and sham-controlled patients undergoing orthodontic treatment: JCO / February 2020, Volume LIV No.2
*OrthoPulse® is a registered trademark of Biolux Technology GmbH. OrthoPulse® is distributed by Ormco.
Stay Relevant with Orthodontic Practice US
Join our email list for CE courses and webinars, articles and mores