Sensation™ M Active Stainless Steel Self-Ligating Brackets provide ideal control in all stages of treatment.
The passive stage of the clip during the initial treatment phase allows for more efficient leveling and aligning. Sliding mechanics are also enhanced during the passive and transitional phases. The active stage of the clip engages the archwire securely into the base of the archwire slot, fully expressing the in-out, angulation, and torque built-in to the bracket.
Unlike traditional brackets, where forces can diminish when ligatures are stretched into place, the self-ligating clip design offers continuous force levels during wire deflection/unloading. This allows practitioners to adjust time between office visits. The bracket's versatility is in the clip design. This is the part that undergoes the most stress and manipulation throughout treatment. To ensure the clip remains "true" under these circumstances, it has been manufactured using a cobalt-nickel alloy to provide high resiliency and durability. Also designed as a fixed clip to prevent accidental removal, reliable clip operation is a key feature of Sensation™ M.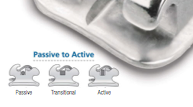 A versatile bracket
The Sensation™ M Bracket is not only built with self-ligation in mind; it is also a classic twin-wing design, and it preserves the ligation abilities of a traditional bracket. There is ample under tie-wing area for application of elastomeric chains, and its low profile and smooth rounded facial contours optimize comfort for a better patient experience. Smooth rounded hooks also add to the patient experience and allow for easy and secure engagement of elastics.
Perfect bracket lineup in finishing
There are self-ligating brackets in today's market still designed with "torque in slot." An undesirable effect arises as the treatment progresses with this bracket design. During the finishing stages when torquing teeth into their final position, the slots of the bracket align, but often the facial surfaces of the brackets do not. This can result in unwanted patient discomfort at the end of treatment, as opposed to the initial phases of treatment where this may be a more normal expectation. With Sensation™ M, however, the patient's comfort progressively improves with treatment due to its torque-in-base design. In this case, when torque is applied, both the facial surfaces and slots align. The result is a far more comfortable and attractive "perfect bracket lineup."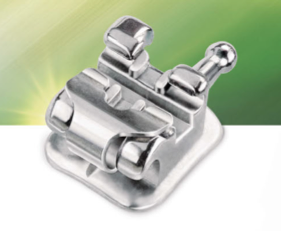 Intuitive bracket placement
Nothing is more important for simple and accurate finishing than ideal bracket placement. Sensation™ M aims to make correct placement easy with visual IDs, and a bracket-to-tooth fit that feels right. Each bracket is uniquely color-coded with an ID dot in the upper corner, and each features a long axis scribe line. This acts as a clear visual cue for placement at the top and bottom of the boding base. Furthermore, each bracket has a uniquely shaped, compound contour base to provide an ideal bracket fit to the tooth's surface. This, combined with the 80-gauge micro-etched mesh base, ensures maximum bond strength and predictable and safe debonding.
With a passive-to-active design, high clip durability, and classic twin-wing elements, Sensation™ M is an intelligently designed bracket that delivers time savings for clinicians, and ensures practice productivity remains at its highest. To learn more about the Sensation™ M Bracket System, visit OrthoTechnology.com/SensationM, or call 1-800-999-3161.
This information was provided by Ortho Technology.
[cp_popup display="inline" style_id="19825″ step_id = "1"][/cp_popup]
Stay Relevant in Orthodontics
Sign up for industry news, CE articles and webinar invitations, and cutting-edge case studies.