Read about how leaders of the orthodontic community at the LF FUTURE conference embraced the vision of LightForce Orthodontics' custom 3D bracket technology as a new era in orthodontics.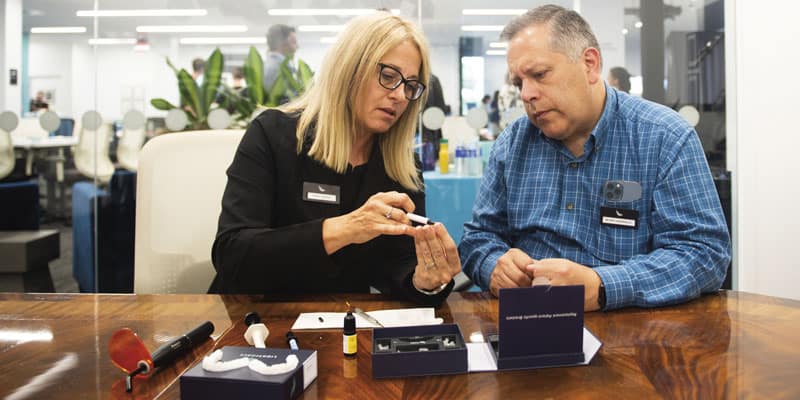 LightForce Orthodontics first user conference focuses on customer collaboration
The LF FUTURE conference, June 25-26, 2021, was a compelling mix of industry experts, rising orthodontic stars, and the team behind the fastest growing company in the specialty. More than 100 orthodontists attended the first annual LightForce event at the headquarters in Burlington, Massachusetts, one of the first opportunities to attend an in-person conference since the COVID-19 crisis. Over the course of the 2-day event, the company's mission and vision were exemplified in speeches from an impressive lineup of orthodontic innovators and clinicians who are successfully using the LightForce System in their practices. The mission — to empower orthodontists with the best technology to create a bite and smile that is as unique as the patients. The vision — to be the trusted industry leader in the new era of personalized orthodontics.
The event spotlighted the company's beginnings, its growth, and vision for the future. In his welcoming address, company cofounder, Dr. Alfred Griffin III, thanked attendees for their "trust and faith in taking this journey." He reflected on the pioneers of technology in orthodontic history — Drs. Edward Angle, Larry Andrews, and David Sarver — saying they lived in times when technology didn't exist to enable their vision of improved diagnosis and treatment planning. Dr. Larry Andrews once said, "Most orthodontic problems can be biologically treated in 6 months. Our inefficiency makes up the difference in treatment time." Dr. Griffin noted that now LightForce is positioned to provide that efficiency — using 3D-printing technology for 100% customization. "That is what is unique about this company. We are in a place where we can bring 3D-printing technology into the orthodontic space." He touted Dr. David Sarver, a speaker at the event, as, "one of the most famous orthodontists in the world, who has been a big part of LightForce." Dr. Sarver's visionary advice has helped to evolve "the technology that has finally caught up to what orthodontists have been asking for so long."
Dr. Lou Shuman, cofounder of LightForce, orthodontist, and former VP at Align Technology, said that this conference reminded him of 20 years ago when he walked into Align Technology. He said, "It felt like the rocket ship that was getting ready to launch, and it is incredible to see where we are going." Dr. Shuman recalled the excitement of the early days of LightForce when he and Dr. Griffin traveled to Germany to meet Hans Langer, CEO and founder of EOS, one of the earliest and most successful 3D-printing companies. Founded 30 years ago, EOS has 3D-printed components for some of the biggest companies in the world. At the time they visited, Langer had not yet heard about 3D-printing potential in orthodontics. After showing him their plans for a 3D-printed fully customized bracket system, Langer's fundraising arm offered LightForce first-round funding. Dr. Shuman recalls, "That meant so much to us."
LightForce innovators are not just following the crowd, but moving ahead with direction and suggestions from those who practice orthodontics every day. Some of the top names in orthodontics were involved in the conference without payment from LightForce just because they're passionate about the product. Attendees came to the conference because they know LightForce is the future, and this is the technology everyone should be adopting, or else they'll fall behind. Dr. Griffin noted, "After listening to orthodontists, our peers, we get feedback and move forward. We take such pride by saying our company is 'by orthodontists for orthodontists.' '' Dr. Shuman emphasized the importance of the involvement by orthodontists. He said, "Orthodontists are not just end-users. Design development benefits from feedback — those are the 'golden nuggets.' " Dr. Griffin said Dr. Shuman's involvement gave him confidence to move forward. "Being with Lou, we got instant trust and instant credibility." That has contributed to the company's phenomenal growth and orthodontic customer satisfaction. Dr. Griffin pointed out some milestones:
400% company growth in the last year since June
97% of the product updates for software and hardware can be directly tied to an orthodontist who uses LightForce
5 days' average from when the orthodontist takes the scan to when the LightPlan is returned.
7 out of 5 average rating on a LightPlan
Net promoter score (how likely you are to be promoted to your colleagues) 96
Also, attendees heard about the latest product developments that have created even better tools for treatment planning.
Mixed dentition support
Rebond trays so orthodontists can delegate to well-trained staff
Increased bite turbo options
FaceMap — for diagnostic and patient engagement
Translucent bracket — for even greater esthetics
And for the future — fully custom buccal tubes
Many expert speakers offered insights and information:
Speaker Dr. Maz Moshiri's session, "The Future is now — Digital Diagnostics and Treatment Planning" shared how digital technology contributed to the success of his practice. He said, "I honestly believe that my practice would be on the decline and my stress levels worse had I not invested in and focused on digital technology and systems. That allowed me to jump easily into LightForce." He said that the 3D-printed fully customized bracket aligns with the company slogan — "one size fits one." He added, "Intuitively as scientists and orthodontists, how can this not be better for patients? 3D workflow specifically made for the patient's teeth. You know what you want to do, and you don't have to tinker much when it comes back — seamless and simple."
Speaker Dr. Bryan Lockhart's session, "How LightForce Is Making My Community Better," said that LightForce enabled him to focus on the details and develop a mindset for treating patients efficiently. He said, "LightPlan gives you every tool you need to diagnose and plan a case in one centralized location. And it is cloud-based, so you can open it anywhere." He said that LightForce has allowed him to have a successful practice while working less and not seeing a ton of patients every day. He ended by quoting Zig Ziglar: "You don't have to be great to start, but you have to start to be great!
Speaker Chris Bentson, who has been working with orthodontists regarding the business aspects of their practices for over 25 years, spoke on the "Financial Impact of Digital Orthodontics." He said although COVID-19 presented challenges, it was a time to adapt, learn, and "prepare for the digital tsunami" in the aftermath. He advised, "The wave is coming. Get on your board and start paddling." New rules and regulations have changed office procedures. Because of "the tremendous acceleration in the digital world," he said, "LightForce is the answer for the adult patient. It is part of the future of this business."
Attendees responded to the speakers with enthusiasm. Dr. Geoff Sudit said, "This confirmed what I was thinking — that digital/3D customization is the future, and if you don't jump on the bus now, you'll quickly get left behind. I also love how the early adopters are helping to shape the company. The most impressive part is how you guys are listening!"
Dr. Jason Shoe said, "I love the culture of the LightForce team and your dedication to constant improvement."
Dr. Griffin summed up the conference with a message to LightForce customers. "All of the leaders in our community gathered together in pursuit of one common goal — to usher in a new era of personalized orthodontics. The orthodontic industry will have its biggest pivot in the past 20 years because of the work that we are embarking on together. I get fired up thinking about what is possible."
Stay Relevant with Orthodontic Practice US
Join our email list for CE courses and webinars, articles and mores