TruDenta has diagnostic technology to find signs of inflammation and tension that lead to poor sleep and chronic headaches or migraines.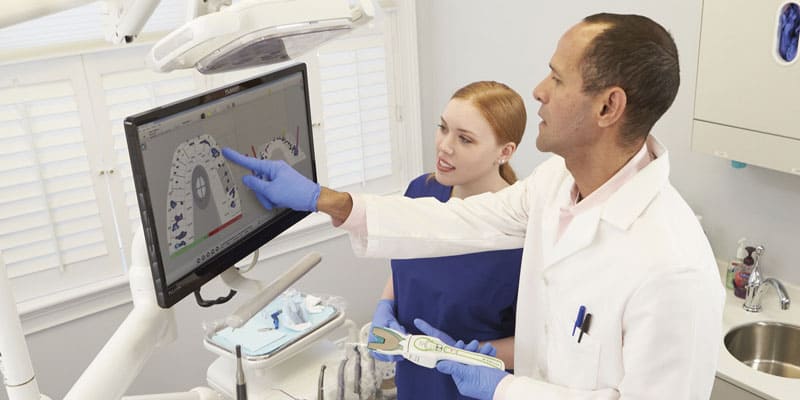 Scott Peterson discusses the complicated connection between sleep and chronic pain
It's no surprise that living with chronic pain affects sleep quality. In fact, a growing body of research strongly suggests that sleep quality should be included in the initial assessment of all patients who present with chronic pain. Difficulty initiating sleep, disrupted sleep, early morning awakenings, and unrefreshing sleep are all associated with chronic pain. Recent studies estimate that 50% to 89% of patients with chronic pain describe sleep problems like these. Sleep neurologists are also reporting increased sleep disturbances and the misuse of sleep medications in people recovering from COVID-19 and in people whose lives have been beset by fear and isolation.
Pain leads to bad sleep, right? It's not that simple. Sleep and pain appear to have a bidirectional relationship. For instance, many people report their painful symptoms are somewhat alleviated after a better night's sleep and worse after nights of poor sleep. Sleep loss not only amplifies the pain-sensing regions in the brain, but also blocks the natural analgesia center too. Another key brain region found to slow down in the sleep-deprived brain was the insula, which evaluates pain signals and places them in context to prepare the body to respond. If poor sleep intensifies our sensitivity to pain, then we need to put sleep much closer to the center of patient care.
To establish normal function and relieve our patients' pain symptoms, the neurology, muscle activity, and occlusion need to be reset or restored to homeostasis. Our patients will have the best outcomes when the teeth, muscles, joints, neurology, pain, and force imbalances have been addressed. As practitioners, we should evaluate and treat all the causes of our patients' pain, not only the teeth, but also the muscles and joints because they are part of the problem. This should include modalities that focus on resetting the neurology. In addition to treating musculoskeletal issues, resetting the neurology allows patients to sleep better faster and return to homeostasis more quickly than surgery or medication.
By treating all the causes of chronic pain, FDA-cleared therapies provided by TruDenta can provide pain relief for patients with sleep apnea, chronic migraines and headaches, tinnitus, and other neck/jaw pain — all of which can contribute to sleep loss. This latest diagnostic technology closely examines the musculoskeletal system of the head, neck, and jaw to find any signs of the inflammation and tension that can lead to chronic headaches or migraines. The diagnostic process includes force and range of motion analysis, which hones in on the delicate nerves and ligaments that run through the head and jaw. In addition, a symptoms and headache history and muscle exam shed light on injuries that may have occurred in the past, which over time have radiated pain to surrounding areas. After discovering the hidden factors that contribute to pain, the gentle treatment plan can provide immediate pain relief and long-term rehabilitation. FDA-cleared, painless treatment technologies include ultrasound, low-level photobiomodulation, microcurrent, and manual muscle therapy.
Patients dealing with chronic pain are often susceptible to rebound headaches, as the painkillers they rely on to control their symptoms can end up causing further headaches. Pain-relief medication for chronic headaches can be overused. When that happens, the brain begins to send ineffective pain indicators. As a result, the brain's message center can send mixed-signals to the nerves, resulting in a lingering, persistent headache.
Our patients can have longer, better quality sleep — without relying on drugs or having to bear the side effects that accompany them.
Stay Relevant with Orthodontic Practice US
Join our email list for CE courses and webinars, articles and mores