Dr. R. Bruce McFarlane illustrates technologies that facilitate treatment goals
Over the years, as I explore beneficial technologies to add to my practices, I have found that I am an "eternal student." I search for products and equipment with the potential to enhance patient care. For many years, I focused on discovering better wires, superior brackets, less friction, and more efficient plastic for moving teeth. Currently, the profession has tweaked those options close to the highest level.
[userloggedin]
In my experience two technologies, manual osteoperforations (MOPs) and high-frequency vibration, can help achieve our treatment goals.
Patience is not one of my patients' best attributes. They want to know how long treatment will take, and they want to finish their treatment more quickly. Patients seeking accelerated treatment can fall into several categories including:
Impatient patients  Patients who are not good at waiting to achieve their goals.
Patients on the move  Patients who plan to leave the area and want to complete treatment within a certain time period.
Major life events  Brides, graduates, and others who want to look their best during photo opportunities and need to have treatment completed in a specific period of time.
Insurance benefits  Patients who are changing or losing their jobs or switching insurance companies and want to complete treatment while still insured.
I use MOPs with Propel Orthodontics Excellerator™ Series drivers since 2014 both proactively and reactively. Proactively, we preplan and factor the MOPs process into the original orthodontic treatment plan. MOPs are tiny perforations created through the mucosa and into the bone near the roots of teeth. These osteoperforations cause a local area of inflammation that encourages a cytokine cascade and ultimately osteoclast activation, which have been observed in some studies to accelerate the rate of tooth movement.1,2
I anesthetize the patient before performing MOPs. I use injection anesthetic, usually a simple local infiltration with carbocaine and epinephrine.  Some practitioners prefer topical, but I like to make sure patients feel nothing at all, and I like the vasoconstrictor. The technique is minimally invasive and causes very little if any discomfort — perhaps tenderness around the treatment site for 24-48 hours. One of the strengths of the MOPs system is that the patient does not have to participate to make it effective. All they have to do is rinse and keep it clean.
When I want to use MOPs proactively, I listen carefully to the patients for the cues before proposing acceleration. In this scenario, I added MOPs into the cost of the initial treatment plan. In many states and provinces, most insurance plans cover MOPs although it may be listed under a surgical code rather than orthodontic.
Reactive situations require a different approach and are often prompted by a clinical instance that may throw the treatment off track. When the teeth do not move quickly enough or profoundly enough, I suggest adding MOPs to facilitate the needed changes. I do not charge the patient when reactively adding MOPs because moving treatment in a positive direction benefits both me and the patient. Before MOPs, when orthodontists were faced with slow or difficult movements, the patient would either have to wait until the teeth moved on their own, or undergo procedures such as corticotomy or luxation. Isha, et al., noted, "Corticotomy-assisted orthodontic treatment is quite invasive as it requires extensive flap elevation and bone surgery."3  On the other hand, using MOPs saves the patient a painful surgical procedure and, as noted previously, there is some evidence that it decreases treatment time.
I also use a high-frequency device called VPro5™ (Propel) to aid aligner seating, which keeps aligner therapy on track. Patients wear the high-frequency device for just 5 minutes each day, and in my experience, 5 minutes amounts to a reasonable amount of time to ask for compliance. This device is also relatively inexpensive ($399 USD suggested retail) as an addition to the treatment cost.  As Dr. Amit Lala noted, "Improperly seated aligners can slow treatment, forcing patients to back track to previous trays, and create unintended collateral tooth movements, with a consequence being time-consuming and costly refinements."7
Before vibration was available for aligner seating, I recommended Chewies™ aligner tray seaters: soft plastic rolls that patients would bite on, affecting isolated areas of the dentition at any given time. I recommended these for patients when there was "daylight" between the aligner and the teeth, or if the teeth were not tracking well inside the aligner. I think of high-frequency vibration as the ultimate Chewie, without all the chewing. The vibration also allows the aligners to track better around attachments that I use for more difficult movements such as rotations and extrusions. That is where this technology truly shines.
After all the tooth movement is completed, retention offers yet another important feature of orthodontic therapy. For this, we use clear retainers almost exclusively. When I first give patients their retainers, I advise them to continue using the VPro5 for 5 minutes each day to help seat the retainers.
Case presentations
Patient 1: A 37-year-old female was undergoing treatment for space closure. I used Invisalign and the G6 premolar extraction protocol. I used MOPs on the edentulous area and vibration for aligner seating.
Patient 2: The 23-year-old male was 1 year into treatment. The UR3 would not move and lifted the adjacent teeth as well. After one session of MOP around the canine, it and the other teeth erupted and aligned in 4 weeks.
Patient 3: A 39-year-old male patient had a LR3 that was surgically exposed after having been impacted for many years. It came in rotated and ectopic; MOP hastened its movement.
Patient 4: This female patient in clear aligners wanted her spaces closed. After 5 months, and with one MOP session, the spaces closed.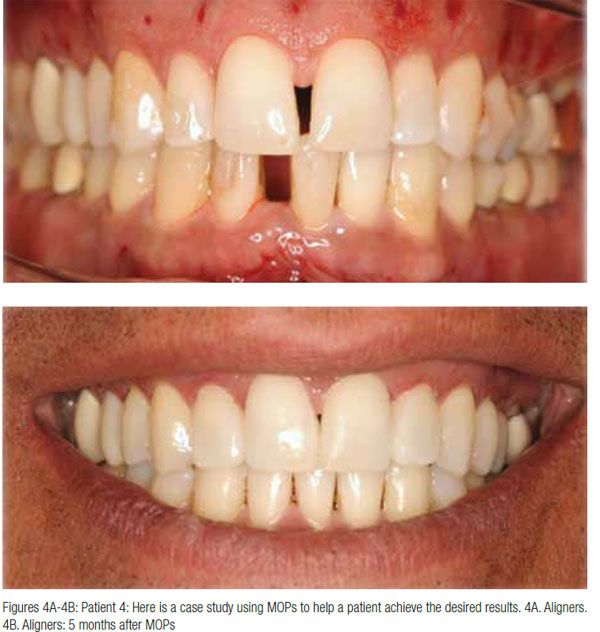 Conclusion
MOPs provides a minimally invasive and patient-friendly manner of accelerating treatments, and VPro5 keeps aligner therapy on track, resulting in a win-win situation for both the clinician and the patient.
---
Bruce McFarlane, DMD, graduated with a Bachelor of Science degree and his Doctorate of Dental Medicine in 1984 from the University of Manitoba. He then practiced as a general dentist for 6 years in Brandon, Manitoba, before returning to the University of Western Ontario in 1992 to graduate as a Specialist in Orthodontics.
Dr. McFarlane has become a Fellow of the Royal College of Dentists of Canada, a Diplomate of the American Board of Orthodontics, an inductee into the Omicron Kappa Upsilon Honorary Dental Fraternity, Mensa, and a member of the Pierre Fauchard Honorary Dental Academy. He has acted as the Chairman of the Manitoba Dental Association's Specialist's Committee, was an Assistant Professor of Graduate Orthodontics at the University of Manitoba (2000-2006), and is a part of the Invisalign® "Alpha" Group. Dr. McFarlane is a frequent presenter for Align Technology, Henry Schein® Orthodontics, and Propel Orthodontics. He is an active member of the Winnipeg chapter of the Seattle Study Group. Dr. McFarlane is a Board member of the American Academy of Clear Aligner Orthodontics.
---
References
Alikhani M, Raptis M, Zoldan B, Sangsuwon C, Lee YB, Alyami B, Corpodian C, Barrera LM, Alansari S, Khoo E, Teixeira C. Effect of micro-osteoperforations on the rate of tooth movement. Am J Orthod Dentofacial Orthop. 2013;144(5): 639-648.
Camacho AD, Velásquez Cujar SA. Dental movement acceleration: Literature review by an alternative scientific evidence method. World J Methodol. 2014;Sep 26;4(3):151–162. Published online Sep 26, 2014. https://www.ncbi.nlm.nih.gov/pmc/articles/PMC4202454/.  Accessed December 23, 2016.
Isha A, Madhurima N, Manu W, Vishesh D. Surgical Methods to Enhance Orthodontic Tooth Movement: A Review. Int Res J Clin Med. Apr2016;1(4): 17-22. https://cdn.irjcm.com//Upload/04_IRJCM_1(4)_RA01_20160607.pdf. Accessed December 23, 2016.
Butezloff MM, Zamarioli A, Leoni GB, Sousa-Neto MD, Volpon JB. Whole-body vibration improves fracture healing and bone quality in rats with ovariectomy-induced osteoporosis. Acta Cir Bras. 2015;30(11):727-735. https://www.scielo.br/scielo.php?script=sci_arttext&pid=S0102-86502015001100727. Accessed December 23, 2016.
Stuermer EK, Komrakova M, Werner C, Wicke M, Kolios L, Sehmisch S, Tezval M, Utesch C, Mangal O, Zimmer S, Dullin C, Stuermer KM. Musculoskeletal response to whole-body vibration during fracture healing in intact and ovariectomized rats. Calcif Tissue Int. Aug 2010; 87(2):  168–180.
Lala A. Vibration therapy in orthodontics: realizing the benefits. Ortho. 2016;1:24-27.
Stay Relevant with Orthodontic Practice US
Join our email list for CE courses and webinars, articles and mores